9 More Hot Wedding Trends for 2017
Check out these 9 hot wedding trends for 2017, from the knot: 
From dangling décor to portrait booths and gifting lounges, here are the trends we've spotted for the year ahead.
by Lauren Kay
Trends are getting bigger and badder than ever before (in the best way possible!). Some are totally over the top and others are just perfect for adding a personal touch to your celebration.
When it comes to couples who are ballin' on a budget, you may be thinking some of these are out of your financial comfort zone but there are infinite ways to pull inspiration from this year's trend report and spin it to match your celebration style (and wallet).
You have our full permission to steal these ideas for your wedding day.
1. Furry Friends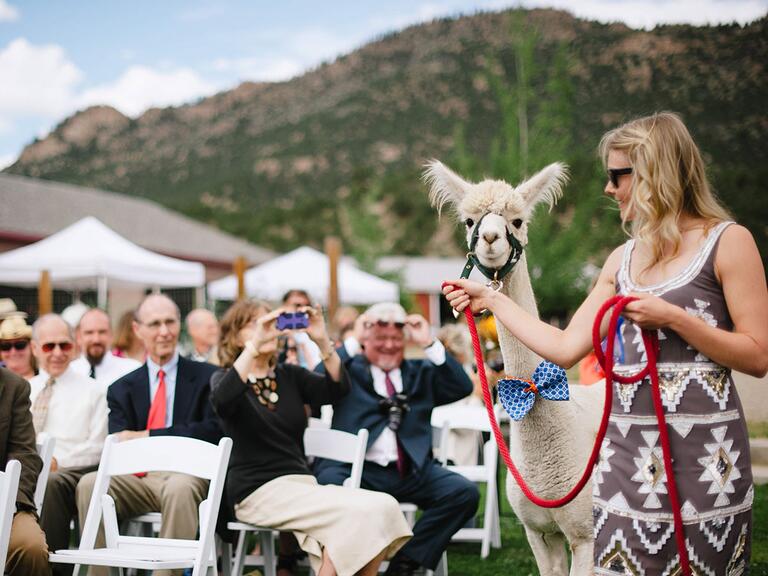 Animal lovers take note: The hottest wedding guests have four legs and supersoft coats. From bunnies to donkeys, couples are incorporating more than just their pets into their wedding. This is a trend to try if you're hosting a rustic soiree or celebrating in a picturesque barn.
2. Double-Duty Escort Cards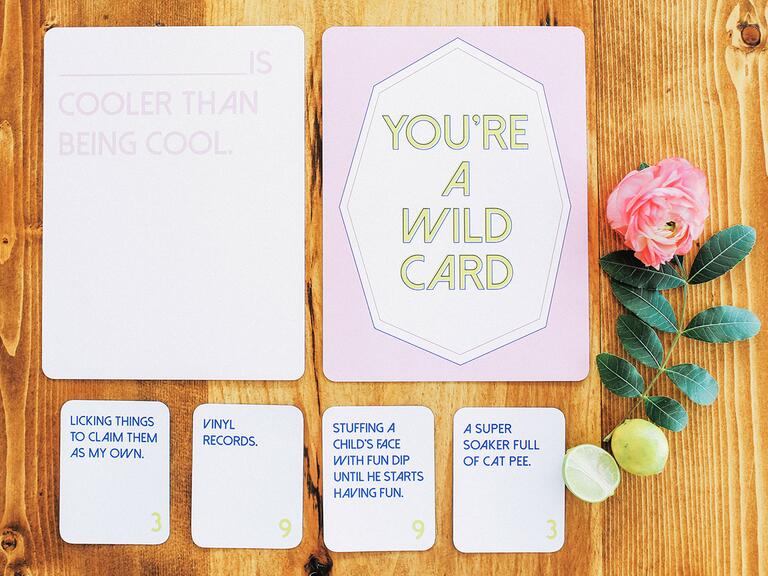 Escort cards are like the save-the-dates of your wedding day—they don't have to match your theme or wedding style. They're the perfect place to be playful and infuse your celebration with your personalities or favorite things. Create a dramatic display that can double as a photo booth backdrop or cards that are also party favors, like splits of champagne or a boxed edible treat.
3. Fun Food Presentations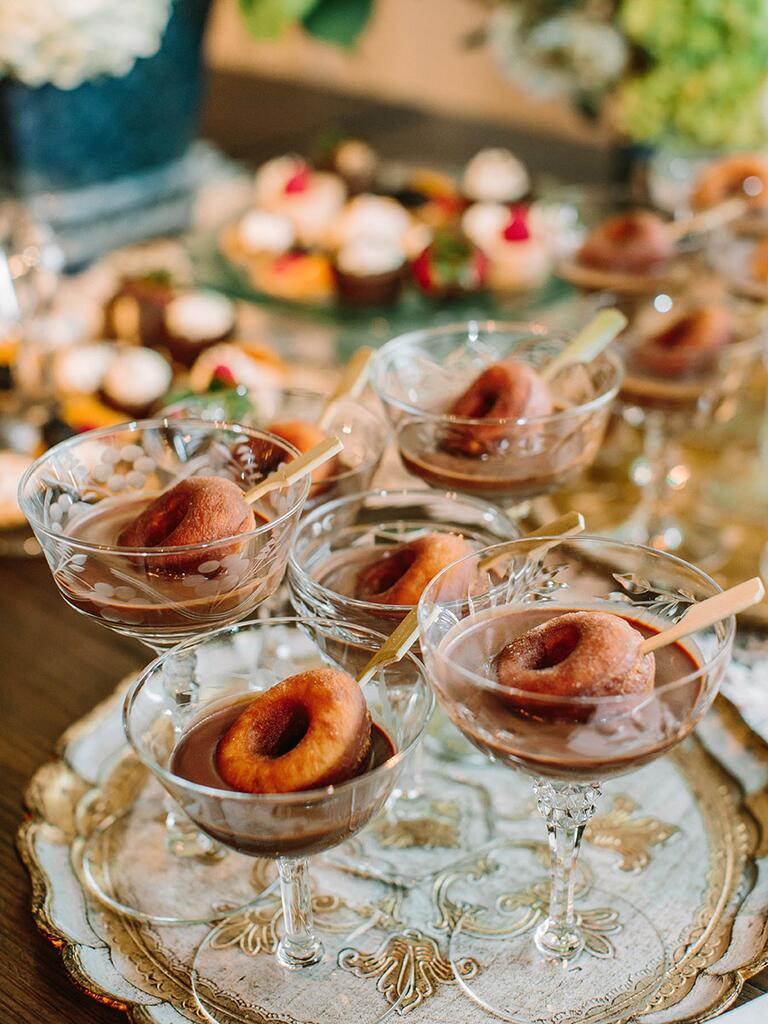 The new trend in food is equal parts yum and fun. Menus are being carefully curated with favorite eats and local specialties (think: deep-dish pizza for a Chicago after-party). But the presentation is almost upstaging the food. Self-serve bars and food installations, like a hanging acrylic shelf piled high with cheese and charcuterie, are instant wows. Set up a doughnut wall with gourmet selections or treat guests to a full-service sundae bar. These interactive stations will give your friends and family something to do and talk about, long after the wedding.
4. Image Mapping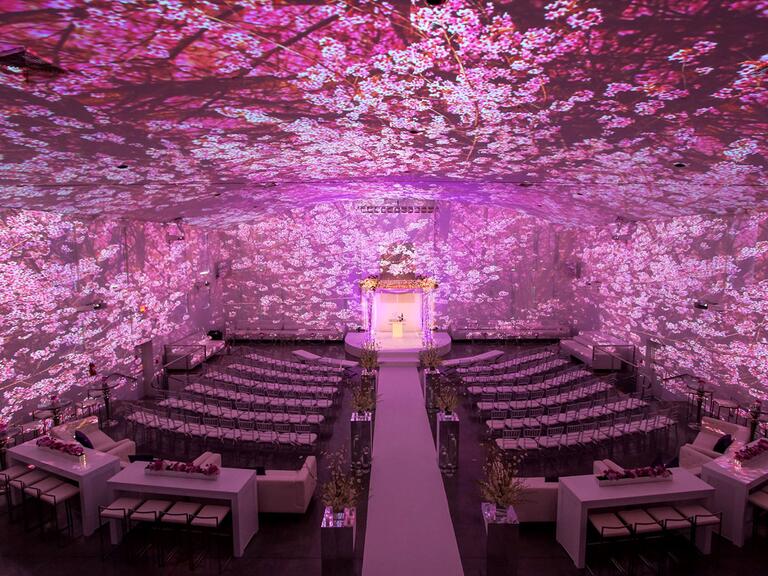 Turn your indoor reception space into an enchanted forest without uprooting a single tree. Image mapping is a projection technology that allows you to transform a space with lighting and moving pictures. You can change scenes too, giving your ceremony and reception each its own special vibe. On a budget? Use the technology on just your wedding cake instead.
5. Exceptional Entertainment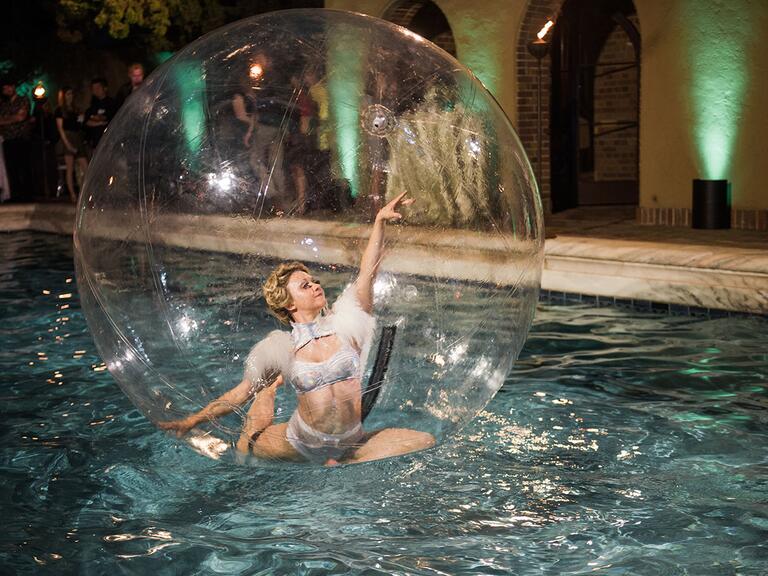 Give your guests an evening they won't soon forget with unparalleled entertainment. Think outside the box with an aerialist or a choir belting out your favorite Beyoncé song. Or go the more traditional route with music, but pair it with a performance, like a classical quartet and ballerinas in tutus. If you have a noise ordinance at your outdoor locale, host a silent disco: A DJ spins music, but instead of it blasting from speakers, your guests don a pair of headphones and dance (and sing along) in relative silence. We're kinda obsessed with this trend.
6. Party Portraits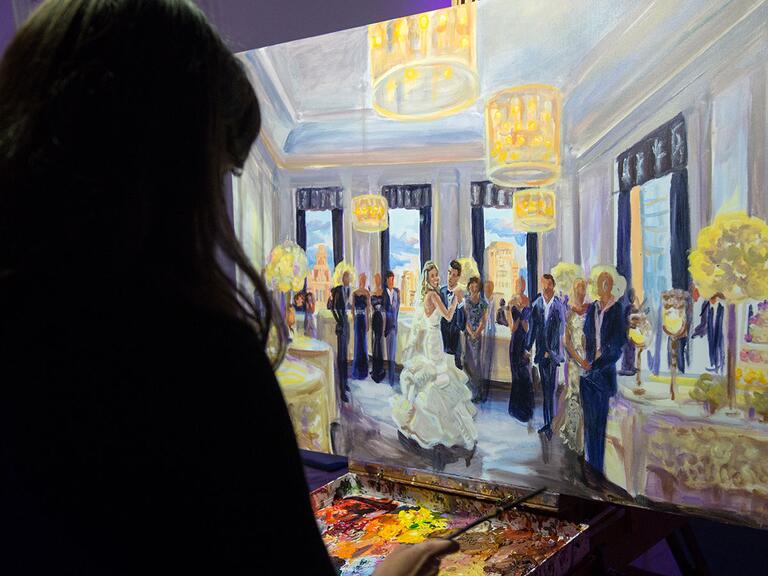 We're loving the new twist on the traditional photo booth—portrait studios. Much like a photo booth, there's a designated space and, in some cases, props. But instead of four rapid-fire shots, there's a live photographer asking you to vogue for the camera. You get a stellar classic portrait perfect for your gallery wall. Your guests will be lining up, trust us. Vintage-loving duos might opt for an illustrator instead, who can sketch guests in their finest duds. Or you could even hire a live painter to commemorate your day. This doubles as fun entertainment for your guests and a keepsake for you. Meanwhile, Geofilters are joining hashtags as the hottest way to be social at weddings (#duh).
7. Dangling Décor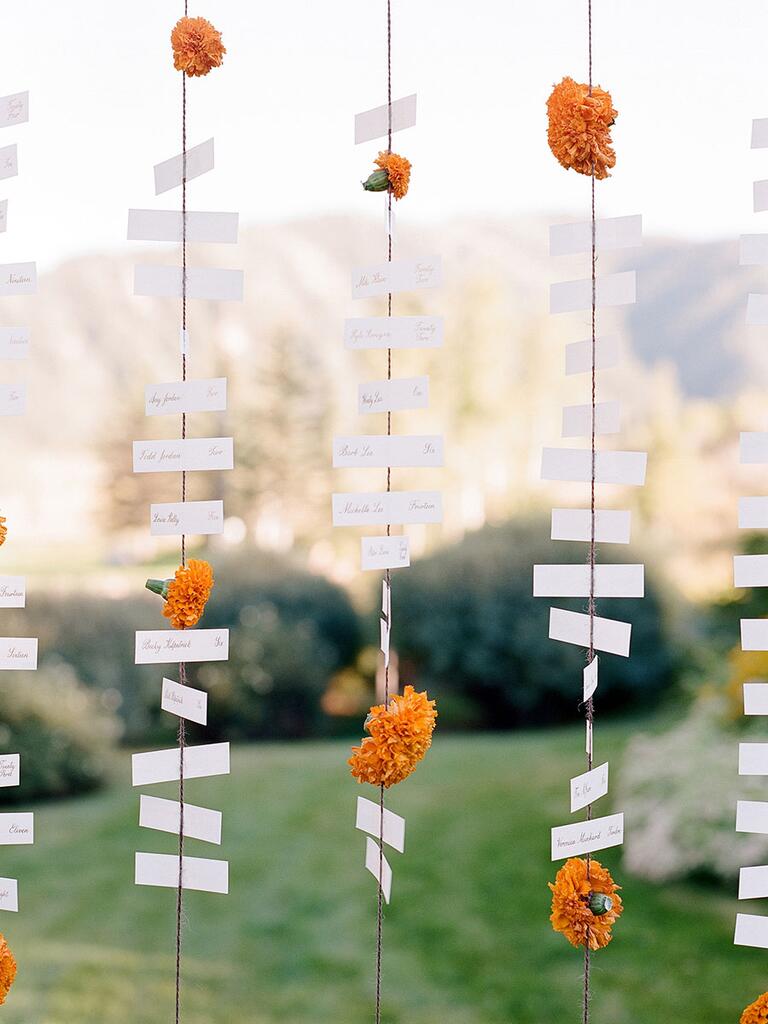 Hanging accents are an instant wow factor, and they always get noticed. Suspend flowers from ceiling beams or string market lights from barn rafters for added ambience. Hanging décor will get guests looking up too, which is handy if you're trying to downplay the venue's color-clashing carpet. Towering candelabras and organic centerpieces will continue to be popular table décor.
8. Stylish Swings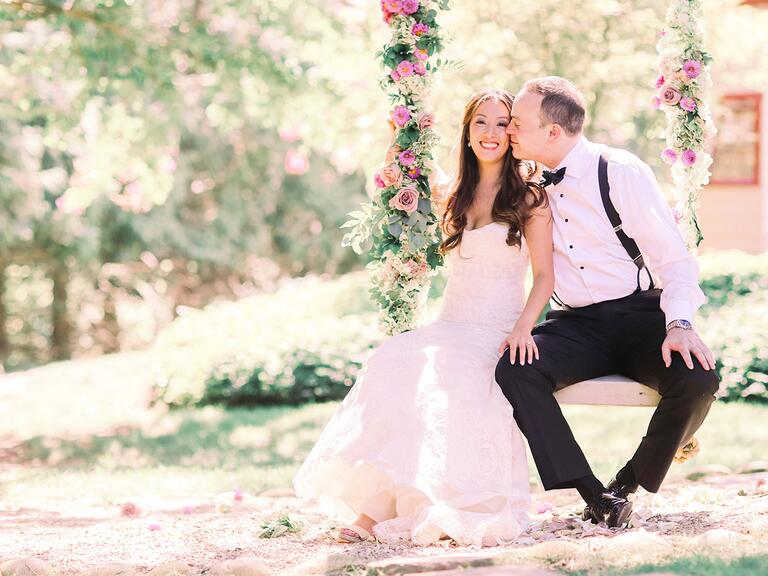 The latest in lounge seating is swings. This playground classic promises to be a big hit with wedding guests both young and old. And it's the perfect way to stay in motion when your feet need a break from the dance floor. Seating in general is trending, with couples opting for "king" and "queen" chairs at a sweetheart table, or mix-and-match options for outdoor ceremonies.
9. Translucent Cakes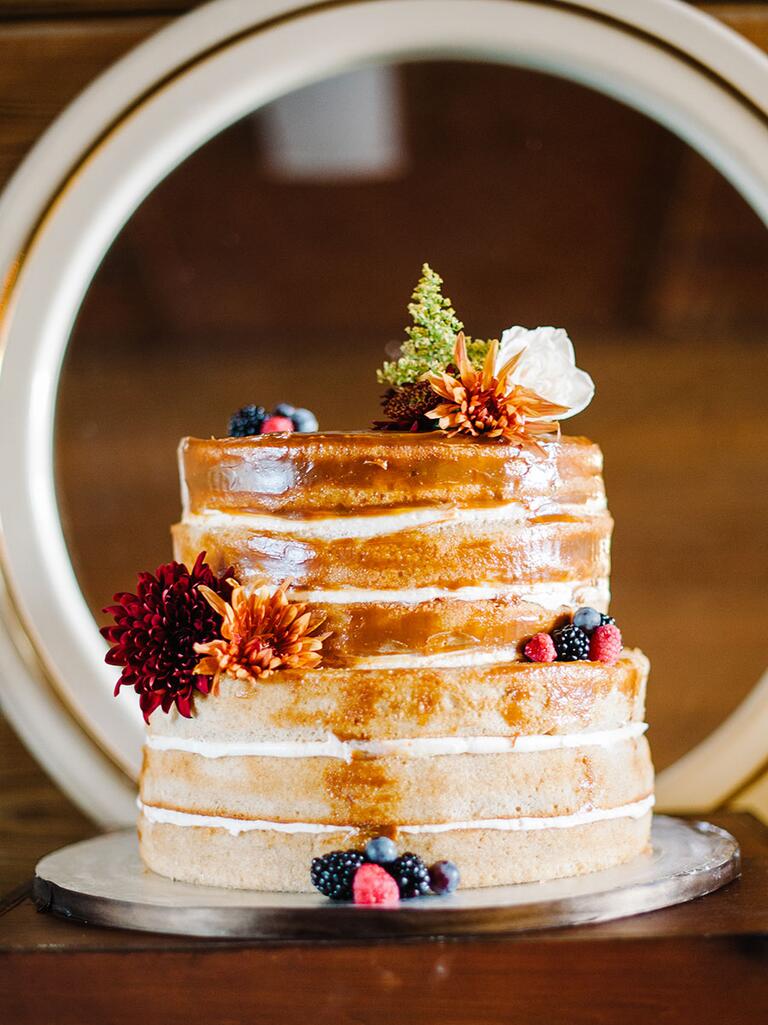 Not quite frosted, not quite bare, the almost-naked cake is a perfect blend of two styles, and ideal for a less formal celebration. These confections are usually lightly iced in buttercream and topped with fresh flowers or in-season fruits that hint at the flavors of the cake filling.