5 Amazing Bohemian Makeovers For the Maximalist in You
Here are 5 Amazing Bohemian Makeovers For the Maximalist in You, from Apartment Therapy
There's minimalism, and then there's Bohemian style decor. If you lean toward the latter, and love the energy that comes with color, multiple layered patterns, and lots of textured decor—not to mention a jungle's worth of plants—these makeovers are for you. Some of the people behind these transformations own their homes, and others rent, but all their spaces are now bursting with life and good vibes.
A No-Reno-Required Rental Kitchen Makeover
This kitchen redo didn't require any remodeling whatsoever, which is what makes the "after" so remarkable. The renter behind the transformation created a Bohemian oasis that defies the room's 1980s origins.
The biggest change was removing the cabinet doors, which stripped the kitchen of much of its bland identity. Sarah's maximalist aesthetic works well here by covering up the boring and the bad, and layering in decor to give the room personality and warmth.
A Boring Blank Canvas' Total Transformation
Not much to see here. This empty master bedroom had stained wall-to-wall carpeting for days, but was otherwise a big blank white box. Kelly, of Studio DIY, tackled it as part of her overall home renovation, taking her time by choosing—and DIYing— just the right stuff.
Kelly wanted a peaceful and relaxing room that was bright yet neutral. She chose to keep white walls as the base, then added in decor using a very limited palette of varying pink shades. Natural woven elements and fun details (tassels!) add a lot of interest without overwhelming the space.
Long Neglected Chairs Finally Find Time To Shine
Faith of the Boho Bungalow had a lot of faith in two poor little ripped up chairs and held onto them for four long years until she finally figured out what she wanted to do with them.
Using African mudcloth panels she found at Urban Outfitters, Faith reupholstered the set for about $150 each. Seeing them styled in such a pretty room is just a bonus.
An Ingenious Fix for Ugly Rental Bathroom Tiles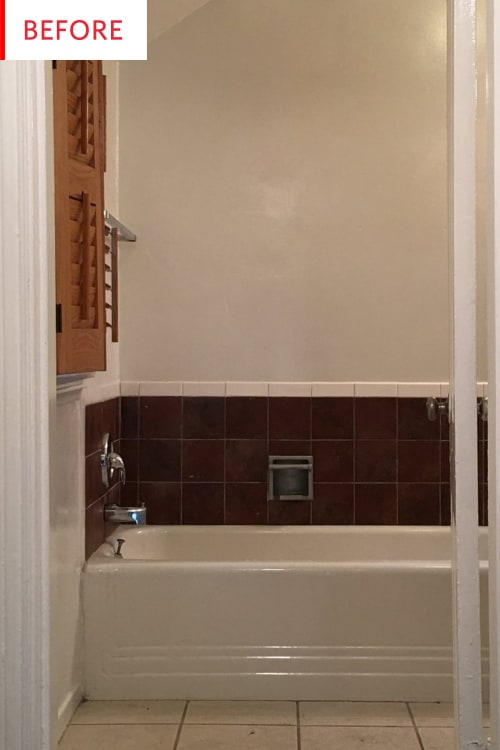 Sarah's bathroom had some dreary old brown-ish burgundy tiles, but, as a renter, she didn't want to invest too much money in things she couldn't take with her when she moved. As much as she hated them, refinishing the tub and tiles was just not going to happen.
Instead, the space was totally transformed with $90-$180 worth of tile stickers in a lush emerald hue, plus some well-chosen accessories in wood. Lively plants and watery art finish the space wonderfully.
This Bedroom Goes Even More Boho
Just when you thought this bedroom couldn't get any more Boho, Laura of Thrifted Bohemian pushed things even further into the relaxed, layered, tropical zone.
With a little help from removable adhesive wallpaper,