5 Interiors Inspired by Your Favorite 'Game of Thrones' Characters
Here you have 5 interiors inspired by your favorite Game of Thrones Characters; from Apartment Therapy
[Spoilers for season 8]
While watching the (wipes tear from eye) final season of HBO's "Game of Thrones," you probably have a lot of questions running through your mind: Who will ultimately win the Iron Throne? Was that really it with the White Walkers? After all that build-up? Can't Jaime and Brienne just run off and be in a rom-com together? HAS ANYONE SHOWERED?
But, if you're like me, there's probably one other question you've been asking since season one: How can I get the "Game of Thrones" look in my own home, but without all the murdering and dirt? The team at e-design company Modsy is here to help with just that. They've designed five 2019 interiors each inspired by a different House (and one from our aforementioned cold friends) from everyone's favorite epic fantasy saga. Whether you're a ride or die Targaryen or have pledged your life to the Starks, you'll find ways to keep Game of Thrones alive in your home long after the series has ended.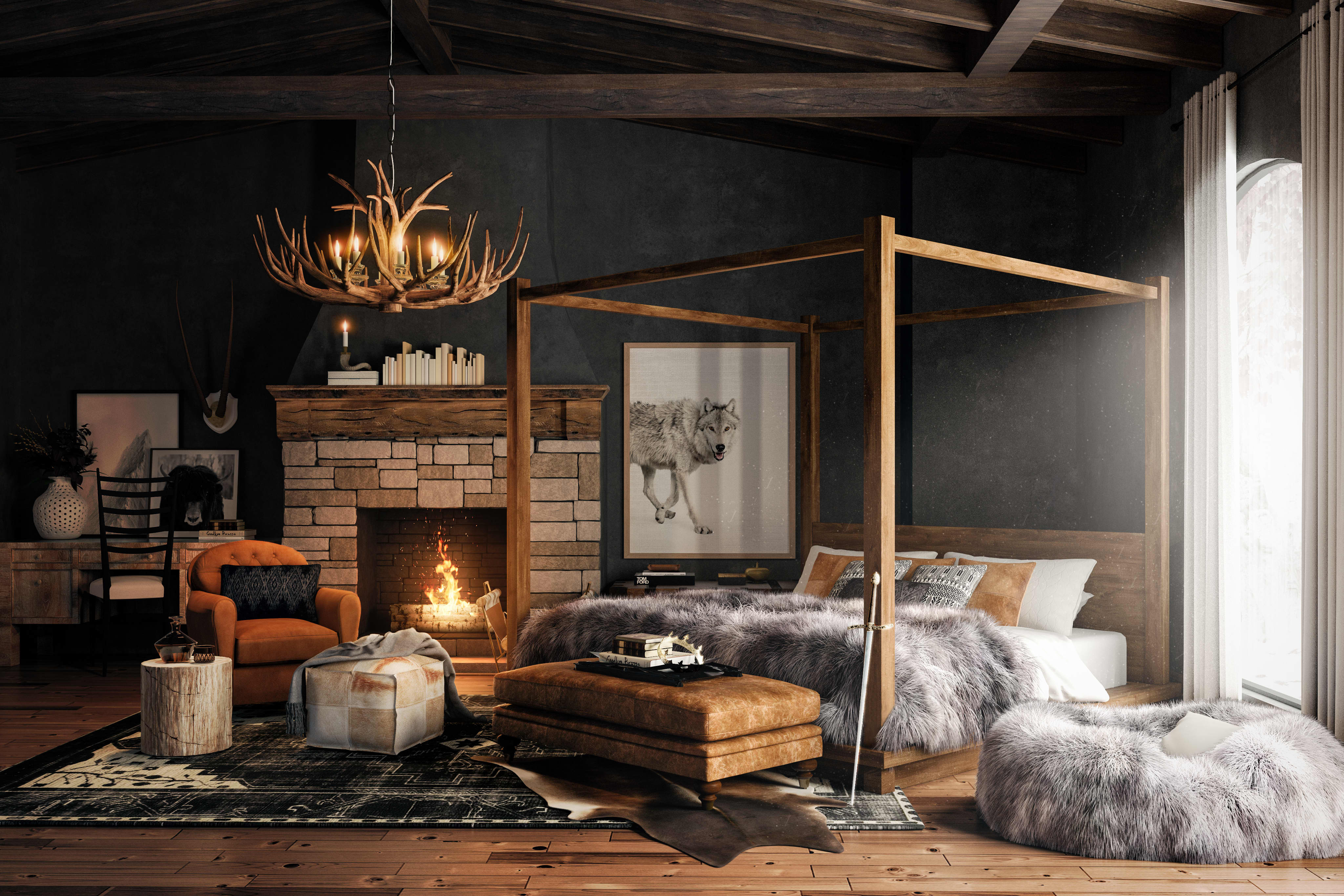 The North Remembers…that you can have a utilitarian vibe to your space without it feeling cold and unwelcoming. To achieve a Stark-inspired look, Modsy looked to organic elements like woods, leathers, wools, and furs. For your own personal Winterfell, Modsy suggests "for clean and simple lines in your foundation pieces that allow the materials used to be the focal point." Also, get yourself an antler chandelier. Everyone needs an antler chandelier.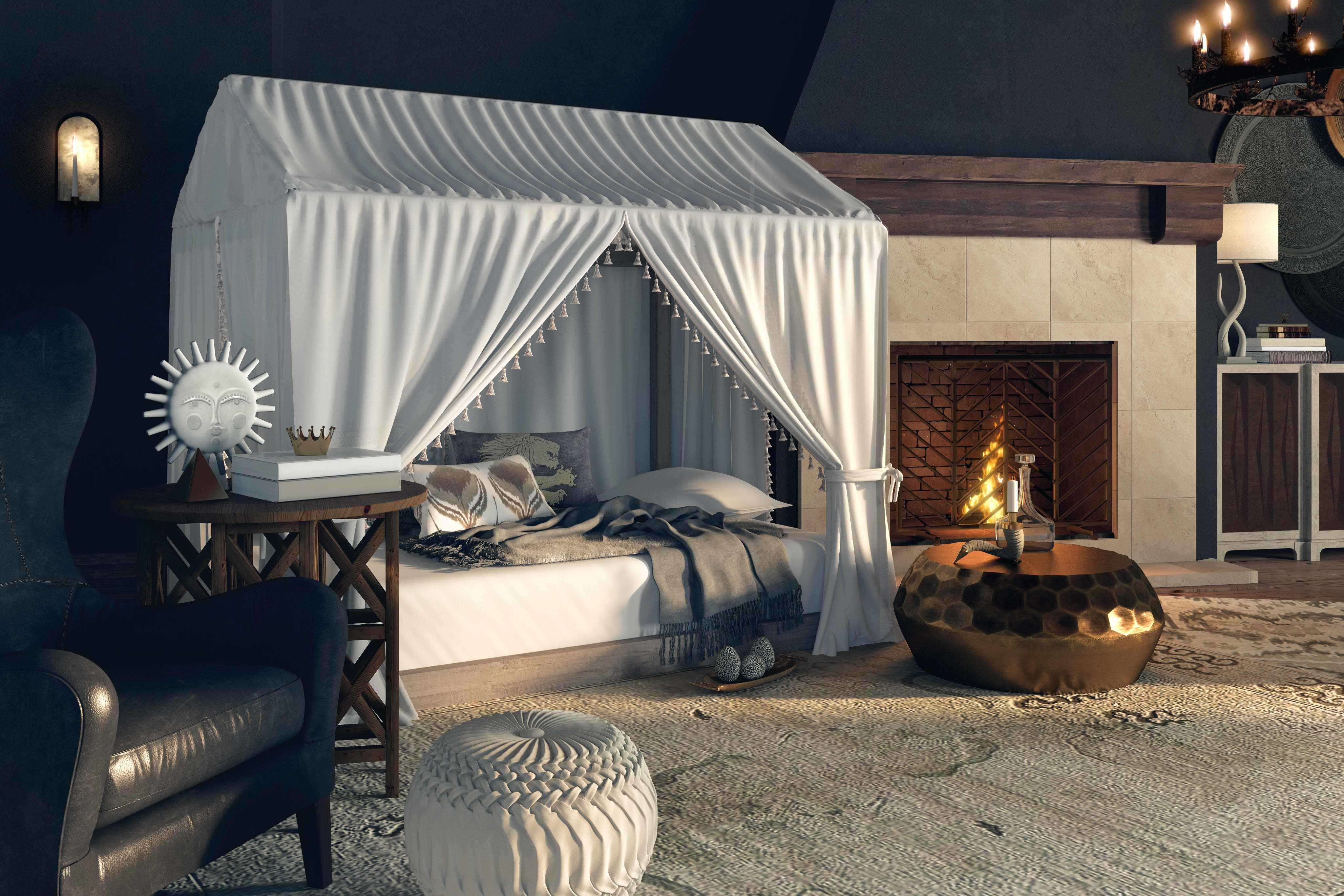 Since Dragonstone doesn't have the most inviting interiors, Modsy looked to the Mother of Dragons to find inspiration for this Targaryen room. The mix of romantic fabric choices and armor-like metals feels very Daenerys Targaryen, Breaker of Chains, doesn't it? Also note the shout outs to her pride and joy, Drogon, Viserion, and Rhaegal by way of scale and egg decor (egg decor is a thing, people!), and Dany's sun and her stars, Khal Drogo. To get your home fit for a queen, be sure to "pair furniture and fabrics in muted, earthy tones with metals and different textures create a layered, organic look."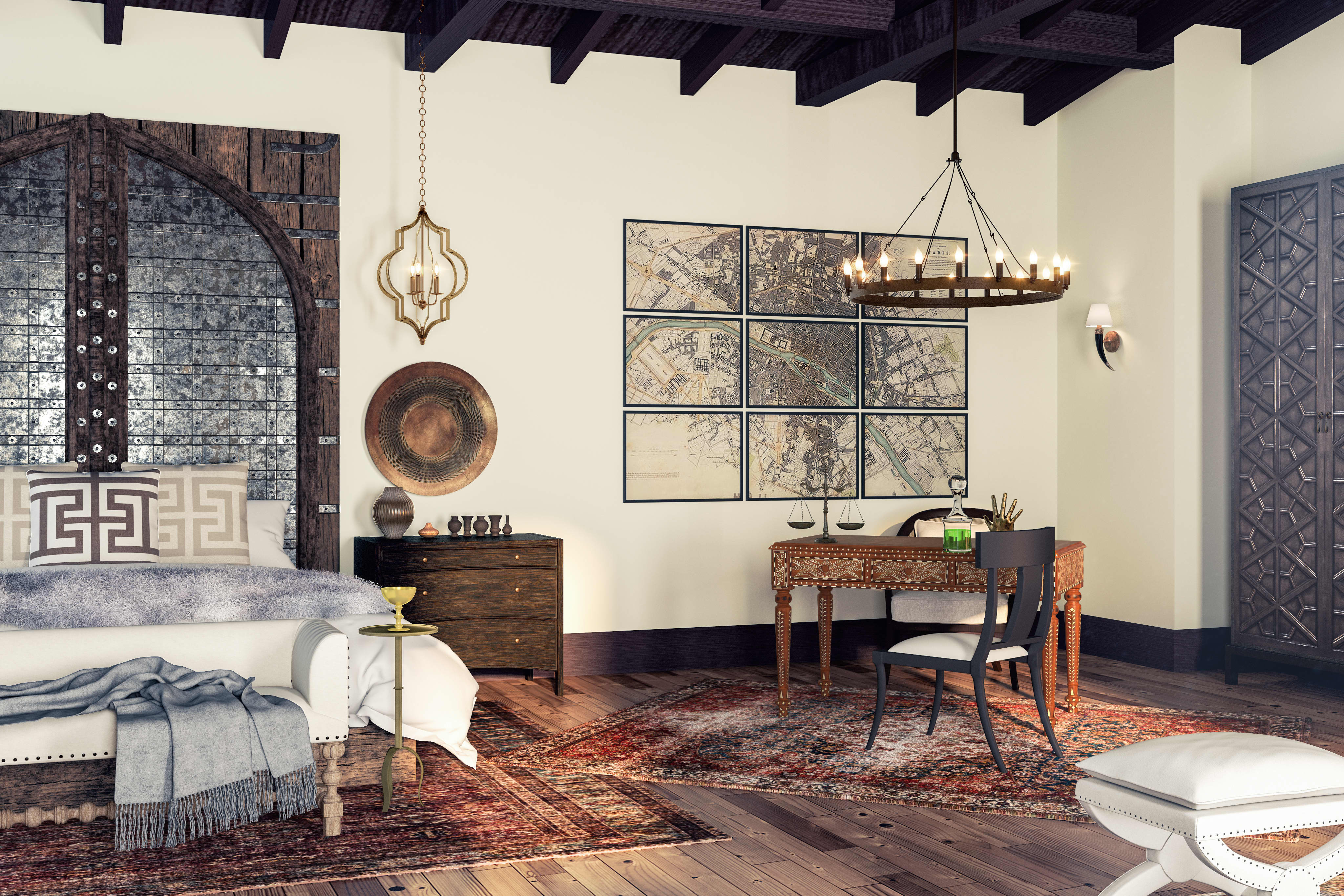 Apparently a Lannister always repays his debts and keeps a tidy house designed with a mix of Mediterranean and Colonial aesthetics. The motto is a little wordy, but not a bad one to live by. Modsy gave this Lannister-inspired room a luxurious feel by incorporating the House's traditional red and gold throughout, and filling the space with vintage textiles. Modsy suggests incorporating darker woods into your home to create some drama (Lannisters drink and know things and cause drama, amiright?). Just be careful not to mix up one of the copious bottles of wine in the room with that bottle of wildfire on the desk. You only make that mistake once.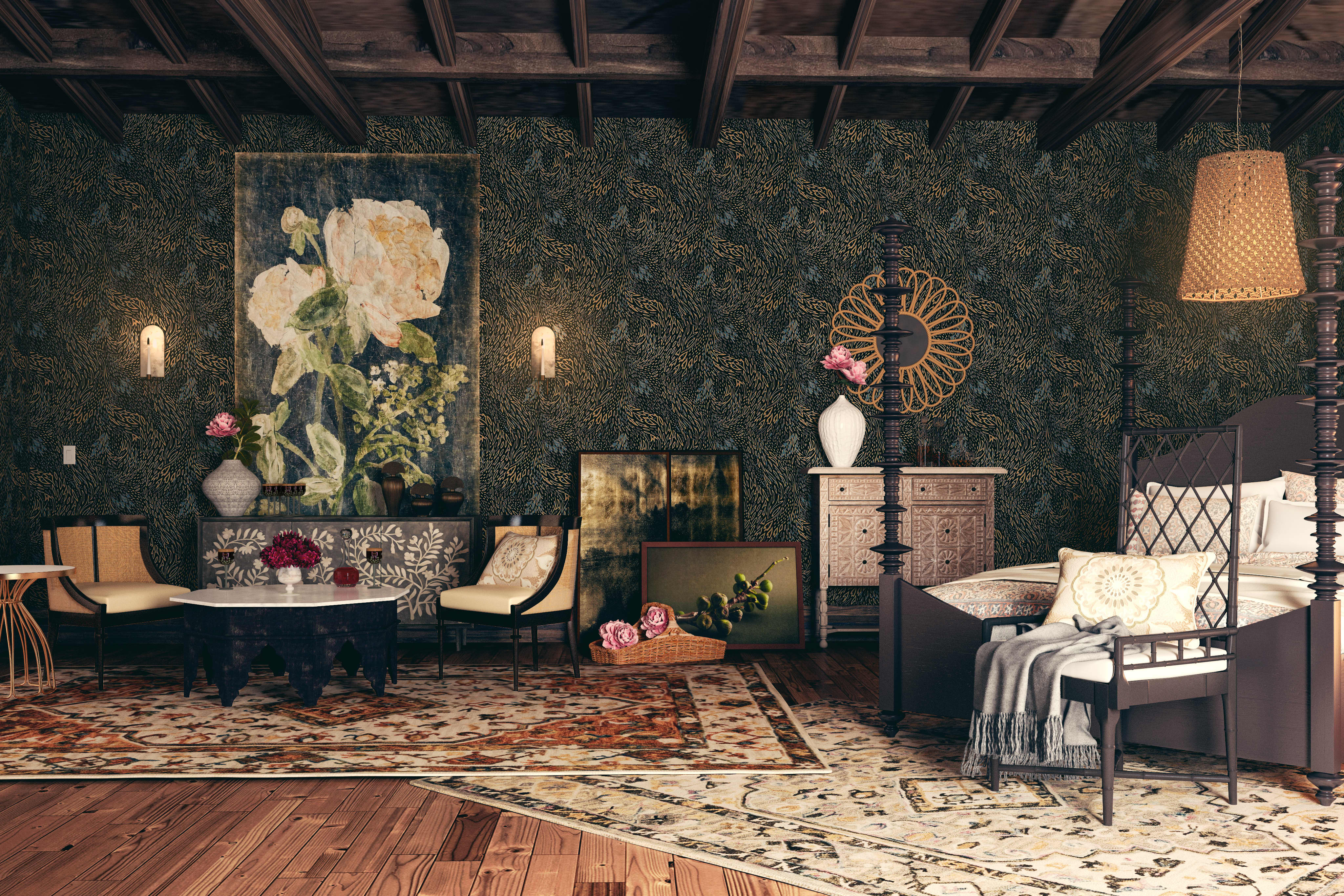 Although House Tyrell was destroyed (Lady Olenna 4eva!), its homebase, Highgarden, was always one of the most romantic and lush locations in the Seven Kingdoms. The House Sigil was a golden rose, so obviously Modsy incorporated a lot of floral patterns into this look. But mixed with more traditional furniture and bold decor choices, the space feels anything but delicate. To play up this juxtaposition, Modsy suggests "mixing a larger chandelier with slightly more feminine sconces to create a bit of contrast."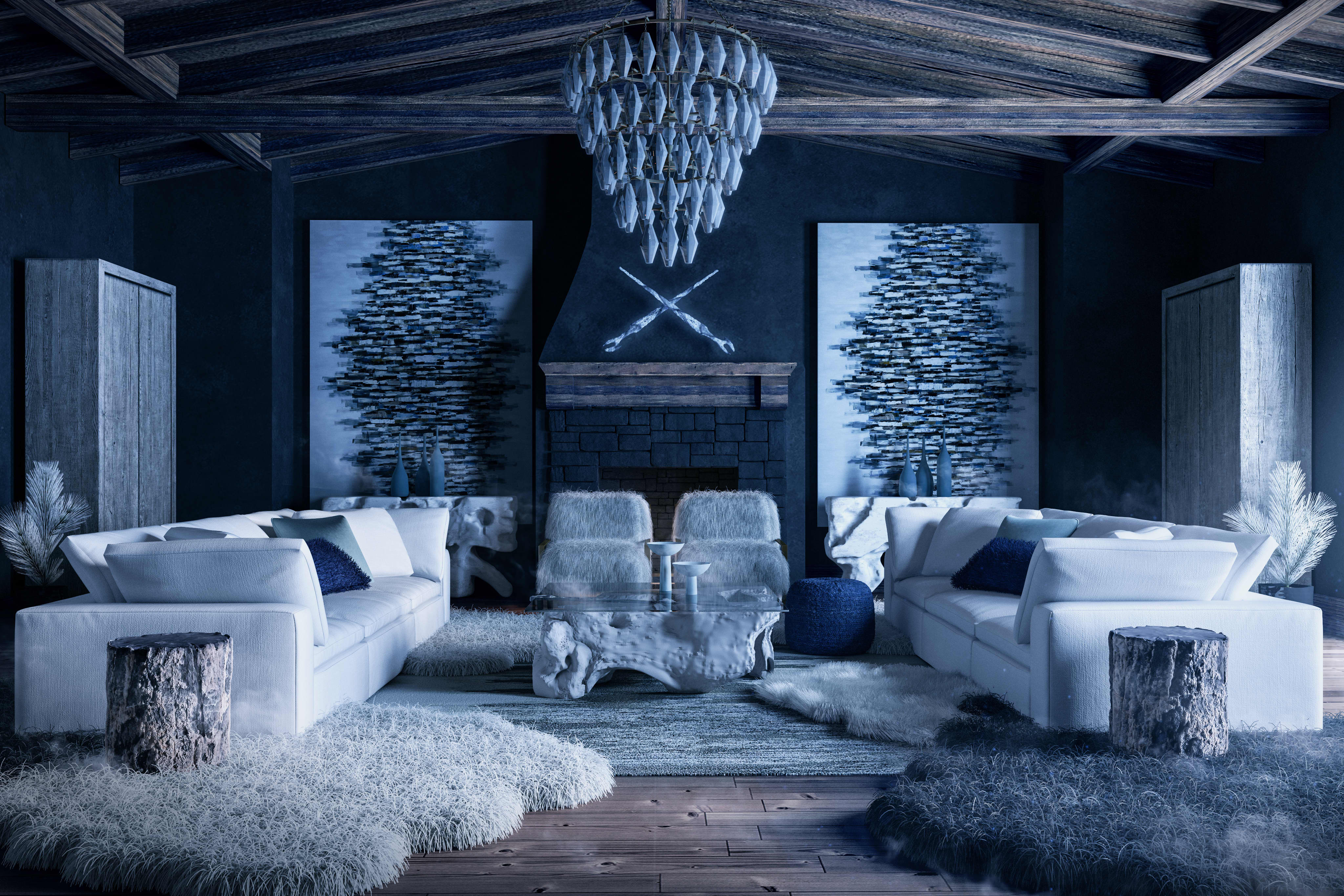 Hey, even the undead need a place to live! Maybe the night isn't so dark and full of terrors as we were led to believe. Get your White Walker on with white and blue everything. Just because you may welcome the long winter, it doesn't mean you can't have some cozy fabrics and textiles to warm you up. And because the Night King and his pals were seemingly the outdoorsy type, according to Modsy you should "stick to more rustic pieces, such as wood side tables and raw edge pieces," should you want to bring this look home. I mean, you'll be supporting the enemy and Jon Snow will probably never talk to you again, but that dude knows nothing (about interior design).