Basics Of Grunge Style And Modern Interpretation
Check out all you need to know about the Basics Of Grunge Style And Modern Interpretation , from Glaminati,
Some people may consider grunge style to be old-fashioned. However, we know that is not true. Even though, the original idea comes from the 90s the modern fashion hasn't left the style out.
These days there are many grunge outfits to be spotted on the streets. That is why, if you want to embrace your inner rebel we suggest you pay attention to this fresh grunge compilation.
With outfit ideas like these, everyone can become a rebel for a while.
The History Of Grunge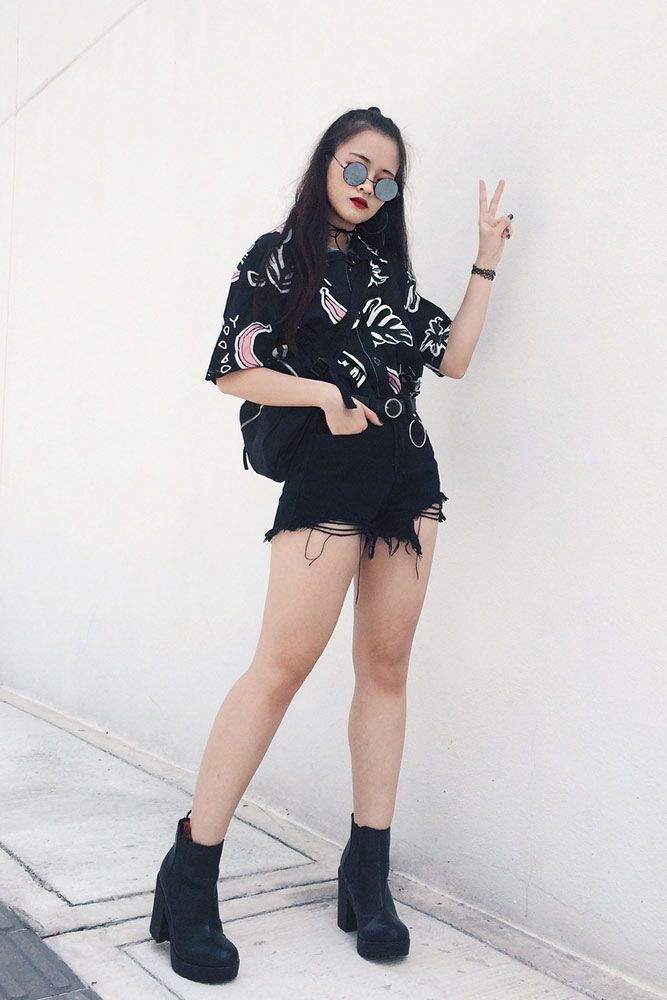 Just before we proceed with the ideas themselves, we think it should be interesting to figure out what is grunge style actually. The fact is that the style belongs to the 90's. It represents anti-capitalism and anti-consumerism in its core. People who started to spread grudge made it clear that they are against all possible logos and wealth in general. It seemed that grunge combined the non-combinable and made a new fashion stream out of it, even though all grungers preferred to name their style a non-fashion stream.
When it comes to the grunge hairstyle – the dirtier and the more colorful your hair was – the better. It needs to be mentioned that dues to the cold temperatures of the origins where the grunge comes from, the necessity for warm woolen sweaters added up to the style as well.
Last but not least, we shouldn't forget about such essential outfit details as ripped jeans, Doc Martens boots, flannels and your mom's old sweater that were popular beyond belief.
Grunge Style Ideas
Ripped Jeans With Black Fishnet Tights Underneath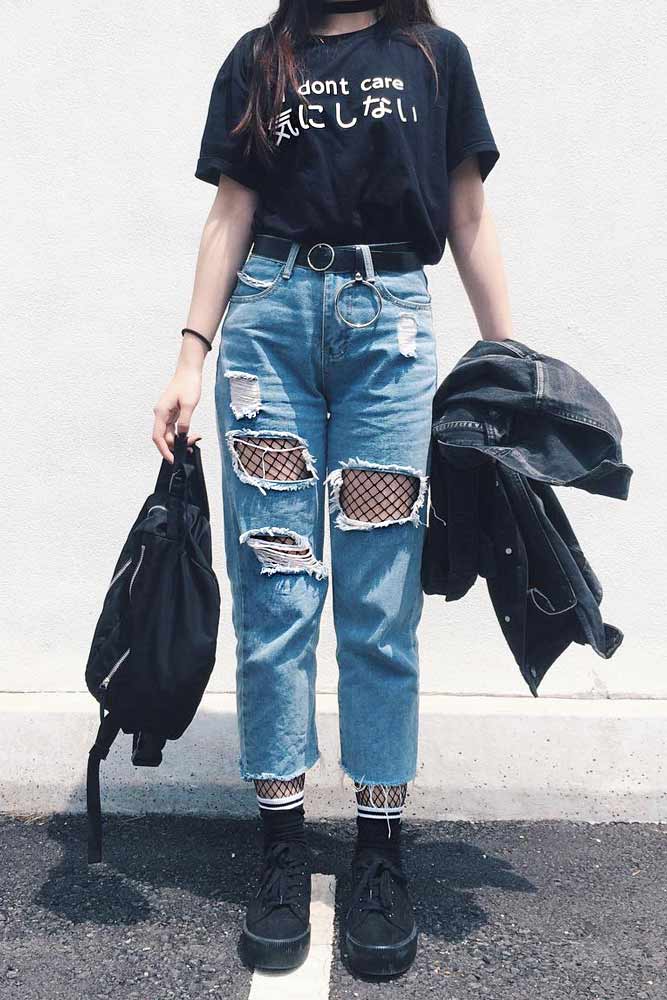 When you plan your grunge outlook, you should not forget about both the grunge aesthetic as well as the modern trend. That is why pairing your fav ripped jeans with fishnet tights is a proper way to preserve the balance.
Black Leather Jacket With Black Ripped Shorts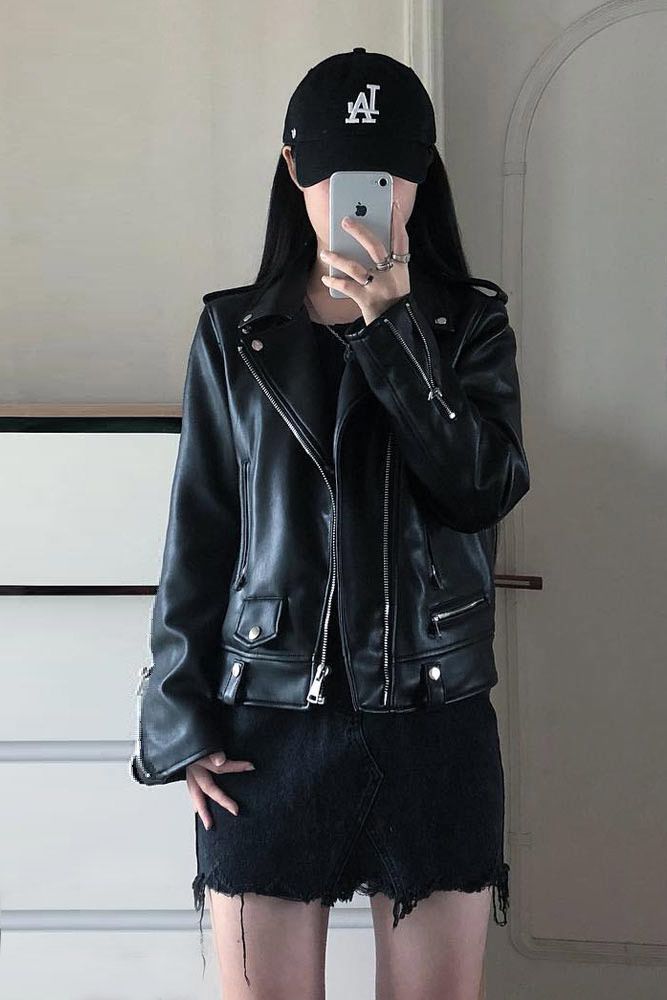 Those of you who prefer grunge clothing of the same shade – we have something in store for you. This look involves only black, but you can barely say that it is dull. Anything, starting with the cap and ending with ripped jeans shorts and leather jacket add up to create a perfect grunge style look.
Plaid Shirt And Hat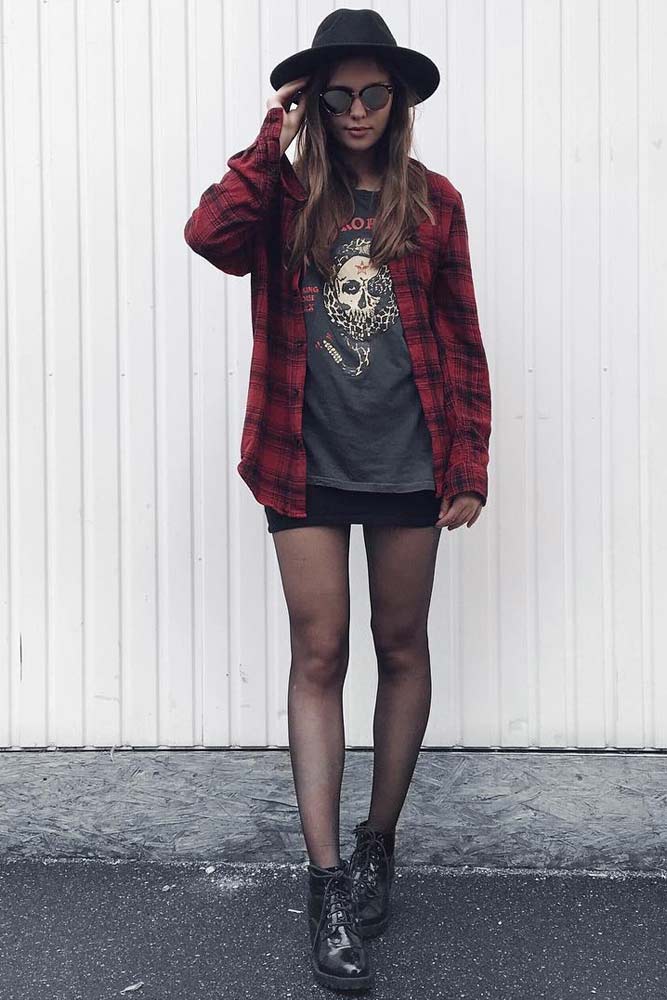 It needs to be mentioned that despite the listed above attributes, grunge fashion is extremely versatile. That is why even a trendy hat will go well with a grungy plaid shirt and boots.
Short Top With Denim Accent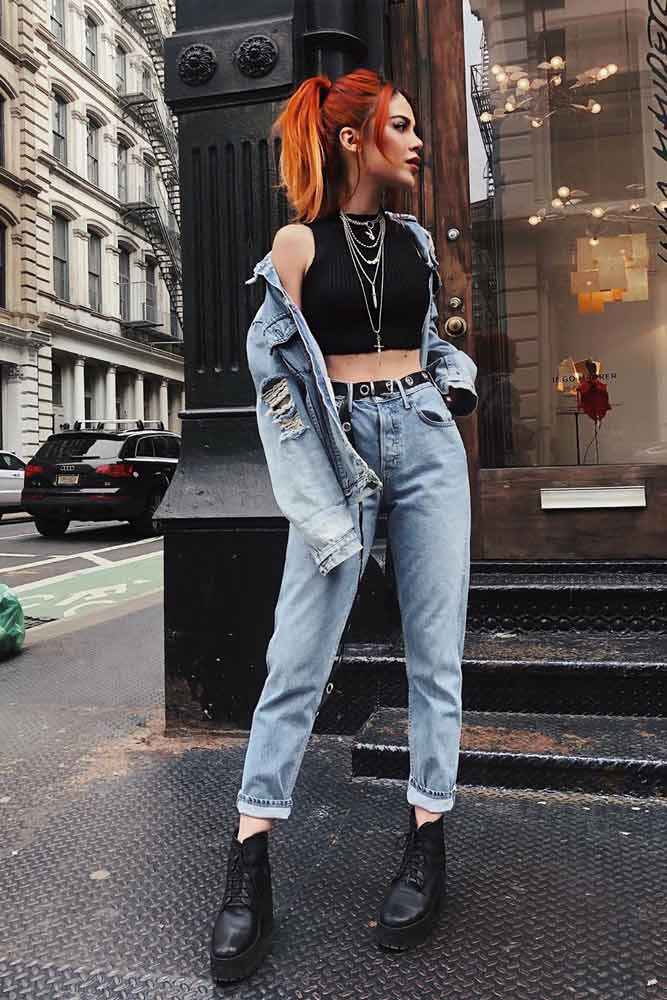 If you want to follow the grunge style 90s fashion, then you surely need to own a pair of jeans and a jeans jacket of the same color. To add some modern touch to your look, you can wear a black tank top.
Short Plaid Skirt With Denim Jacket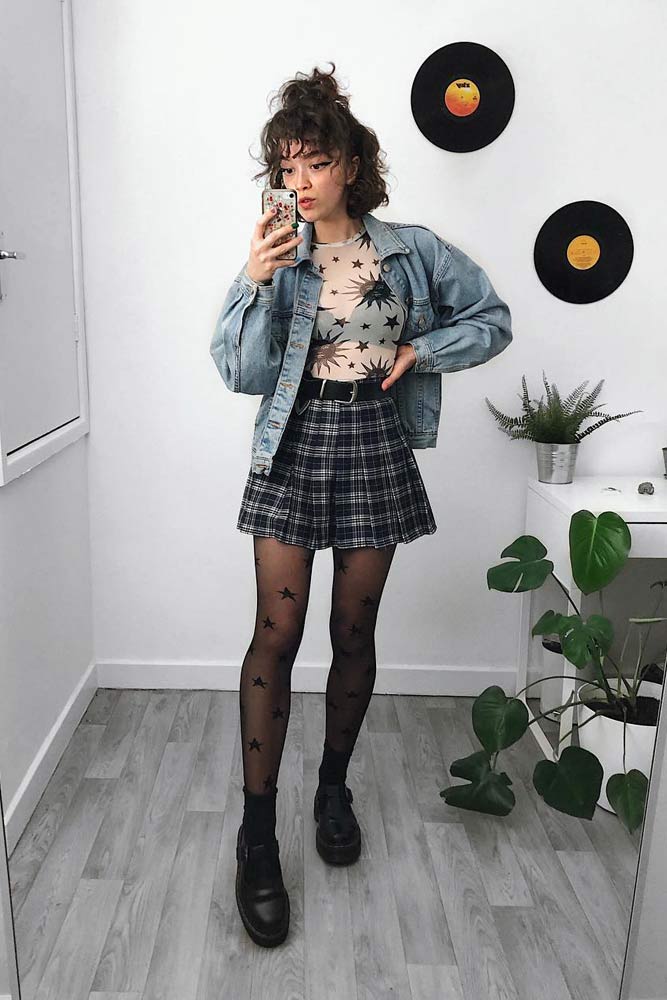 For those who like soft grunge style more than other looks, this short plaid skirt and jeans jacket look will turn out to be appealing. It is simple and charming but stylish at the same time.
Plaid Pants With Denim Jacket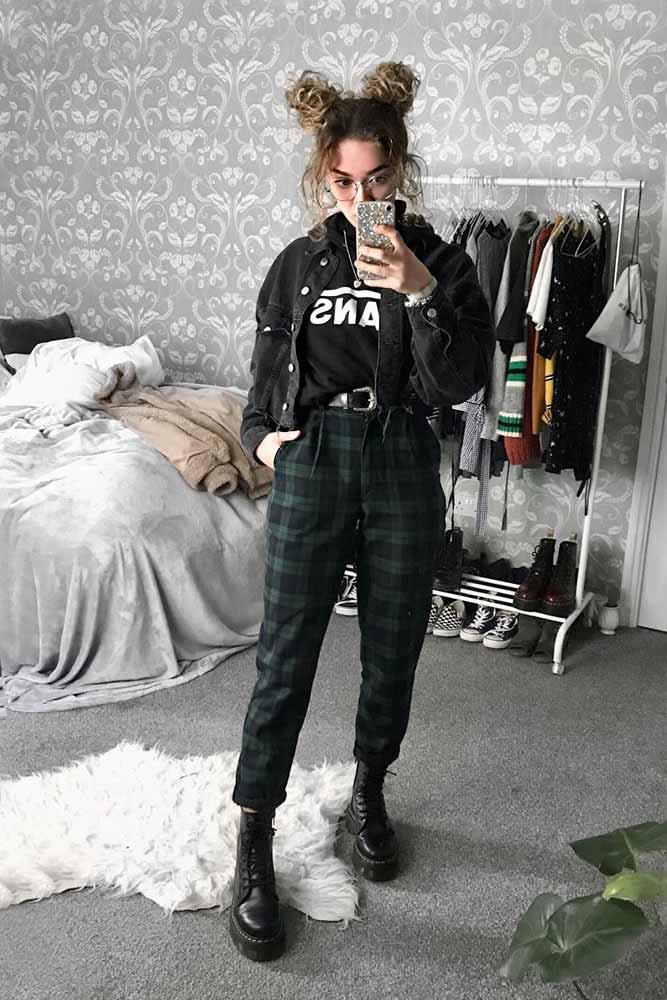 If you are looking for the most up to date grunge style clothing, we may have something interesting in mind. The combo of plaid pants and black jeans jacket is not that common, but you must agree that those items seem to be created for one another. Yet, do not forget about the details, in this case, we have the boots in mind.
Plaid Overalls With Transparent Mesh Long Sleeve Top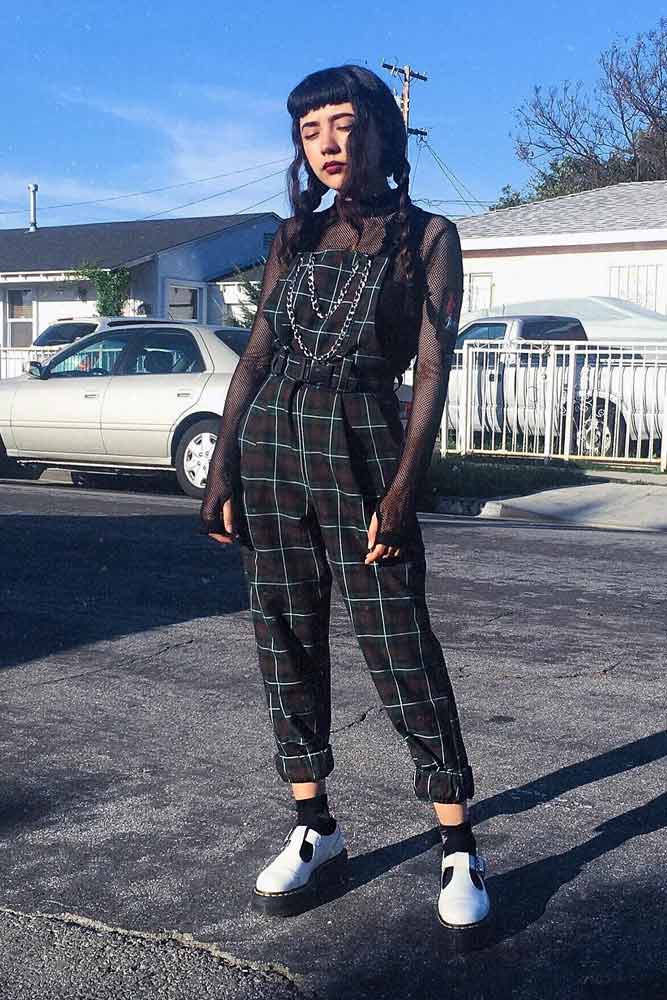 There are times when it seems that grunge style coincides with gothic style. There is nothing wrong with it; in fact, such looks can be pulled off with a wider range of people. If you like both dark hues and plaid overalls, then this look is what you need to give a try to.
Ripped Jeans, Shirt, And Beanie Hat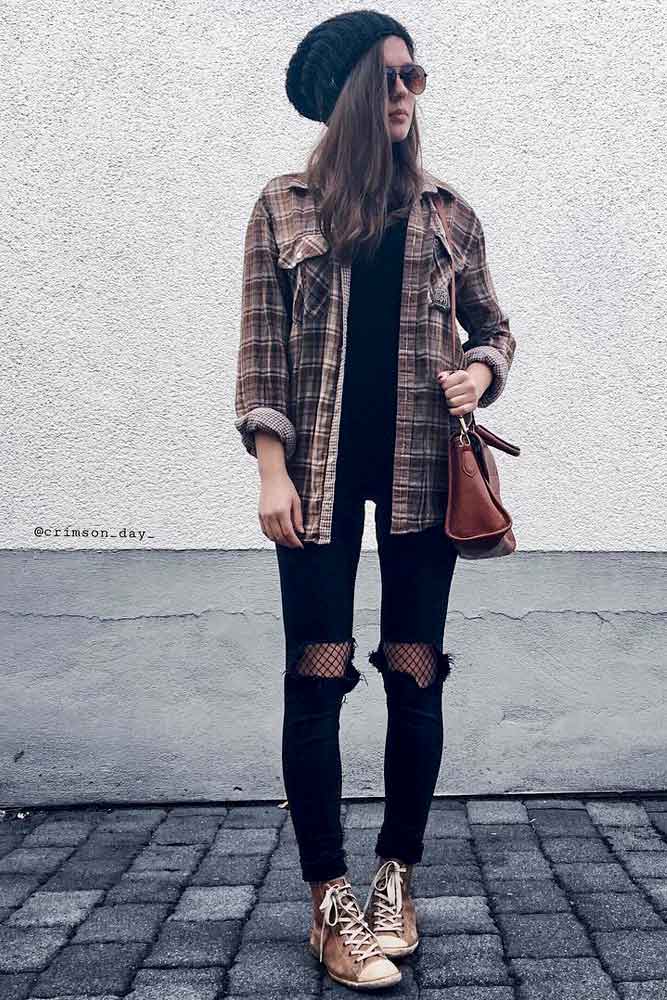 One of the most common grunge outfits usually includes a plaid shirt, ripped jeans and a beanie. Such an outlook is not only stylish but also very convenient when it comes to everyday wear.
Short T-shirt Dress With Stockings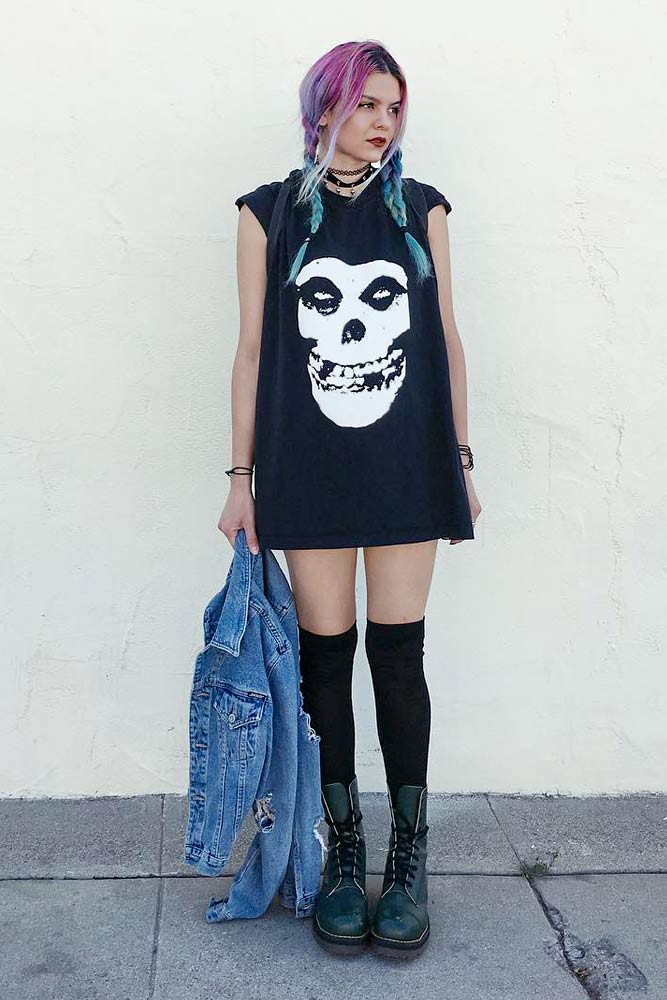 How should you dress when it is warm outside so that you feel fine and look well? The answer is quite obvious – black T-shirt dress and a pair of black stockings fit in perfectly.
Long Cardigan And Beanie Hat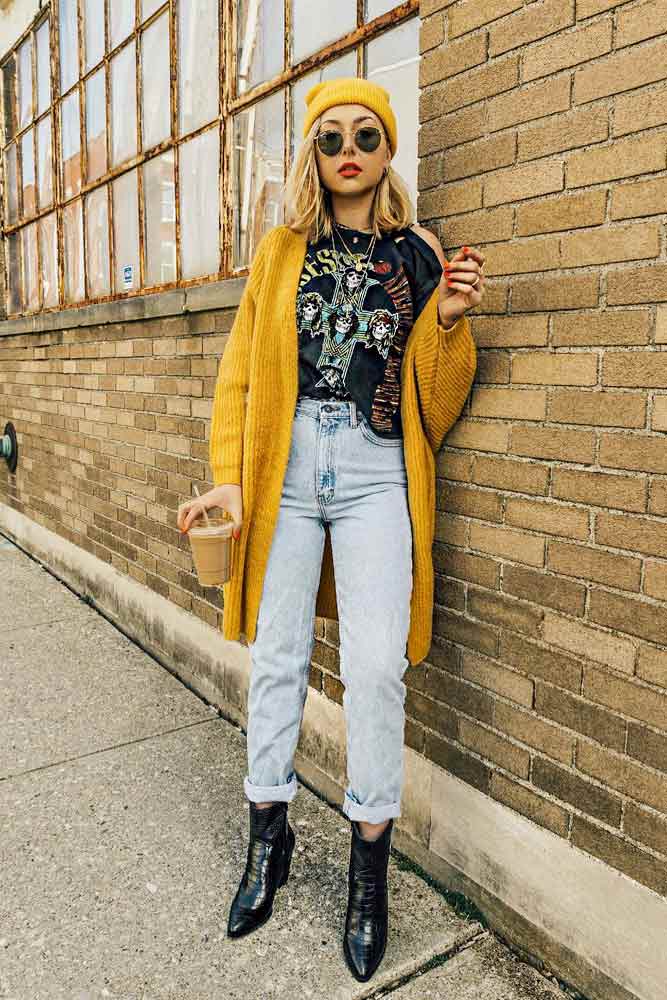 In case you think that bright hues are never introduced into grunge looks – you are wrong. If you like bright elements added to your look, then we suggest you pair the bright yellow cardigan with the same-shaded beanie and finish your grunge outfit with them.
Shortened Printed T-Shirt, Jeans And Boots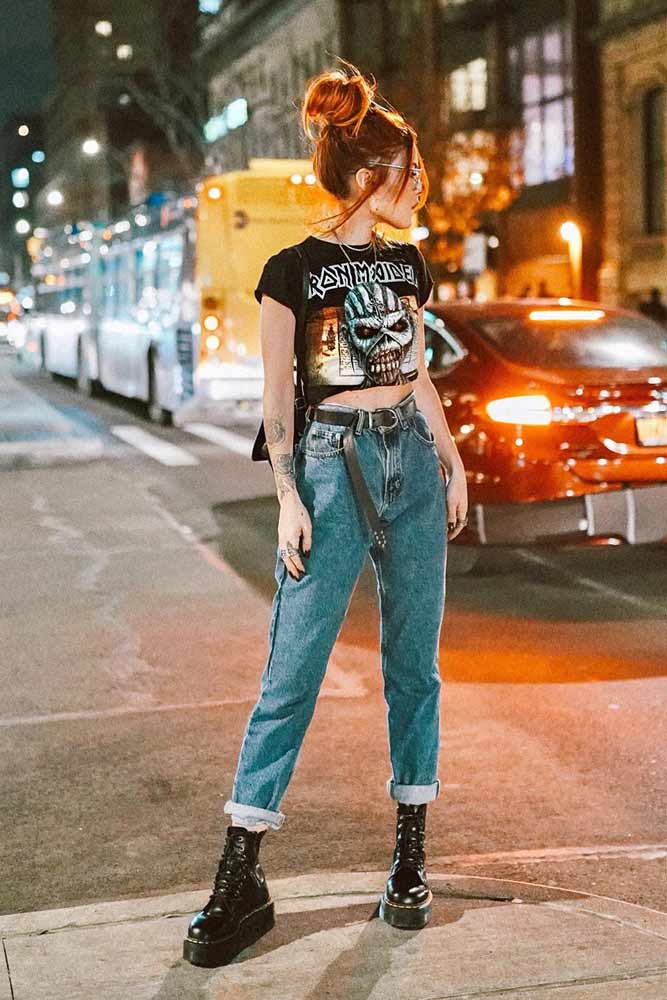 Truth be told 90s grunge style is something that most of us consider being modern street style. Very often all that you need to pull off that perfect grunge look is a pair of ripped jeans, printed t-shirt and boots. As simple as that.
Long Maxi Skirt, Printed Top And Denim Jacket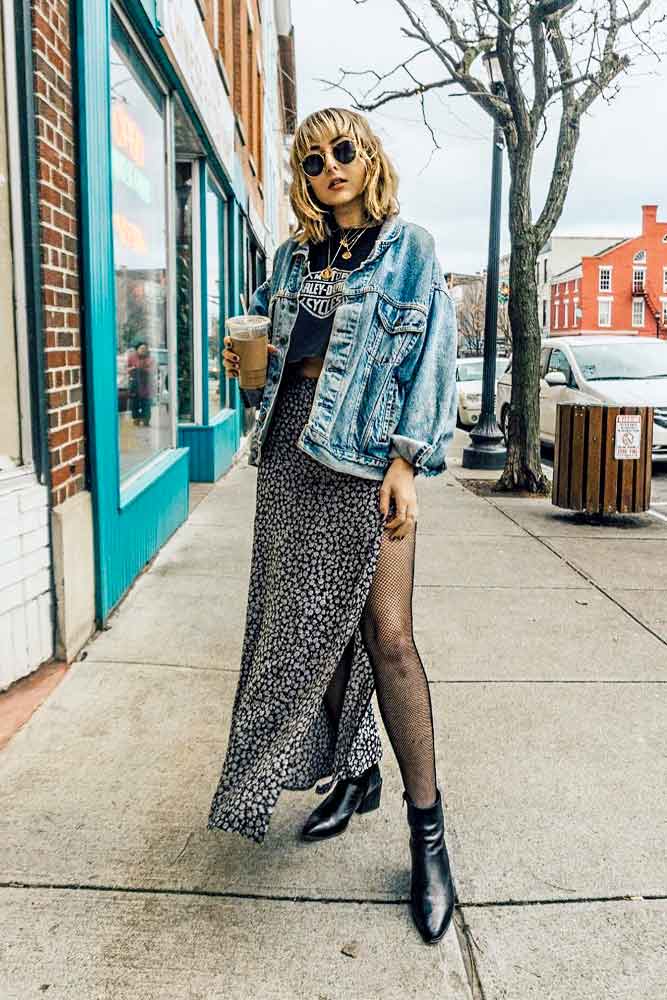 Some people prefer maxi length above all. That is why, if you belong to the category and you wish to experiment with grunge style, use this look as a guideline.
Soft Grunge Look With Shorts And Printed Top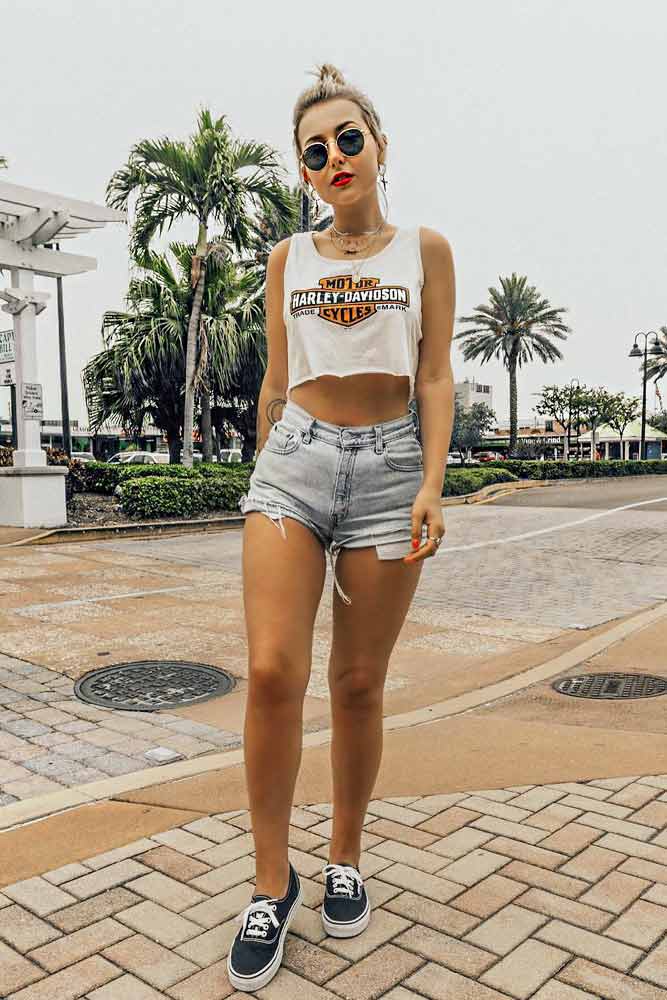 It is super easy to create your personal soft grunge style when it is warm outside. The fact is that you need only two items for that – printed tank top and ripped jeans shorts. As simple as that!
Sweater Dress With Stockings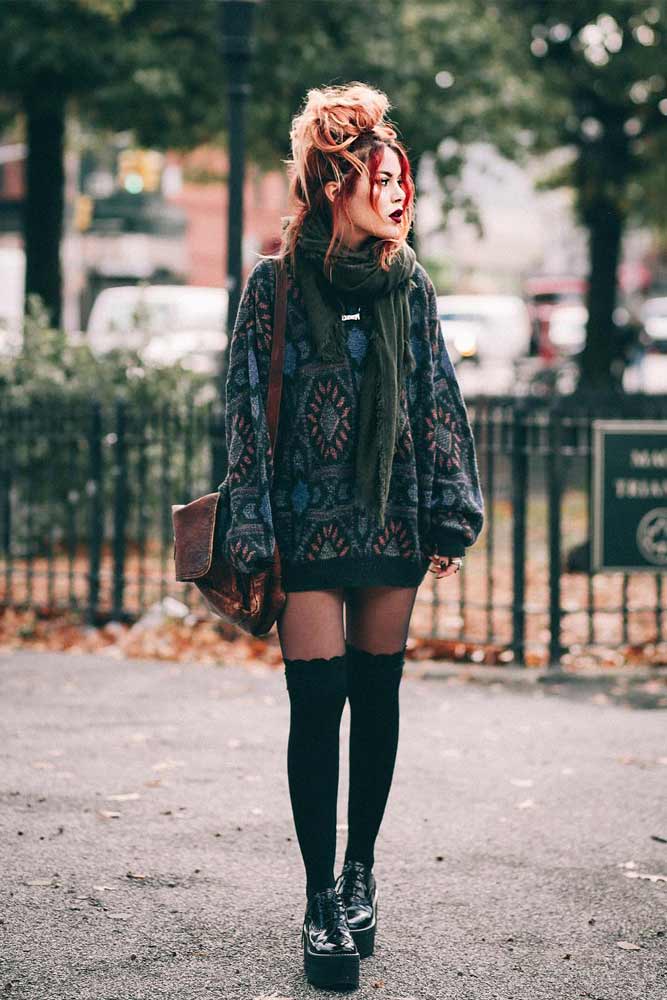 Many ladies among you may wonder whether 90s grunge fashion includes dresses. It does, however, it is a little different than you may have expected. From grunge perspective, an oversize sweater can serve the purpose of a proper and stylish dress, yet you shouldn't forget about a pair of stockings to be added to the look.
Grunge Look With Military Jacket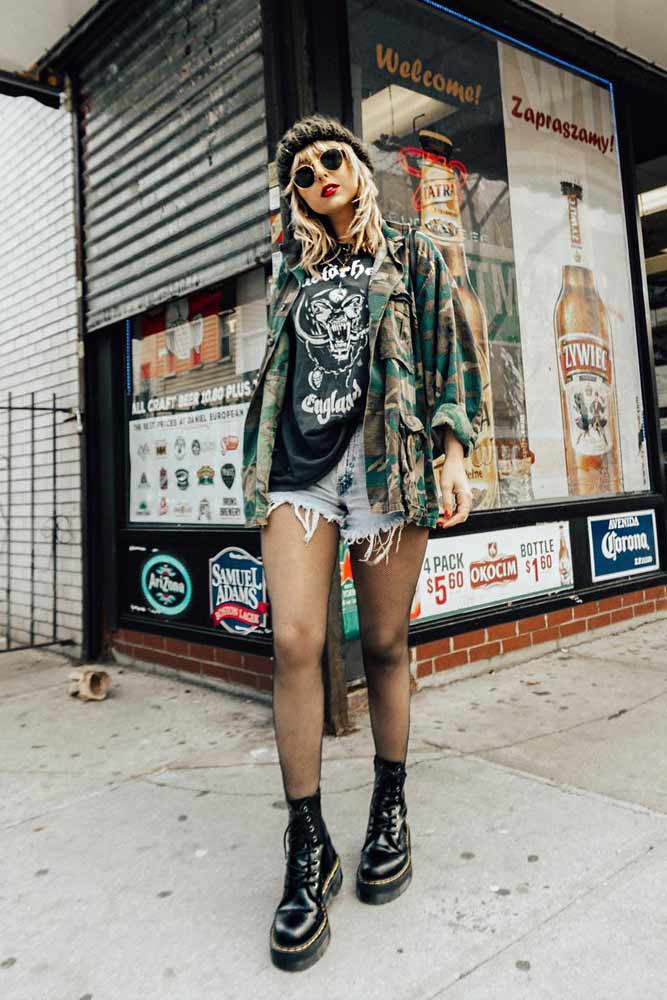 For many, the military jacket is one of the main elements that grunge style includes. In case you own one but have no clue what to pair it with – we suggest you use this idea to your inspiration!
White Jeans With Short Long Sleeve Top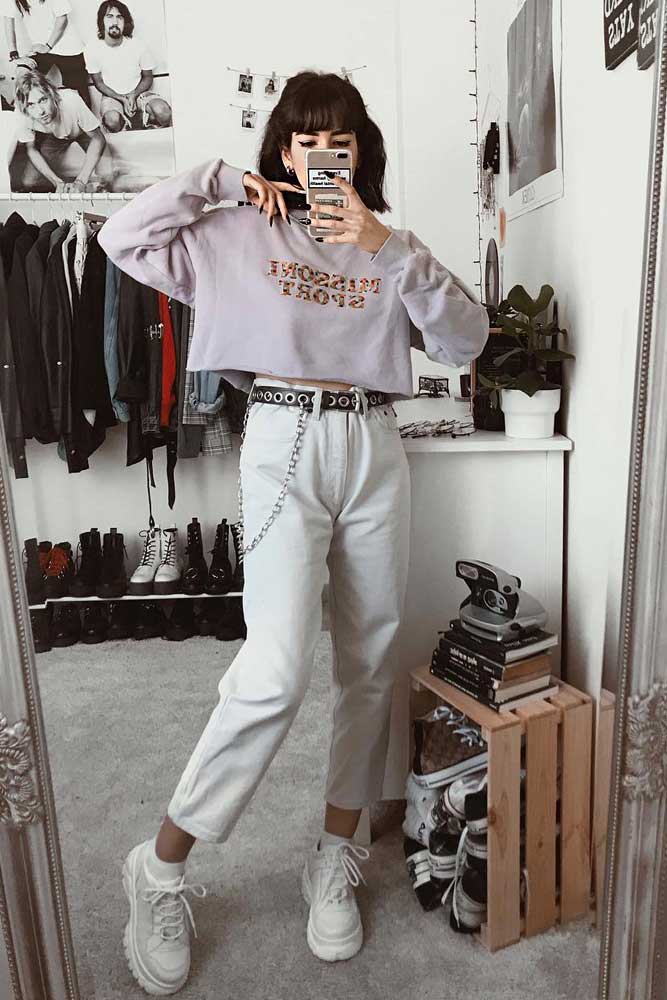 If you are looking for a pastel and cute grunge look, then we may have something that will fit in your requirements. The thing is that white jeans combined with a long sleeved top look beautiful and girly but still a little grungy.
Plaid Pants, Top And Newsboy Cap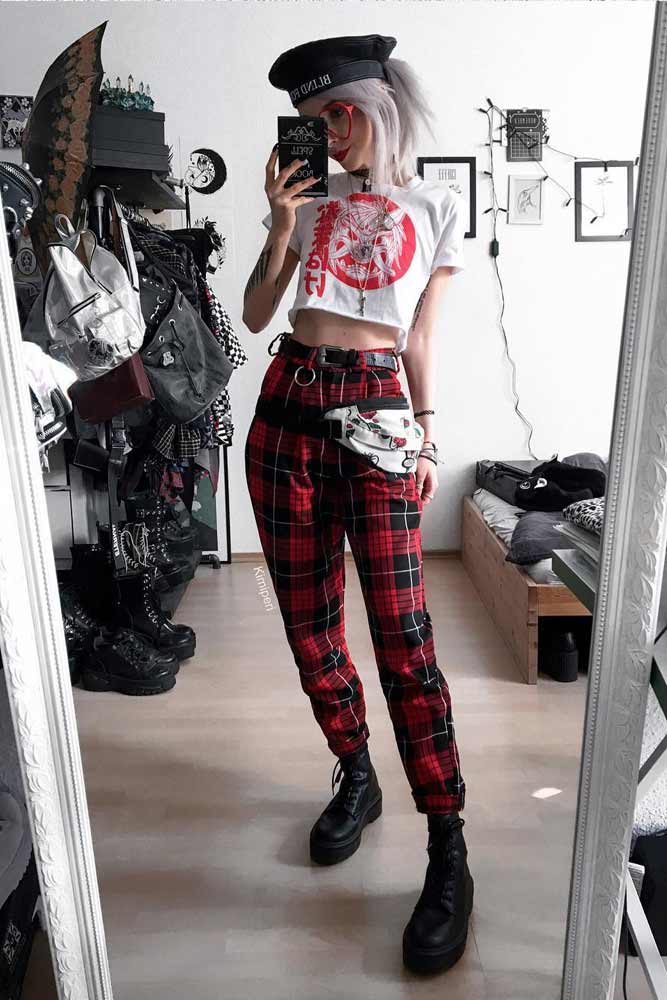 Those of you who want to stand out in the crowd should pay attention not only to the grunge clothing but also to the coloring. What we have in mind is that red and black plaid pants together with the printed top and newsboy cap are difficult to miss.
Ripped Jeans With Long Cardigan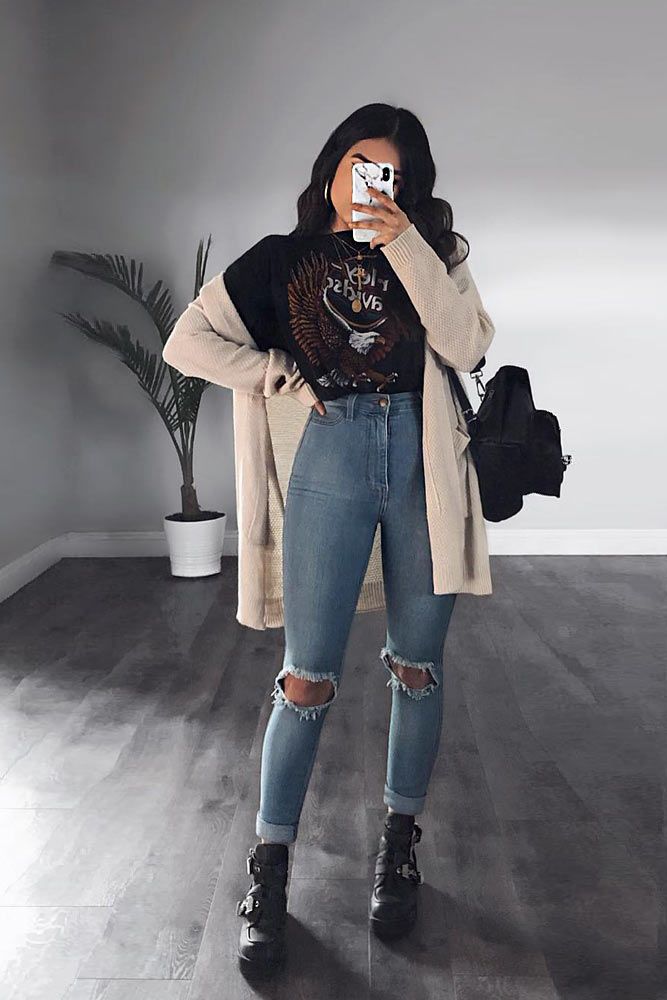 There are times when looking over the edge grunge is not acceptable, but you still want to stick to the style. In times like these, you ripped skinny jeans, black printed t-shirt and a lovely cardigan will save the day. Do not thank us.
If you want to pull off grunge style you need to know everything about its origins. Besides, you need to be aware of some fresh ideas to incorporate. All this we have covered in our compilation. Read on!