Henna Tattoo Designs: Beautify Your Skin With The Real Art
Check out these Henna Tattoo Designs for Beautify Your Skin With The Real Art, from Glaminati,
A henna tattoo is a temporary tattoo made with henna. It can be placed anywhere on a body, and the choice of designs is great.
Henna is an Arabic word, referring to a paste that consists of crushed branches, leaves of a Henna plant.
The henna dye is rich dark-brown, maroon, or white. It leaves the stain on skin, and pretty designs can be created with its help. Body art with henna is very popular.
Originally, henna body art comes from North Africa and South Asia where this plant grows. In these countries, henna body art was and, in some regions, still is a part of people's culture. And the beauty of the ritual led to its spread to other countries.
Now let's discover more interesting facts about henna body art and some amazing samples.
Henna Tattoo Designs On Arms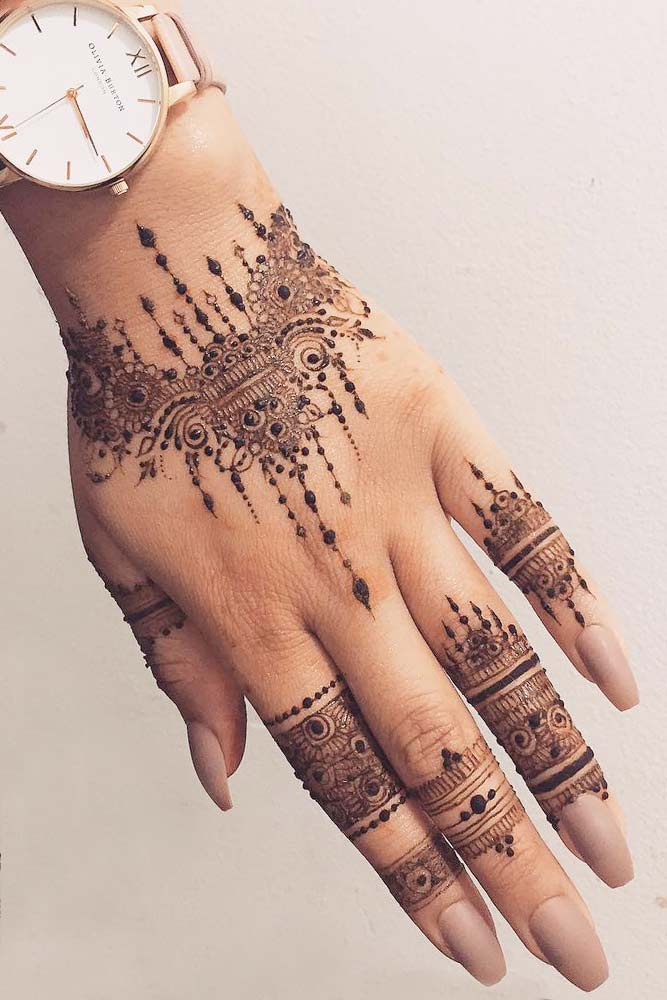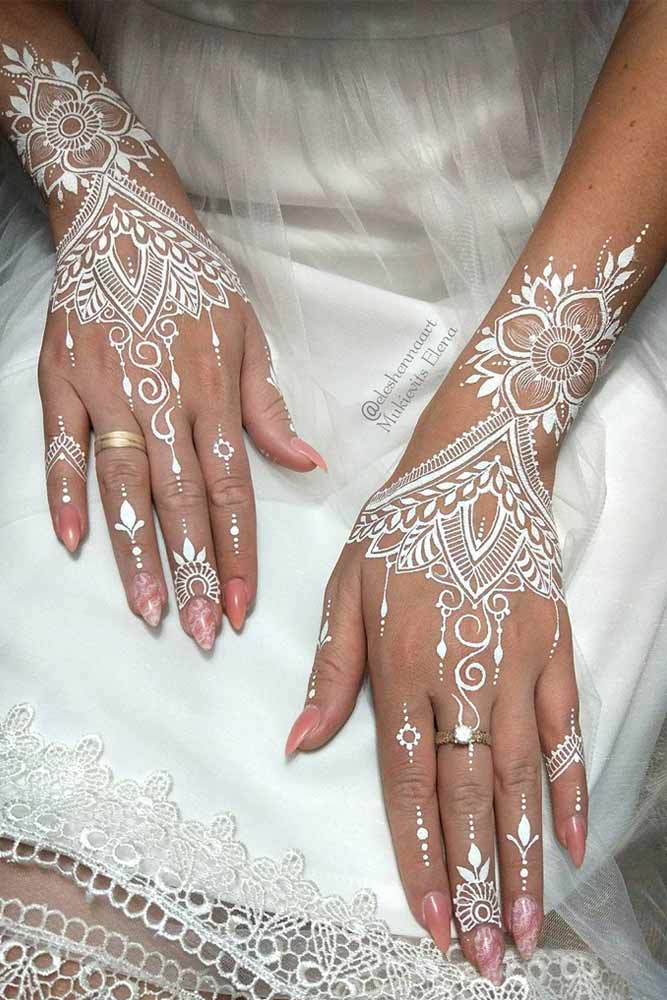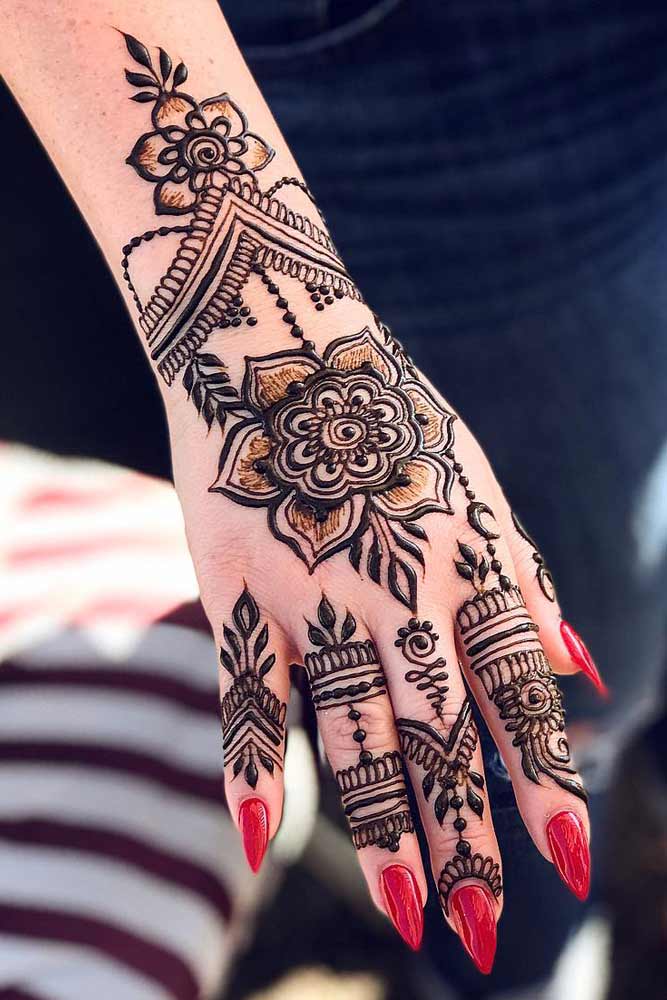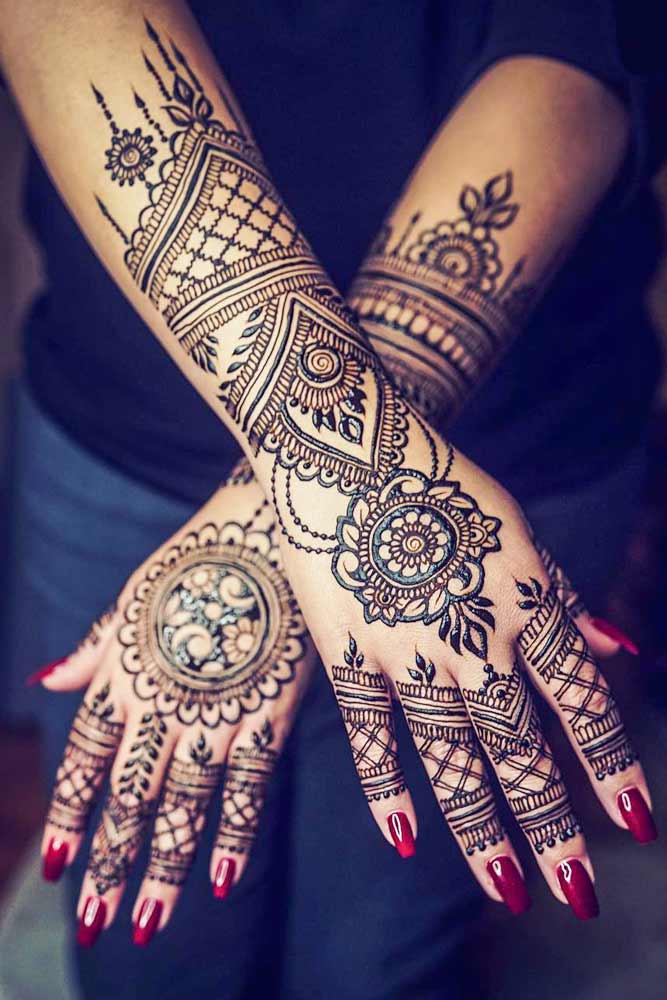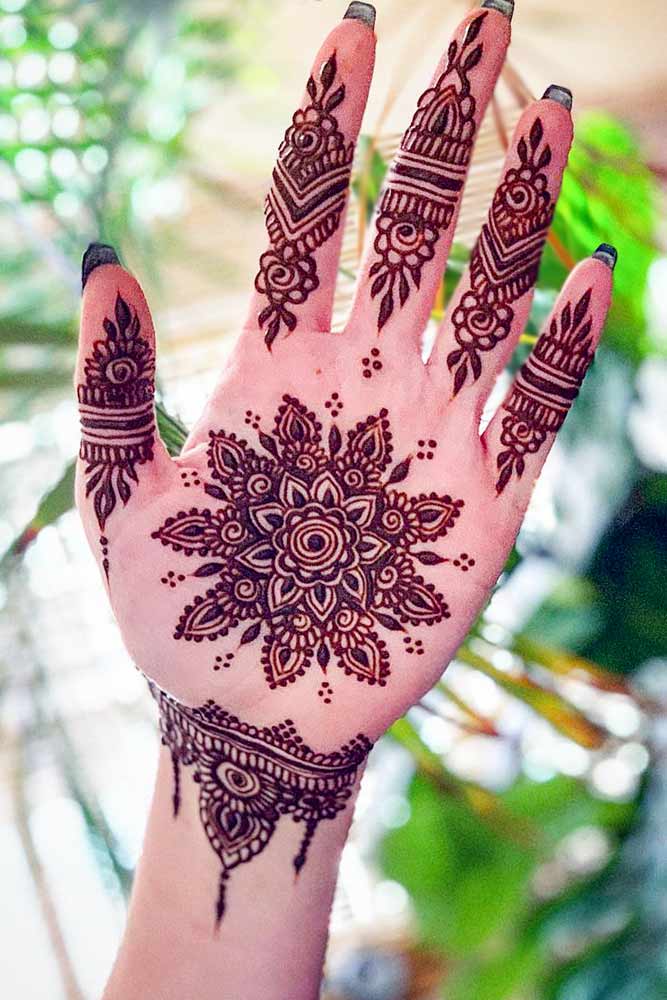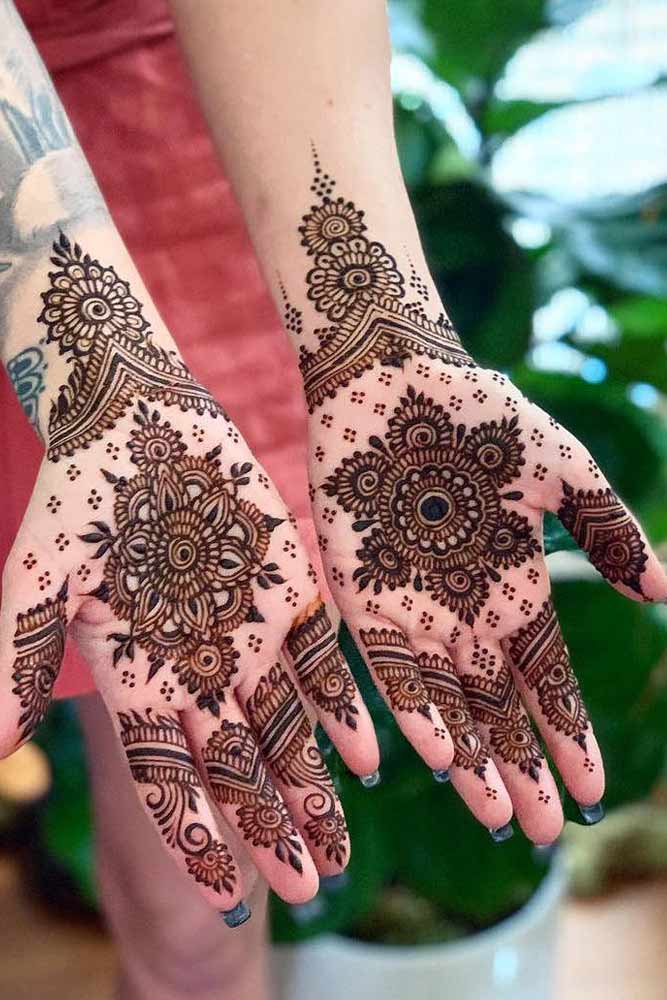 Henna comes in 3 main colors: black, red, and white. What are the qualities of these types of henna? Black henna for body art is made synthetically. And natural henna in black is applied to hair for dyeing it black, but it won't dye skin. Keep that in mind if you are planning to create a henna design at home, do not confuse the two. Red henna is natural: it is made, using Lawsonia leaves. Such henna can give your skin a rich maroon tone. White henna is paint, not dye. It is popular among brides to apply it instead of gloves. Also, women often prefer white henna to adorn their bodies for various festivals, for example, Coachella.
Legs Henna Tattoo Designs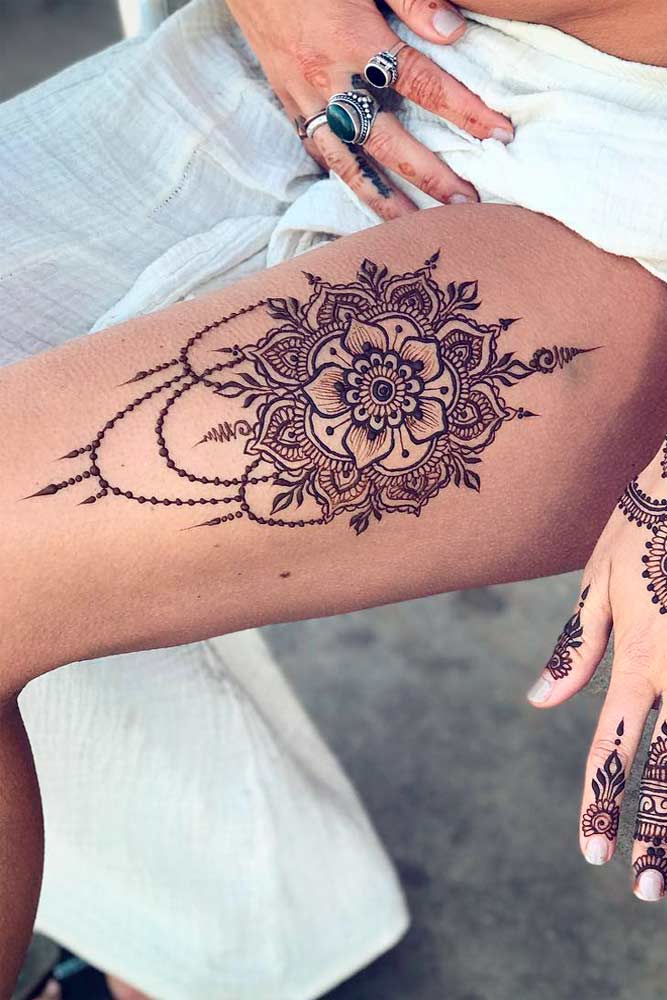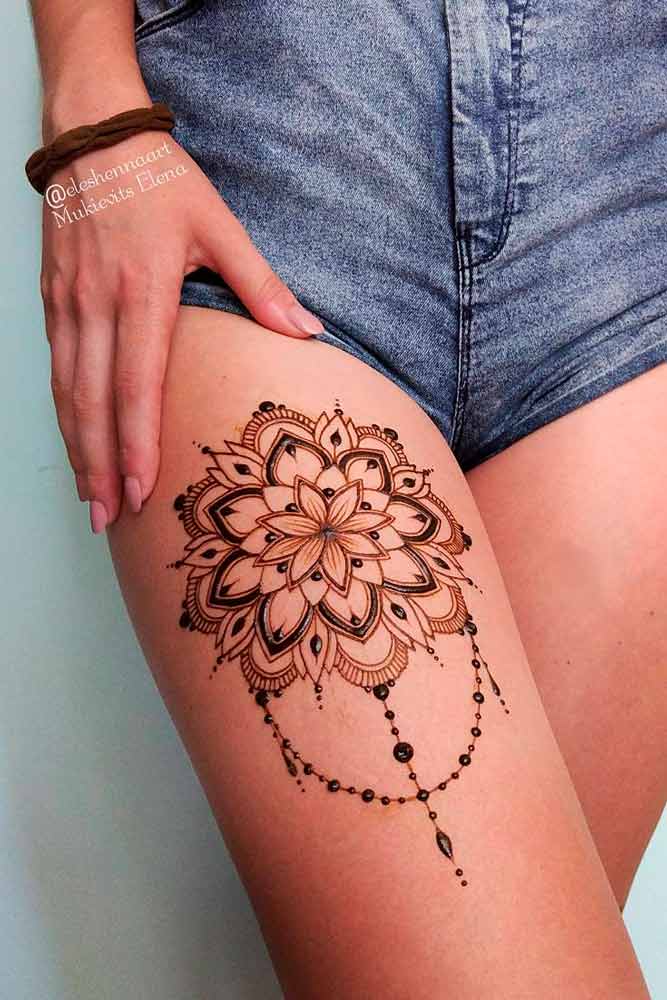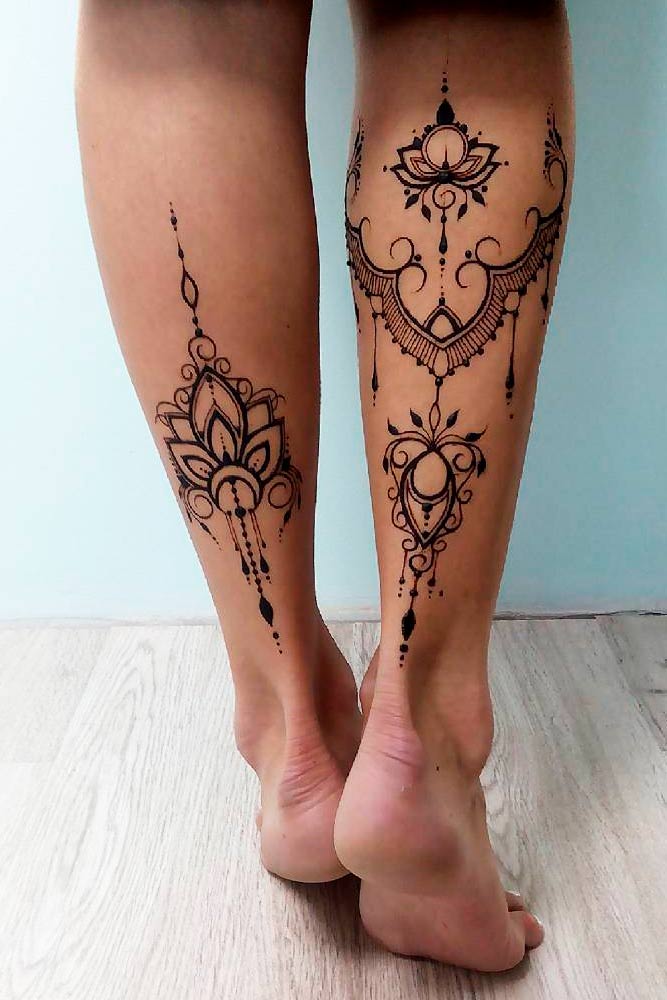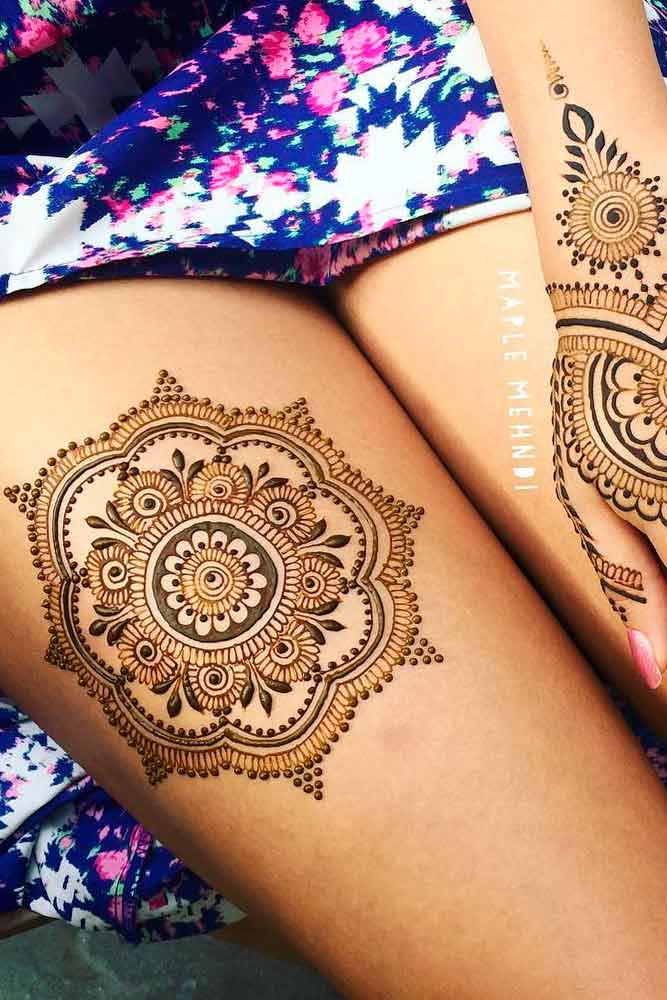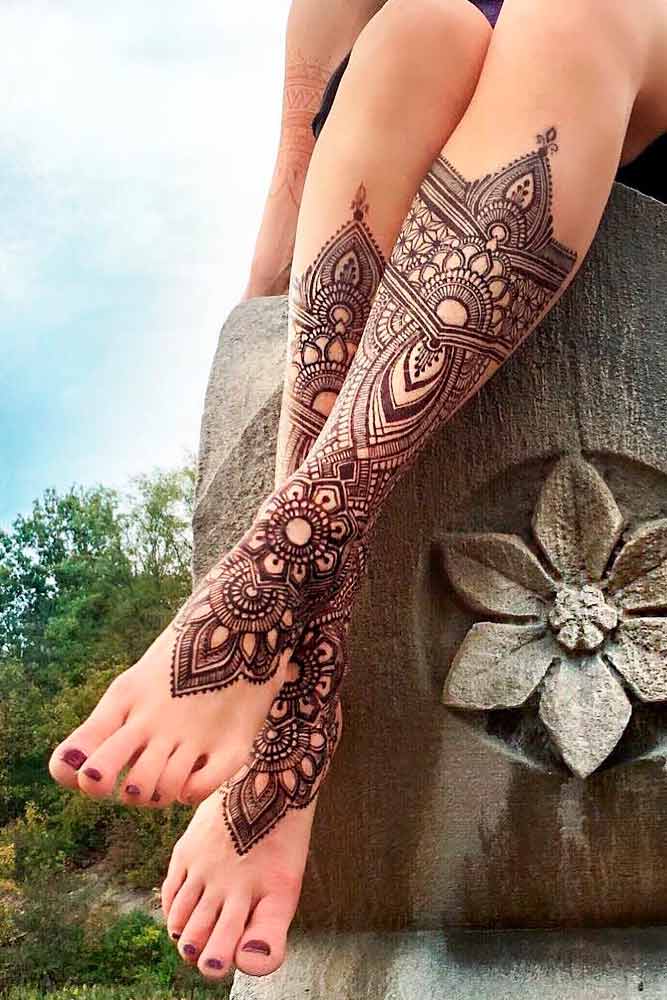 There are many pros of getting a henna tattoo:
Henna body art is painless. Comparing to the real tattoo, you will not feel any discomfort when getting it with henna.
Body art created with henna is quite versatile. There are many designs and styles available/
You do not have to go to the salon and splurge to get it. Anyone can do it at home. Well, if the chosen design is not super complicated, of course.
There is no threat of getting any infection. Henna does not penetrate into your skin with a needle. So, the skin won't be damaged, and you are safe.
Beautiful Belly Henna Tattoos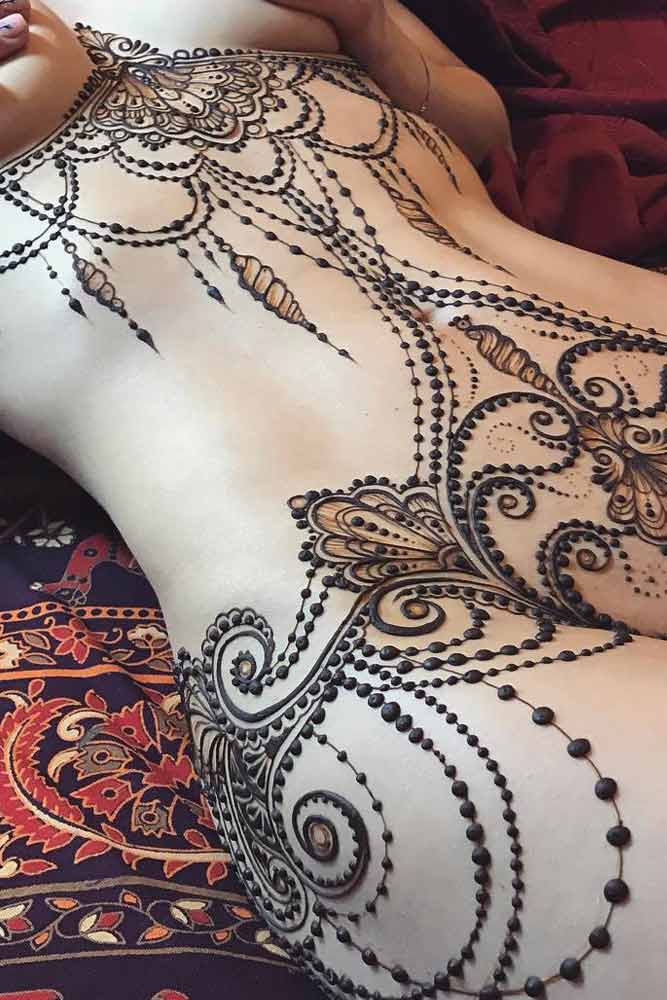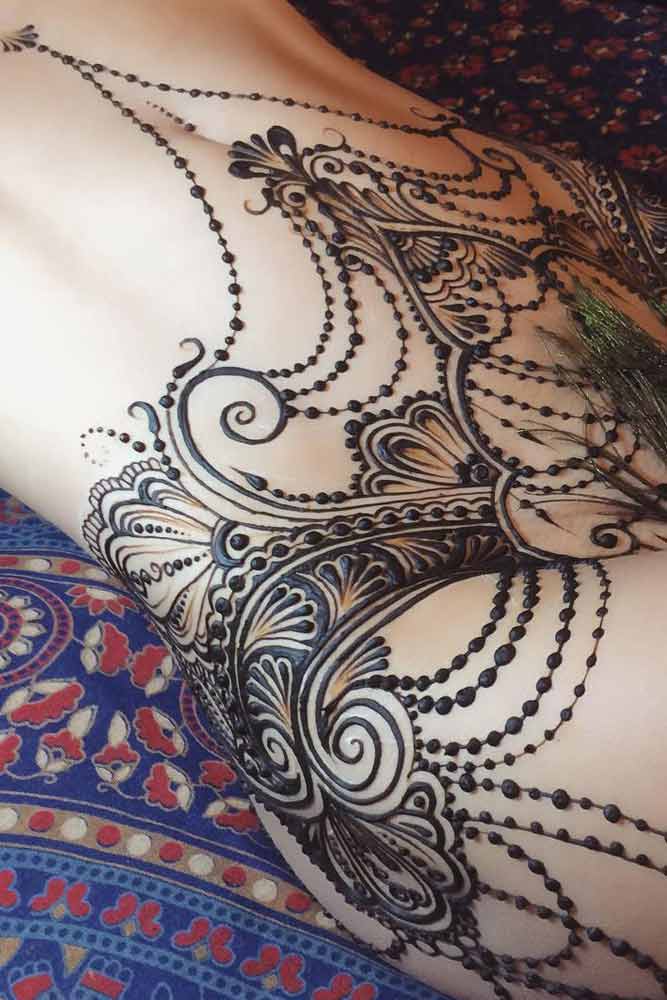 Maybe you start wondering whether it's better to get a henna tattoo done by a professional or try to save some money and do it at home. Well, the choice is yours. If you have an artistic nature, why not do it yourself?
We can tell you one thing: the stream of henna body art ideas is never-ending. And that means that you can easily pick something cool yet not difficult for your first experience.
And in case you hesitate to do it yourself, you can always ask your friend for some help. It's an awesome idea for a sleepover, how do you think?
Back Henna Tattoo Designs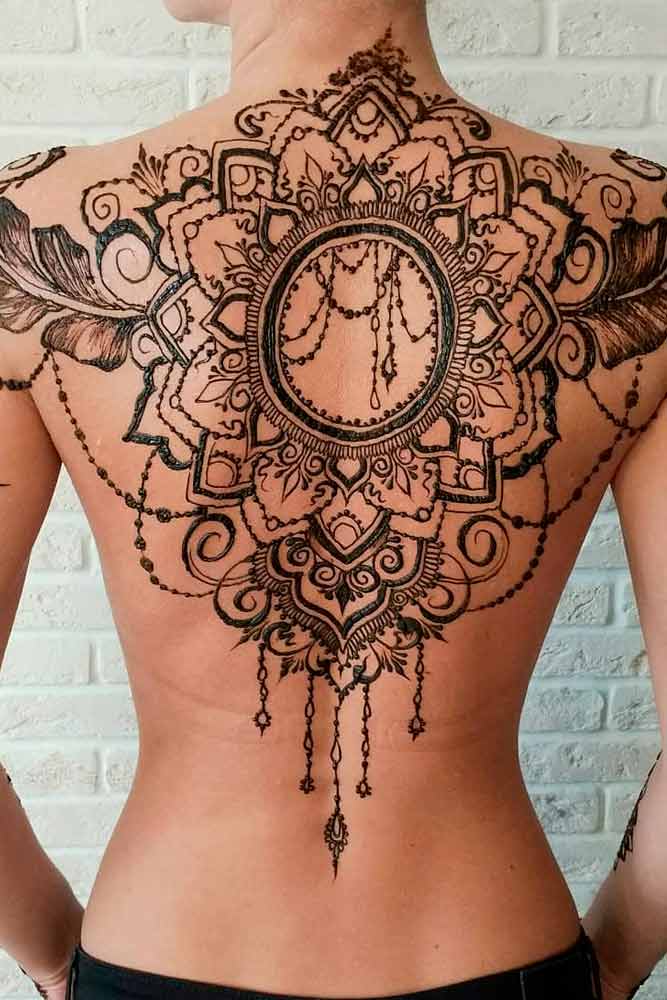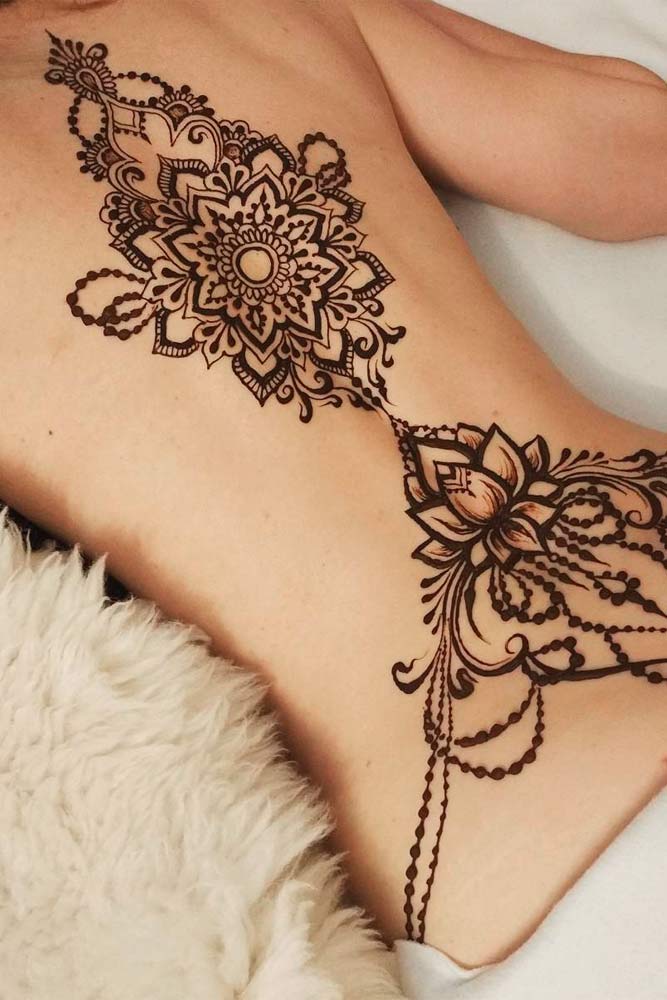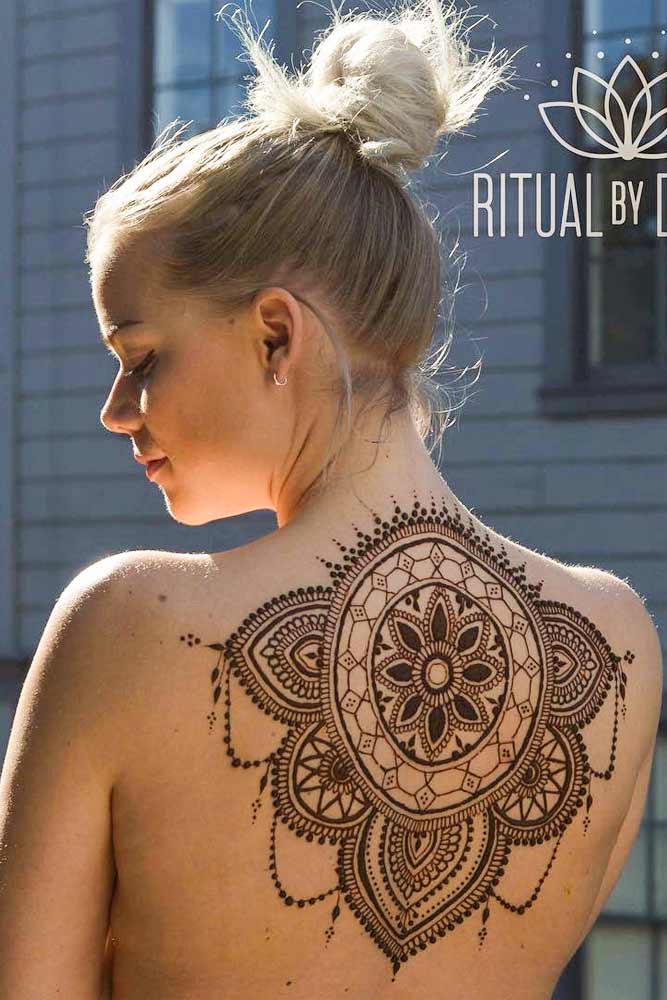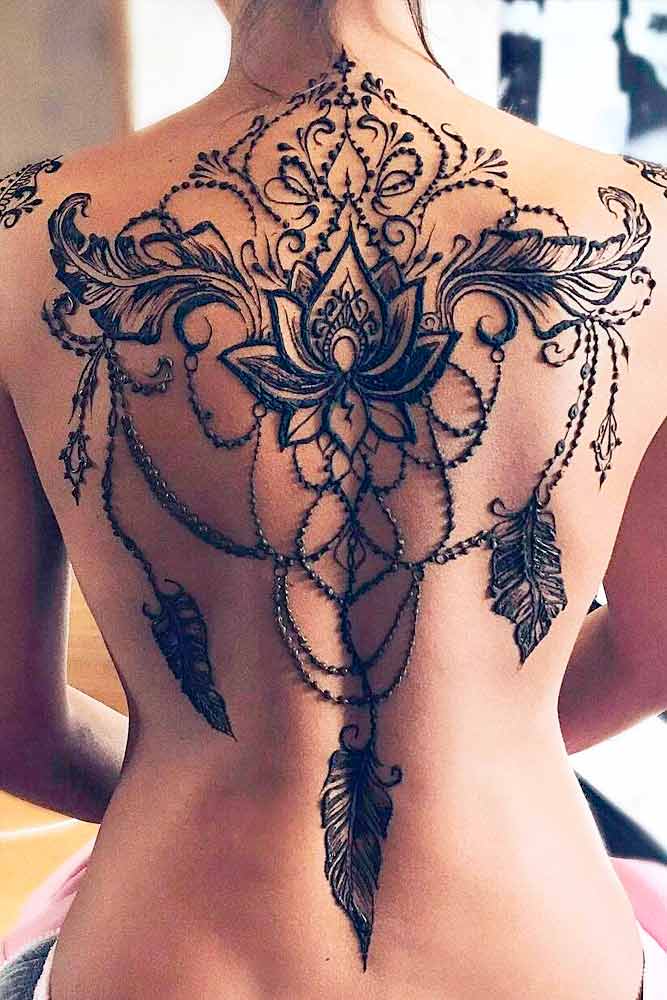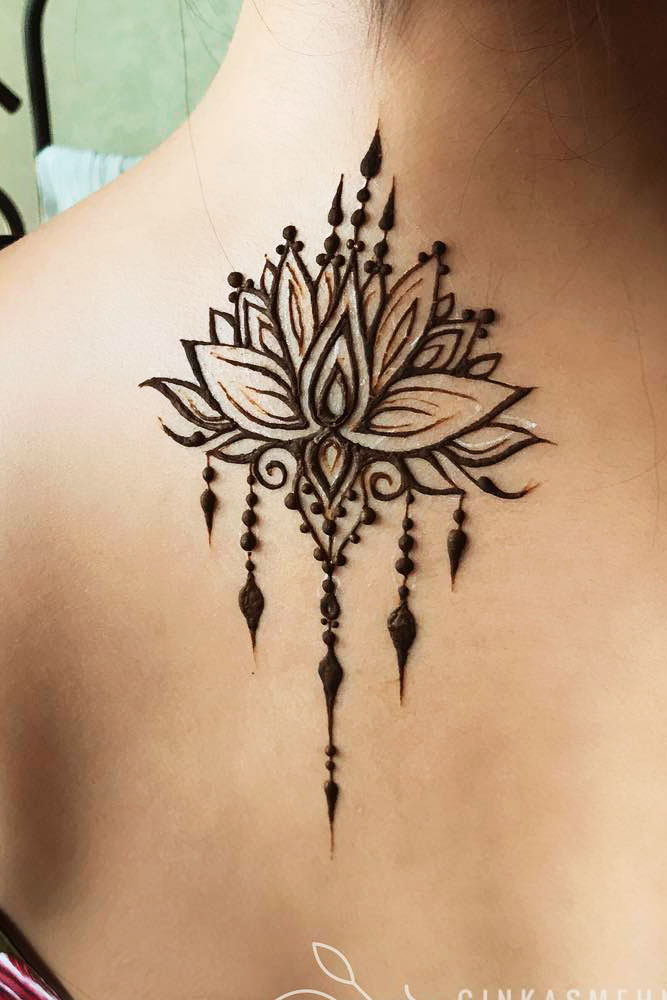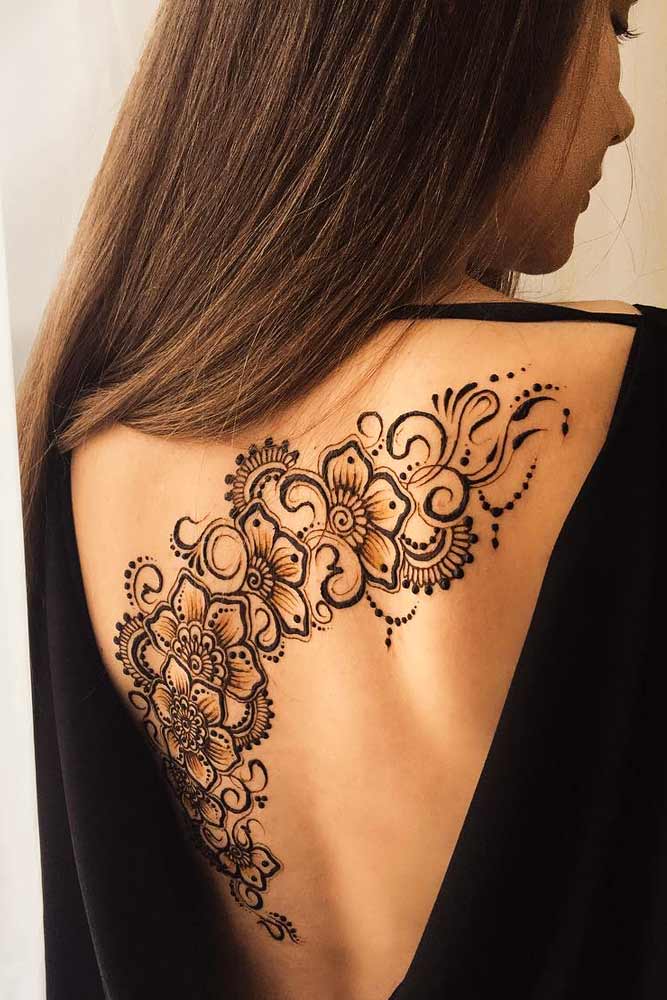 And now let's discuss the most common concerns. Many people wonder if henna is a safe substance. Well, do not worry. Natural henna is unlikely to cause allergy. In general, natural henna does not contain any harsh additives or chemical dye. Although, if you are extremely prone to allergies, test henna on a small area of your skin and wait for 24 hours. If no adverse reaction appears, keep using henna without any hesitation.
For how long such a tattoo can last? Usually, it lasts for 7-21 days. But it all depends on such factors as a person's skin type, body part, and lifestyle.
Feet With Henna Patterns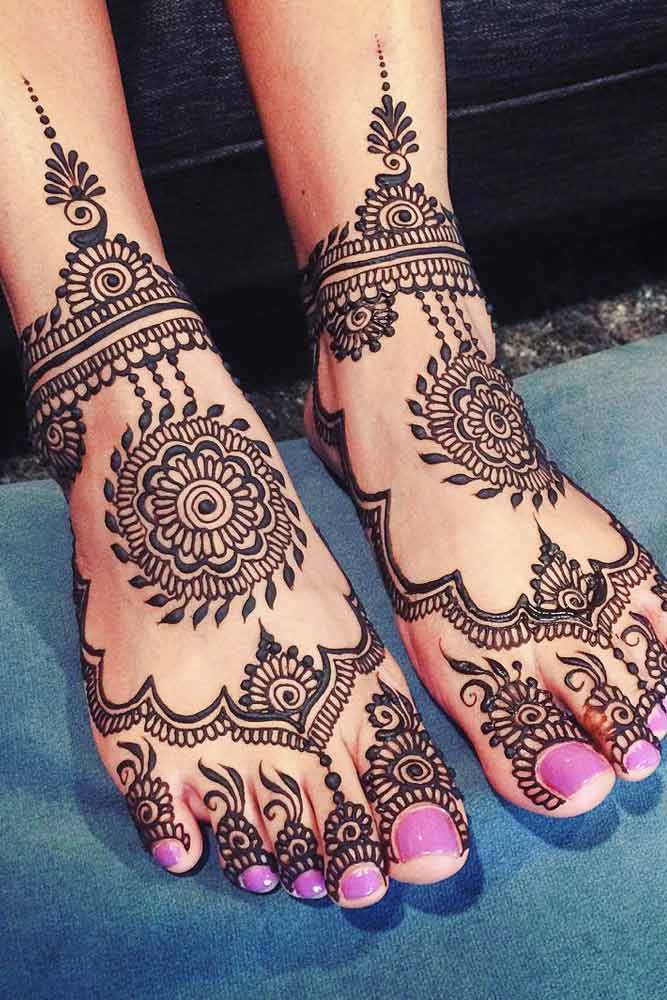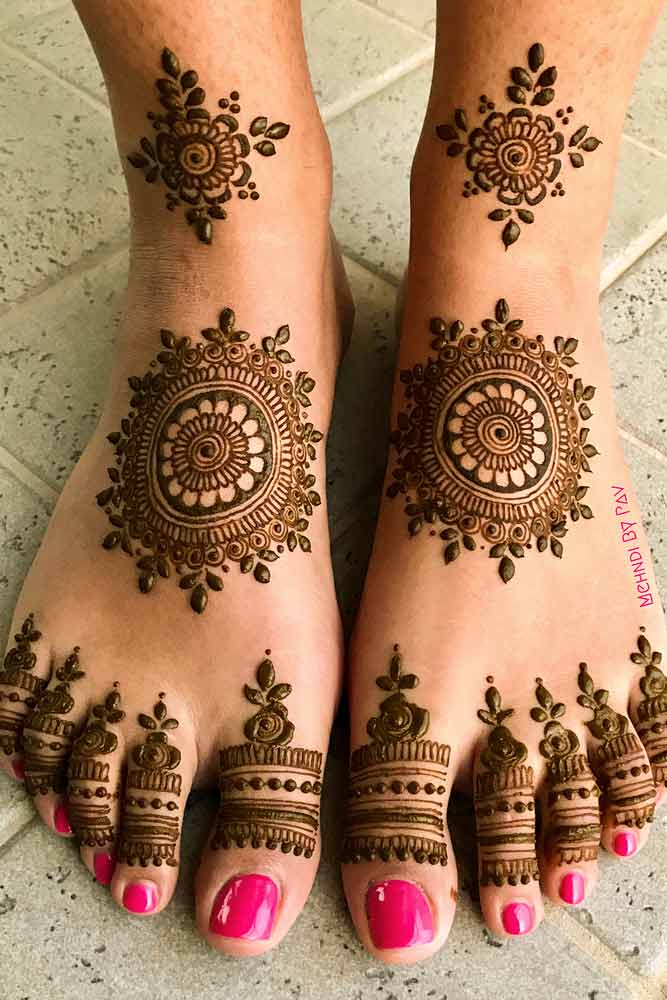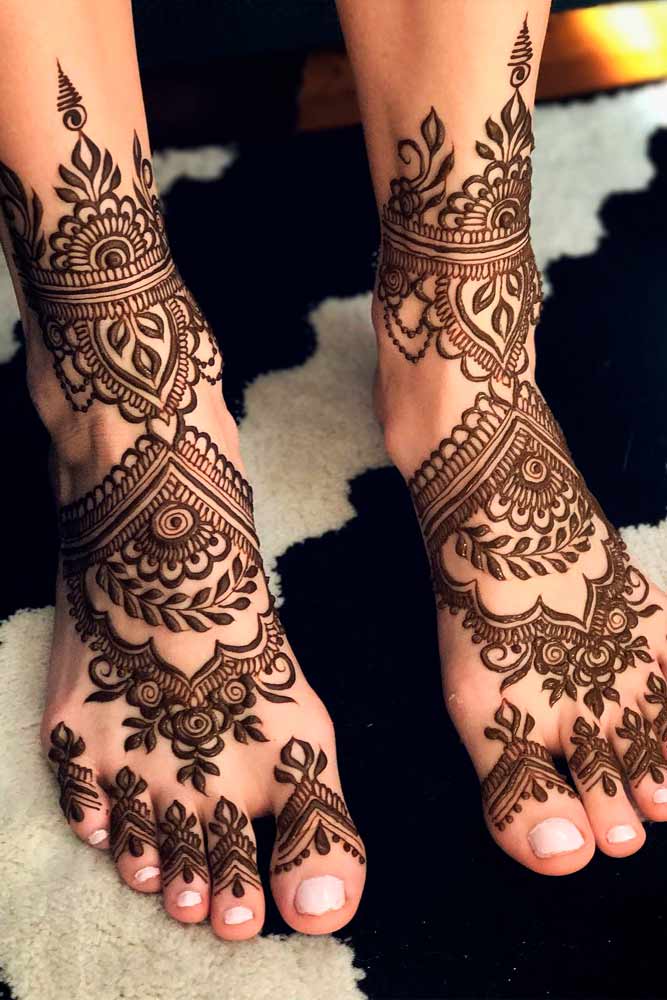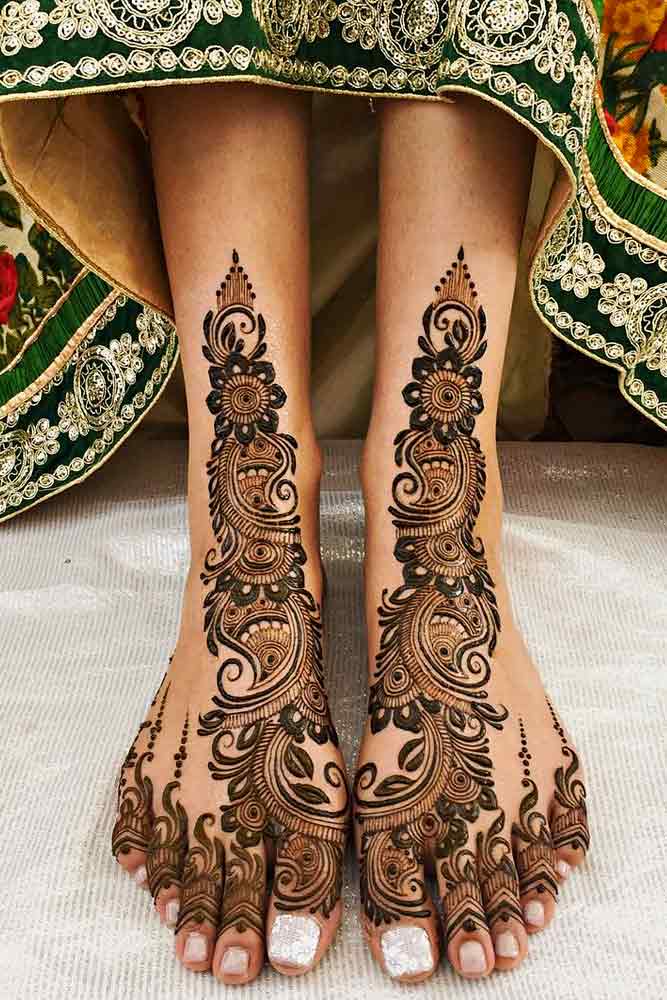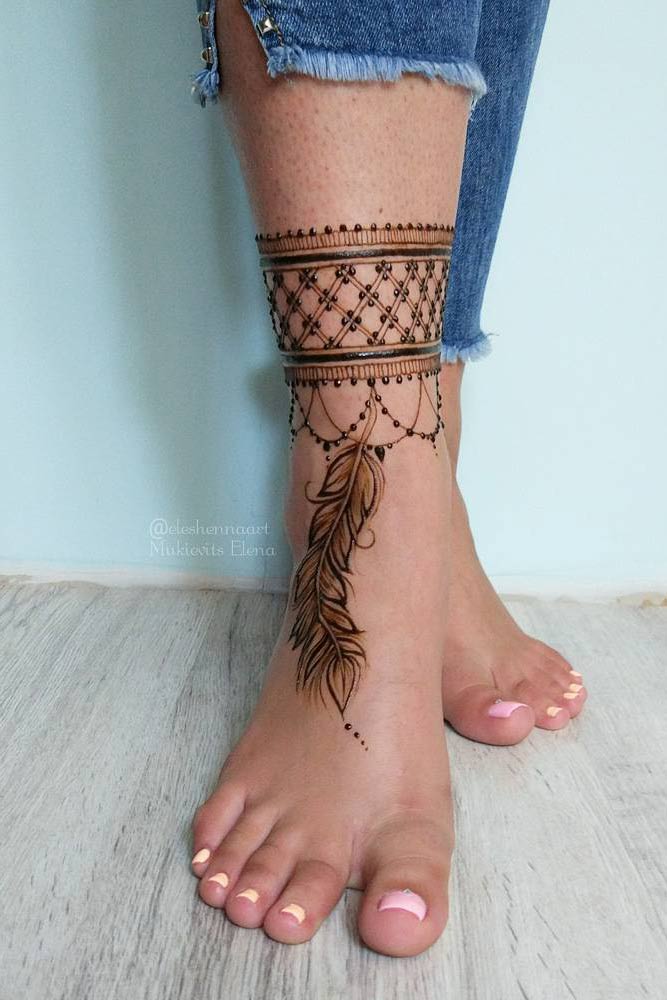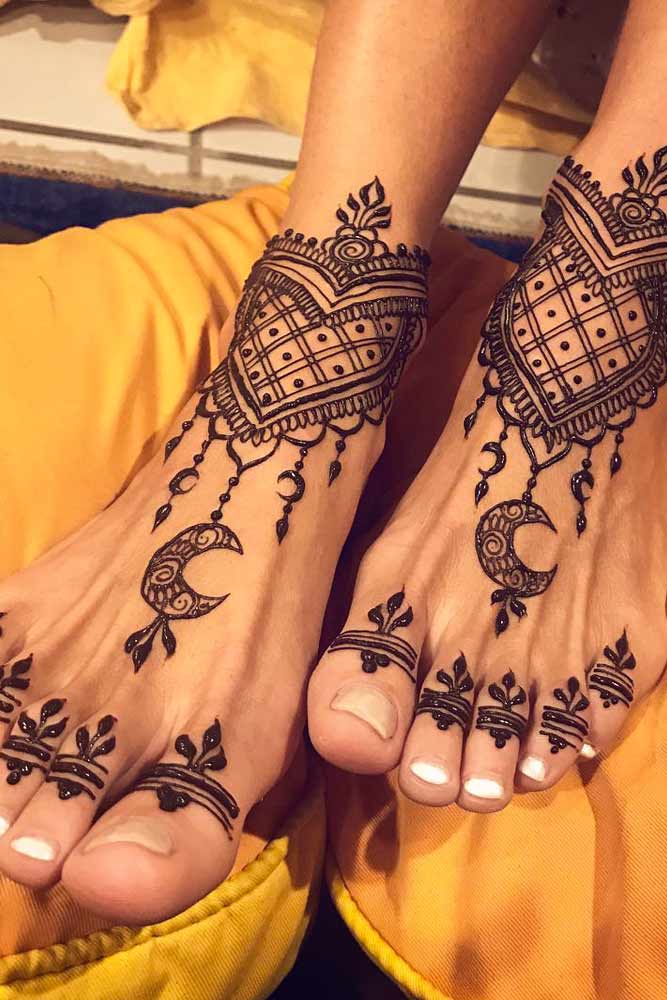 How to achieve the best and long-lasting result?
Leave the paste on your skin for a really long time like overnight. Thus the dye will go very deep into the skin layers and stay on for a while.
If you are cold, the henna tattoo will turn out less vivid. Make sure that it's warm in the room during the application.
Exfoliation, shaving, waxing, and massaging can be done at least 2 days before henna tattooing. Otherwise, the tattoo won't have enough skin layers to hold on to.