9 HIGH WAISTED JEANS AND HOW TO WEAR THEM
Here are some ideas of how to wear high waisted jeans, from Glaminati
High waisted jeans have been trending forever it seems, however, these days the trend is at its fullest. While many people consider high waist jeans a real blessing there are some that may think it is a real curse. The truth is that even though in most cases the high waist is flattering to all body shapes, you still need to know what suits you personally best. That and some many other things about high waist jeans are going to be the subject of our today's survey – so hop in!
Black Skinny High Waisted Jeans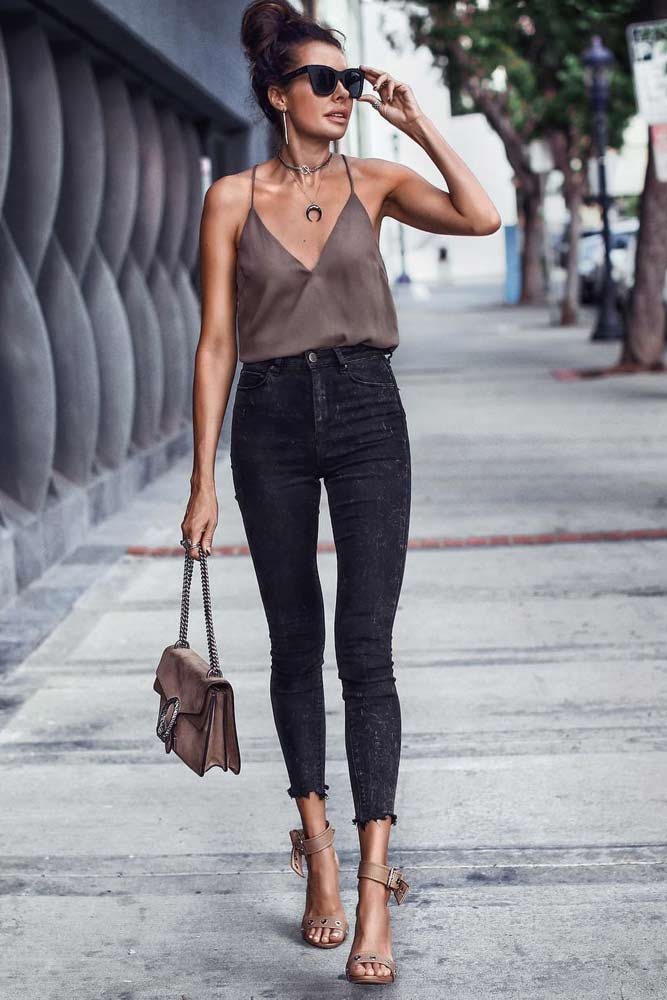 Skinny jeans have been in for a while now too. That is why it is nice to mix and match the trends from time to time. If this is what you would like to experiment with then, we advise you get a pair of high waist skinnies. Completed with silky top these jeans will add a feminine touch to your general outlook and that is great!
Dark Blue High Waisted Jeans Design
Ragged high waisted jeans for women is not an option for many. However, those of you who would dare to try such a look out may get inspired by this image. A quite revealing top and torn jeans are what you need to look stylish and rebellious.
Light Blue Skinny Jeans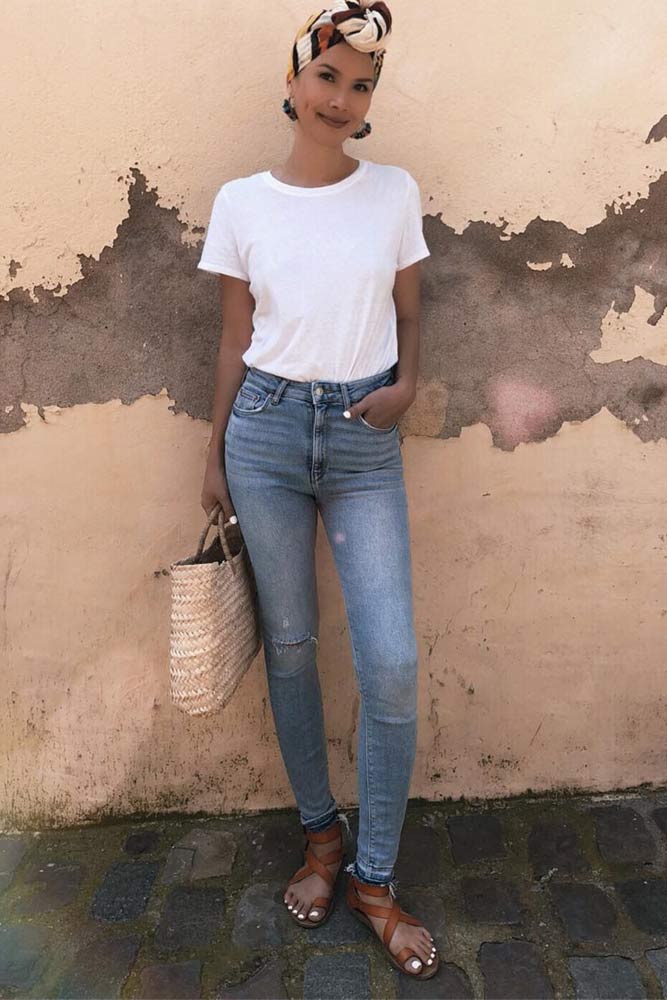 High waist jeans have a magic ability to make any outfit look stylish and unique. For example, there is nothing special about neither the light blue jeans not the white t-shirt but together they a perfect match, wouldn't you agree?
High Waisted Straight Jeans Design
Any high waisted jeans outfit is unique in its own way, but there are examples which are classic. For instance, straight high waisted jeans will suit for everyday wear and won't look out of place no matter where you go. If that is exactly what you need – what are you waiting for?
Ripped Straight Jeans Design
Straight jeans are classy, but they can also have a modern touch. Just like the pair shown on the picture, straight jeans look perfectly universal, but a ripped pattern adds it some fun charm.
Dark Cropped Jeans Design
Cropped jeans are all in right now, and a pair of those is certainly a must-have for any fashionista lady. What is more, high waist cropped jeans look absolutely stunning when completed by a tight top and bright heels. See for yourself!
Casual Work Look With High Waisted Jeans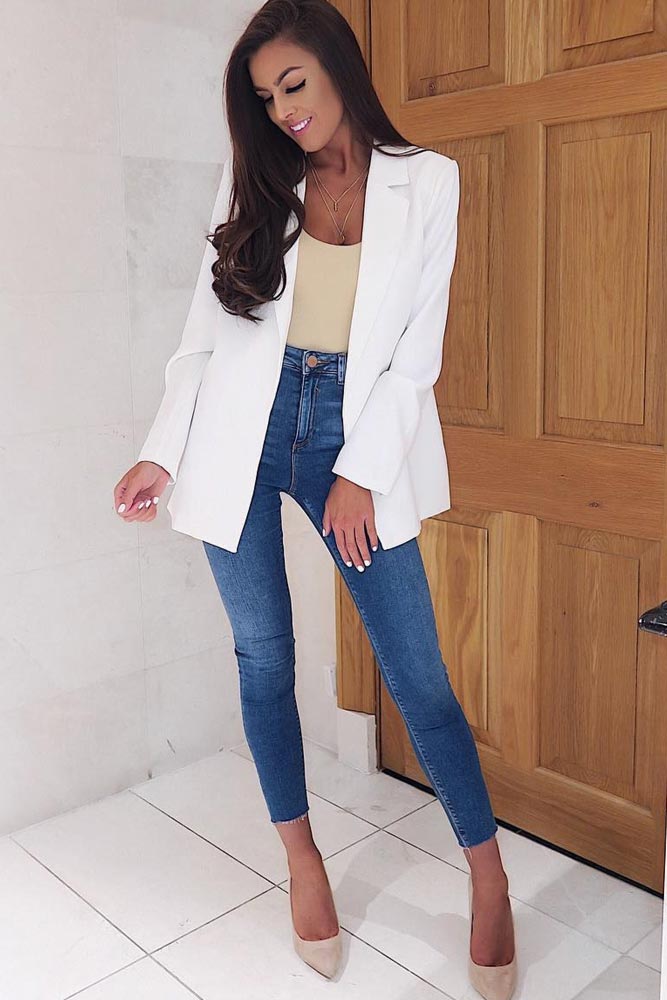 The thing is that many women think jeans to be inappropriate wear for an office, we beg to differ. If you know what to match high waist pair of jeans with you can totally rock an outstanding casual look.
Casual Work Outfit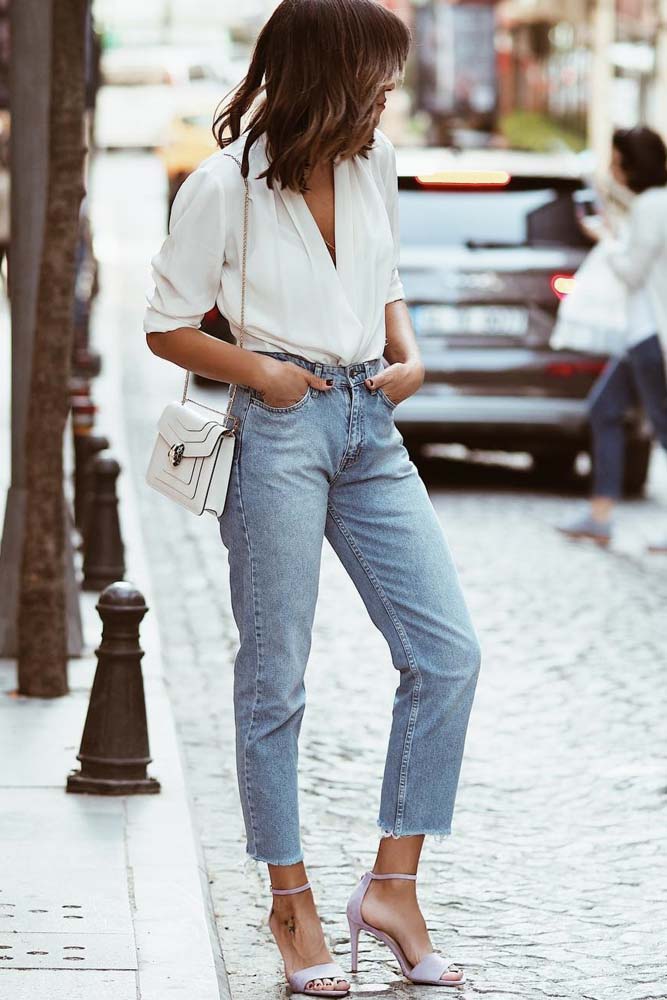 Very often, it is important to come up with a matching top when you are opting for high waisted jeans and are headed to work. What is more, your footwear matters greatly too. For example, the combo of the loose silky blouse, high waist jeans, and heeled sandals are perfect for a hot day in the office.
Work Outfit With High Waisted Jeans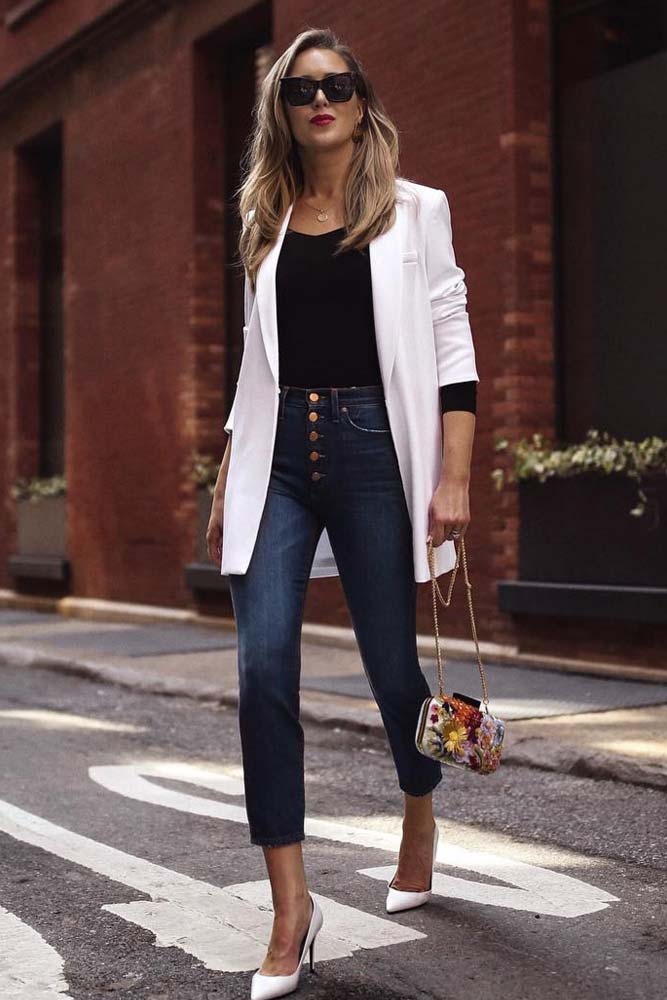 There are times when you come to a conclusion that your work outfits range is somehow limited. That happens if you are still unaware of the fact that those high waisted jeans of yours can be worn to work too. Just look at this elegant outfit with white jacket and white heeled shoes – there is nothing missing there and a pair of dark high waist jeans complete the look like nothing else!