18 Versatile Plaid Pants And Ways Of Pulling Them Off
Here are 18 Versatile Plaid Pants And Ways Of Pulling Them Off, from Glaminati,
It is a known fact that fashion is constantly suggesting some new ideas to experiment with. However, some classy ideas seem to linger. When you think about plaid pants, it may seem that there is nothing special about this mostly formal wear.
However, this season brings in interesting looks involving checked patterns. That is why we suggest you pay attention to these new ideas about how to wear plaid trousers on a daily basis.
Blue Pants With Green Sweater Outfit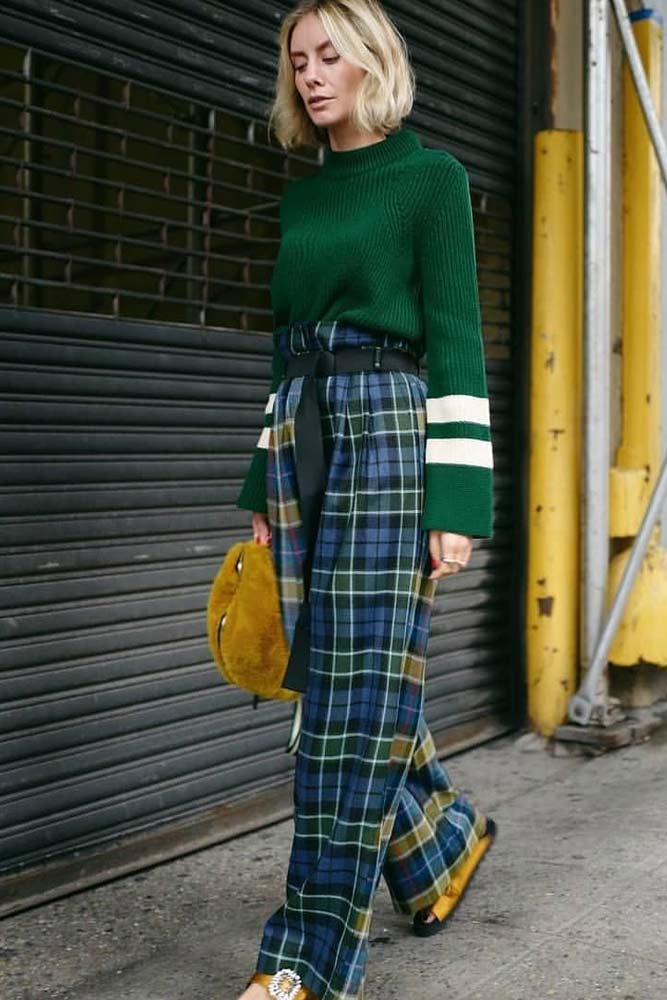 The plaid pants outfit can be extremely versatile and bright. You needn't worry about the fact that you are going to stand out. The thing is that two bright hues like blue and green seem to be created for one another. Such a sweater and pants will keep you both warm and stylish-looking.
Wide Leg Pants With Side Pockets With T-shirt Outfit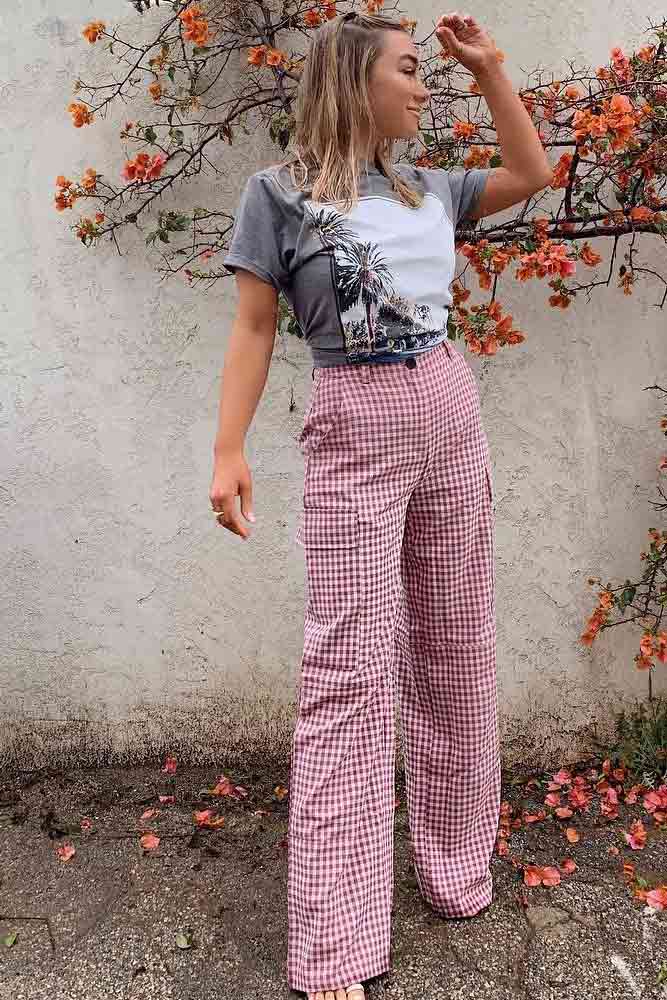 Wide leg pants are back in town, and if you want to kill two birds with one stone, then you should pull off plaid pants look. You can pair such pants with anything you like, however pairing pans with a t-shirt will grant you a more casual look.
High Waisted Wide Leg Pants With Blue Sweater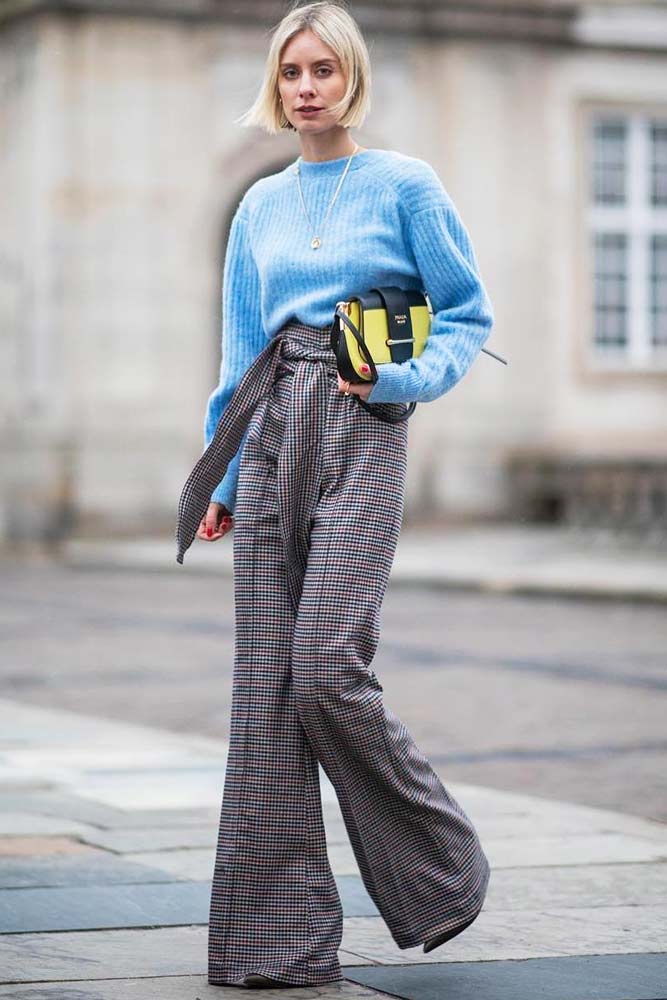 The truth is that high waisted plaid pants are all the rage these days. However, to look over the edge stylish, you need to be a little more open-minded. The fact is that high waist and wide leg is not the most common combo, but it is certainly a killer one.
Yellow Slim Straight Pants With Crop Top Outfit
Yellow plaid pants seem to project the energy the minute you put them on. To intensify the sunny and warm vibe, not to mention fashionable, we suggest you wear the same yellow crop top.
Skinny Plaid Pants With Top And Jacket Outfit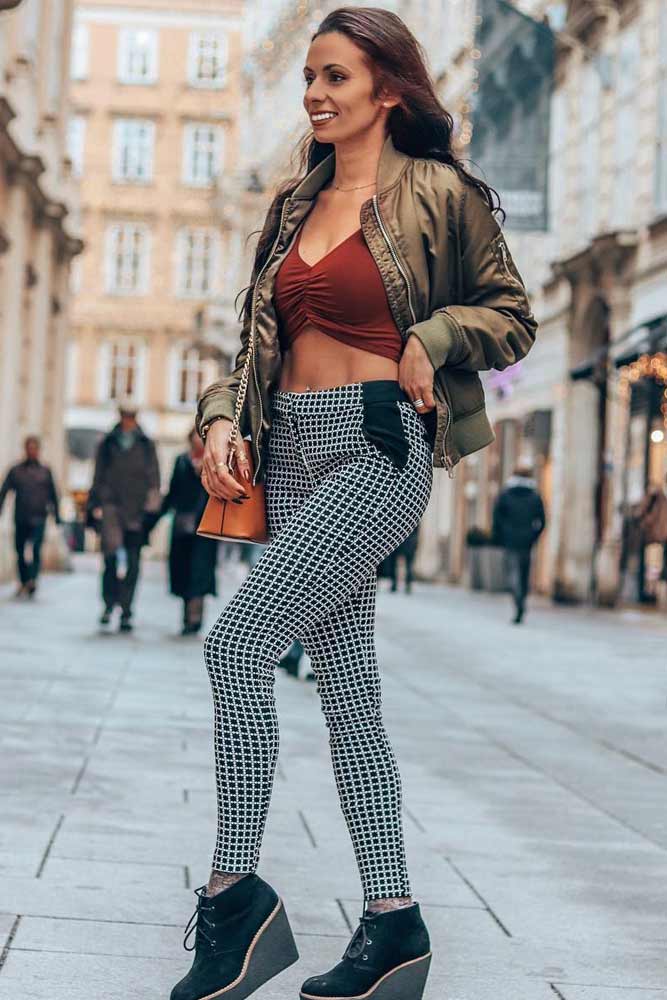 Those of you who are still wondering whether plaid skinny pants are a thing now – the answer is positive. You can wear your fav skinny trousers with a checked pattern completed with a top and a jacket. Such a look is both simple and trendy at the same time.
Slim Gray Pants With Lace Bodysuit And Knitted Cardigan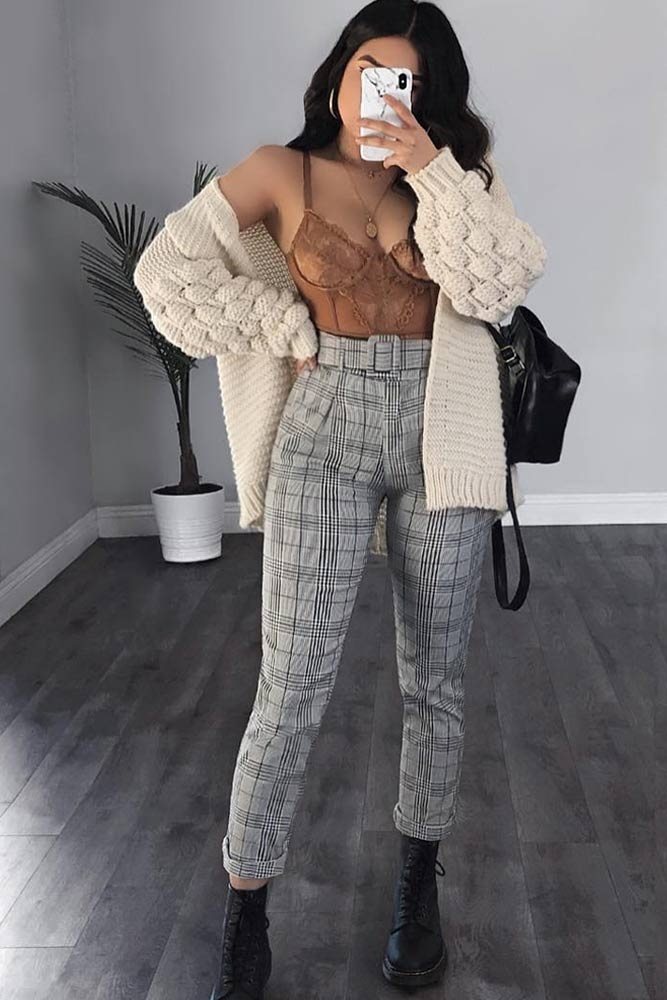 These grey plaid pants deserve special attention since they are the essential detail that affects the whole outlook. The fact is that very often it may seem that lace bodysuit and a knitted cardigan can rarely go well together. However, when you introduce plaid pants in the picture the whole notion changes.
Red Plaid Pants With Beige Oversize Sweater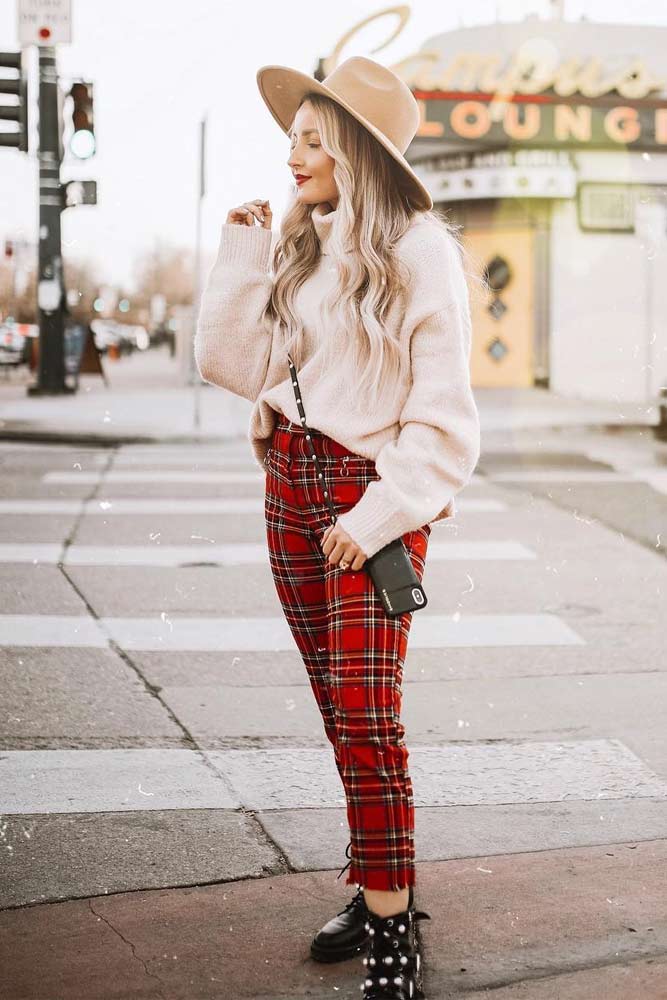 Red plaid pants are truly the classic representatives of the kind. Yet, if you wonder how to combine universal look with a modern touch – there is a way out. All you need to do is to put on an oversized sweater and preferably a nice hat. That is it, as simple as that!
Plaid Pants With Denim Jacket Outfit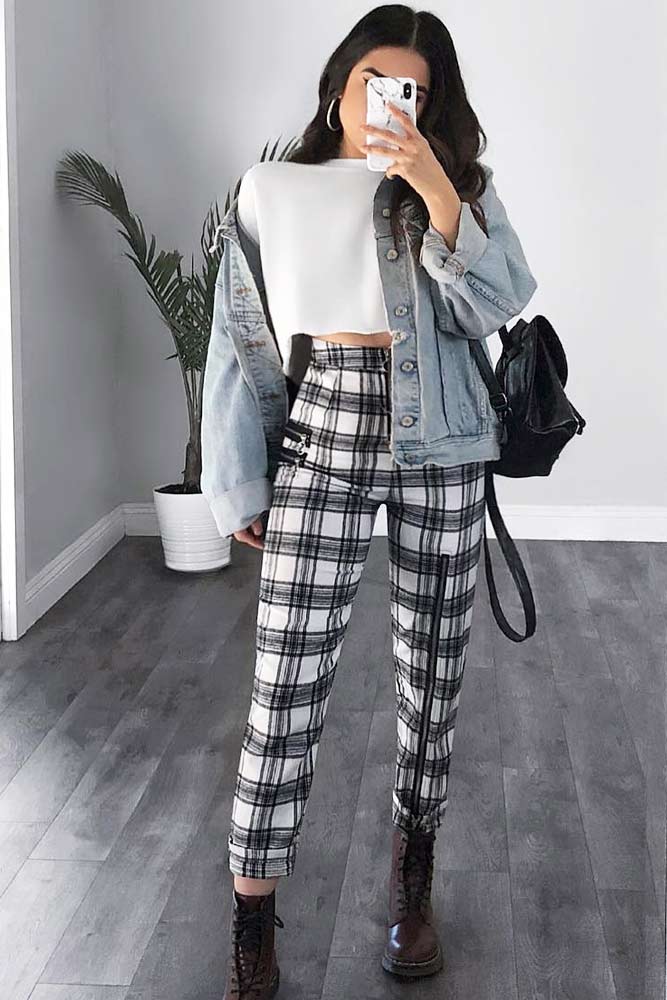 To succeed with an ultra-modern look, you are going to need to play around with separate details. Apart from a crop top and a pair of plaid pants, there is a need for a jacket on. In times like these, denim jacket fits in the look like nothing else.
Crop Plaid Pants With Burgundy Top Outfit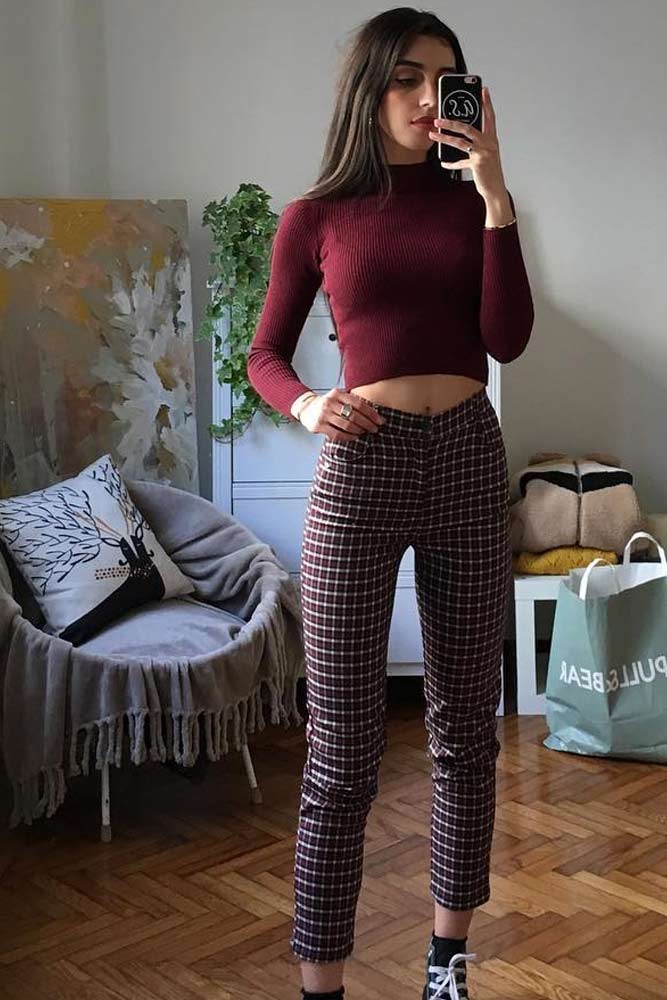 The best way to complement your perfect body is to show it off partially. If you are sure what to opt for when it comes to the top part, it may be quite challenging to come up with something suitable for the bottom. In times like these crop plaid pants come to rescue. We must admit that the result is surely outstanding!
Plaid Pants With Crop Top And Grunge Boots Outfit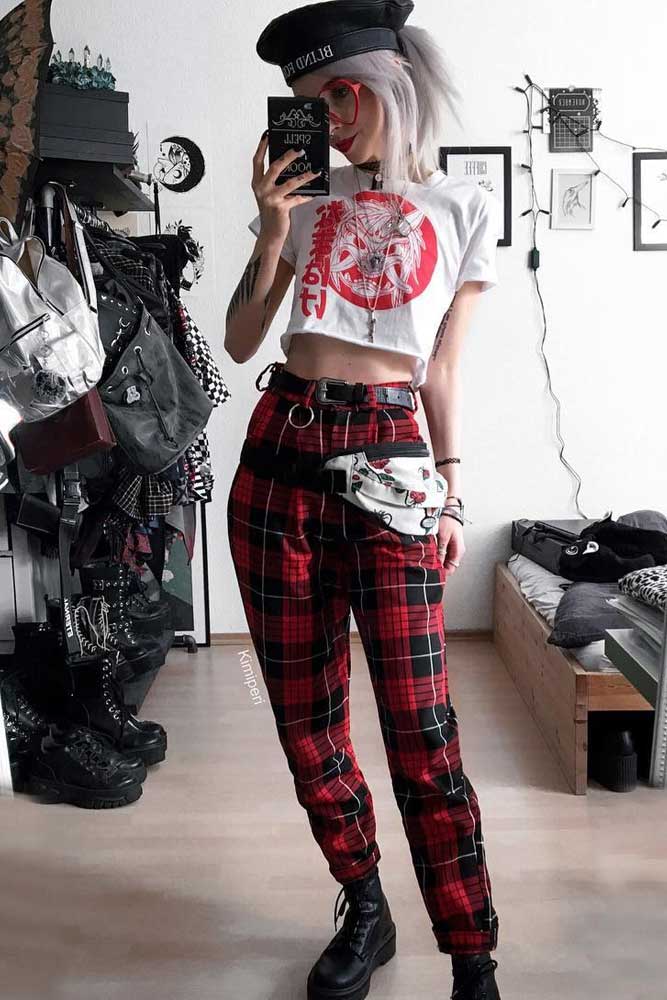 Those of you who are in love with grunge – we have something in store for you too. Black and red plaid pants will complete your stylish crop top and grunge boots like bread and butter. See for yourself!
Classic Outfit With Plaid Pants And Black Blouse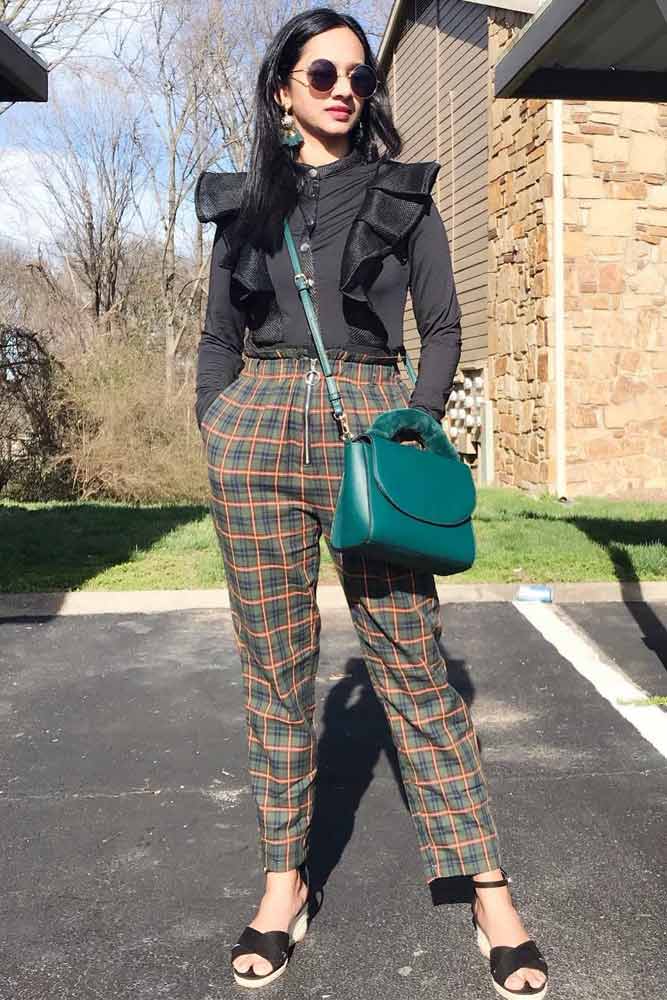 There are times when you need to pull off a classic look despite the desire to look stylish. Well, the truth is that you can easily combine two in one. All you need to do is to pair your green plaid pants with an exquisite black blouse and complete the outfit with stylish accessories.
Crop Wide Leg Pants With Simple Top Outfit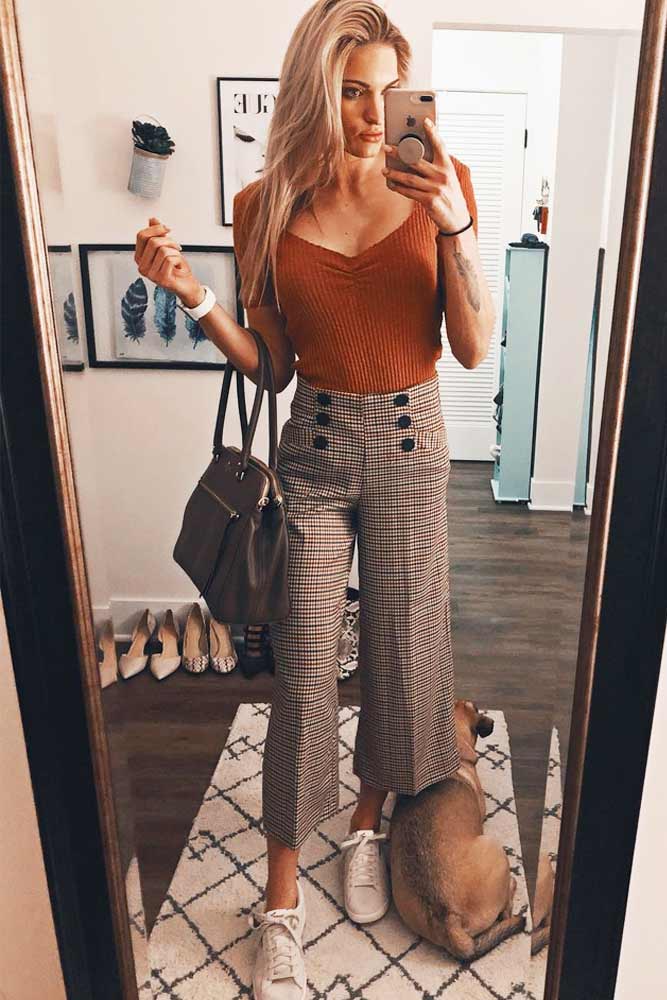 There are times when you need to look both elegant and casual. If that is your case – we know how to achieve it. The combination of simple items can result in an extraordinary look. Put on your wide leg plaid pants and a simple top. Finish the outlook off with a pair of white sneakers. Voila!
Plus Size Plaid Pants With Jeans Jacket Outfit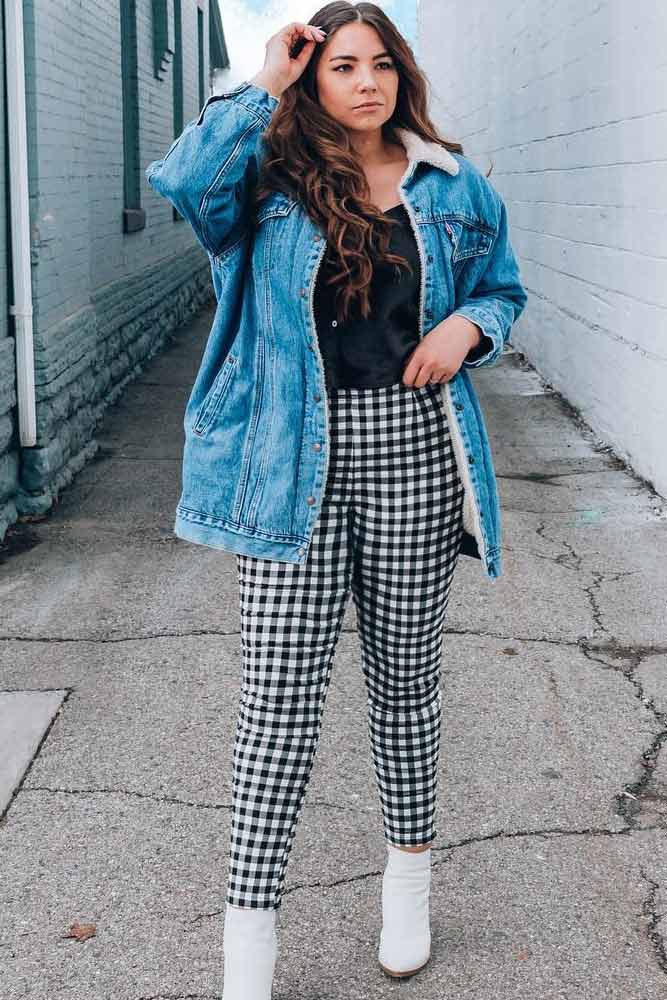 Many of you may think that plus size plaid pants are non-existent. However, the truth is far from that. Perfectly universal white and black plaid skinnies are all that you need to put on together with a jeans jacket to create an unforgettably stylish plus size look.
Skinny Plaid Pants With Moto Jacket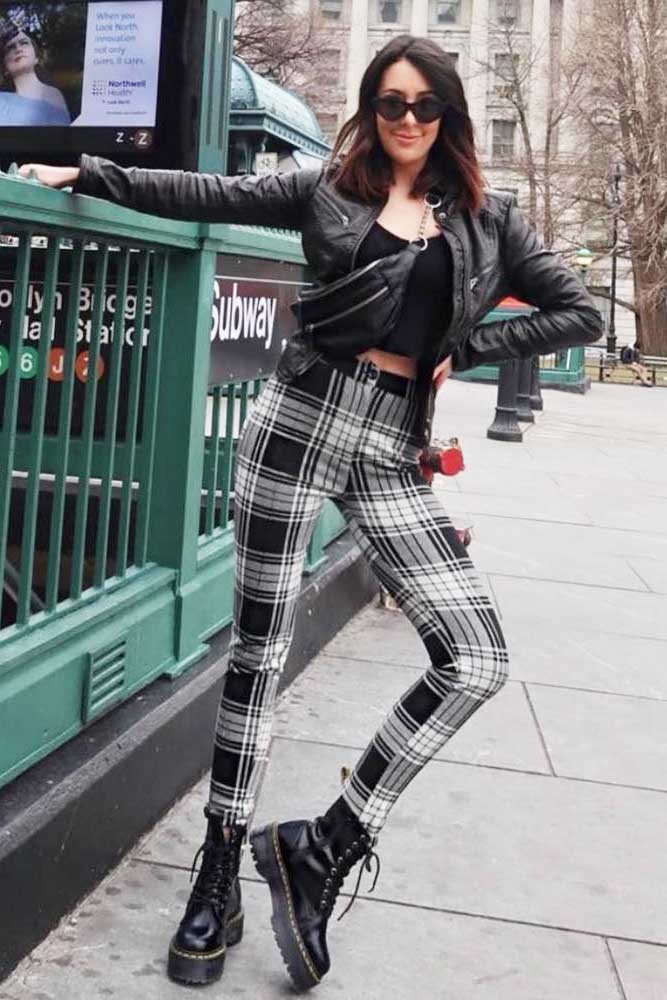 In case you are looking for an edgy, rock style look – we have it covered! Black plaid pants and a moto jacket fit together like a glove. However, you shouldn't forget about the corresponding grunge boots in no case!
Jogger Plaid Pants With Long Cardigan Outfit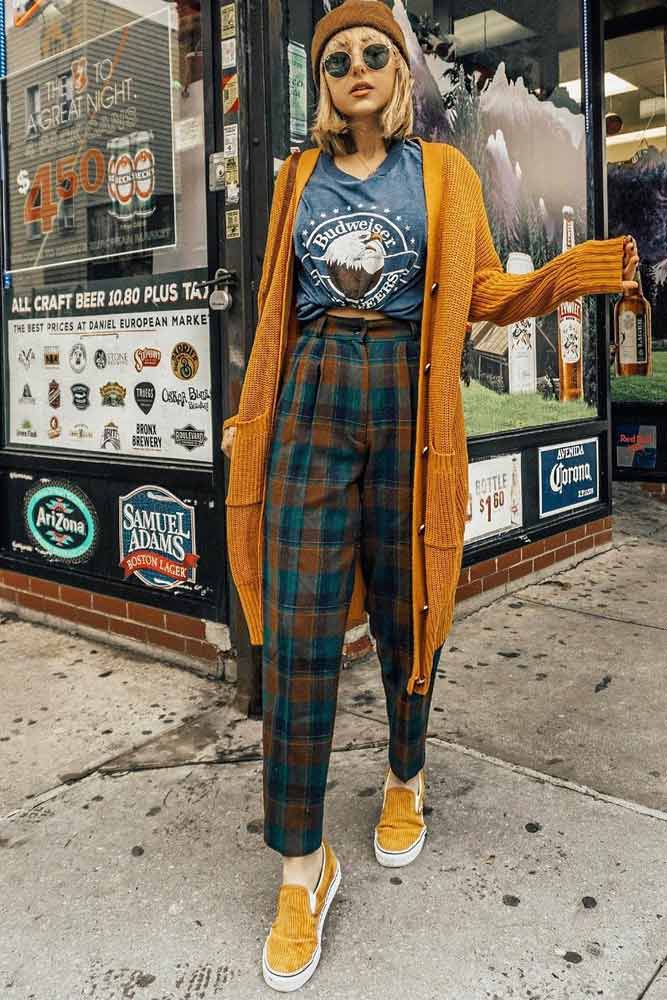 Bright and fashionable ladies who like to stand out in the crowd, we have something special for you! Jogger plaid pants and a long cardigan will help you create a look that will certainly attract amazed glances.
Flare Red Plaid Pants With Black Top Outfit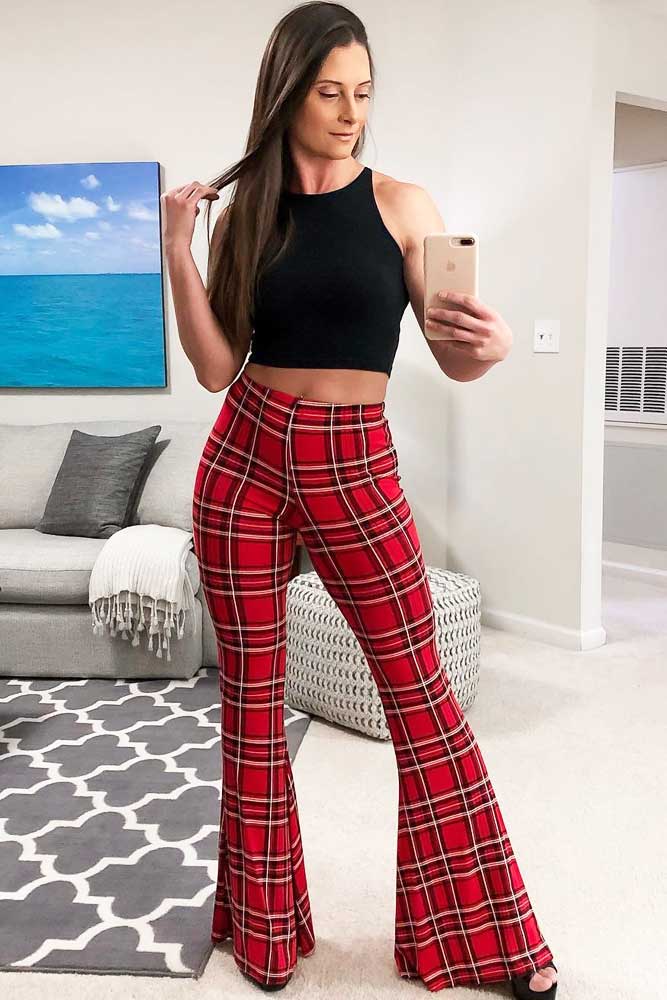 Not everyone knows that flare pants are back in fashion. If you have a pair of those lying hidden in your closet, it is time you take them out and pair together with a sleek black top to succeed with the ultra-stylish outfit.
Gray Plaid Pants With Pink Oversized Sweater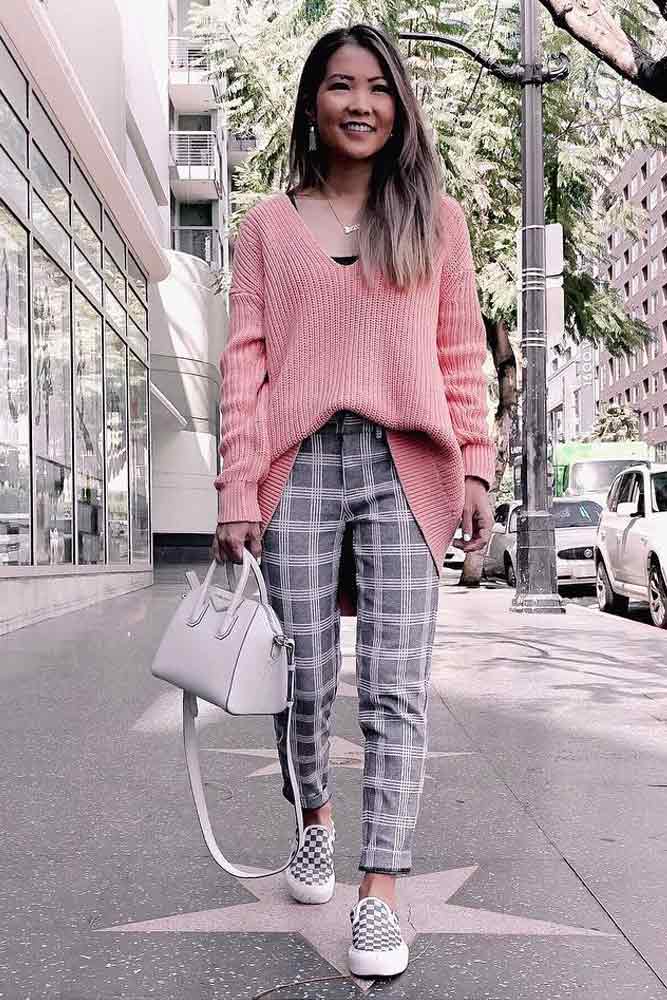 There are so many things that you can combine with plaid pants. However, if you are looking for a stylish and gentle look, then you need to pay attention to this combination. Light grey pants, baby pink sweater and a pair of checked slip-ons. Ready!
Crop Plaid Pants With Black Velvet Jacket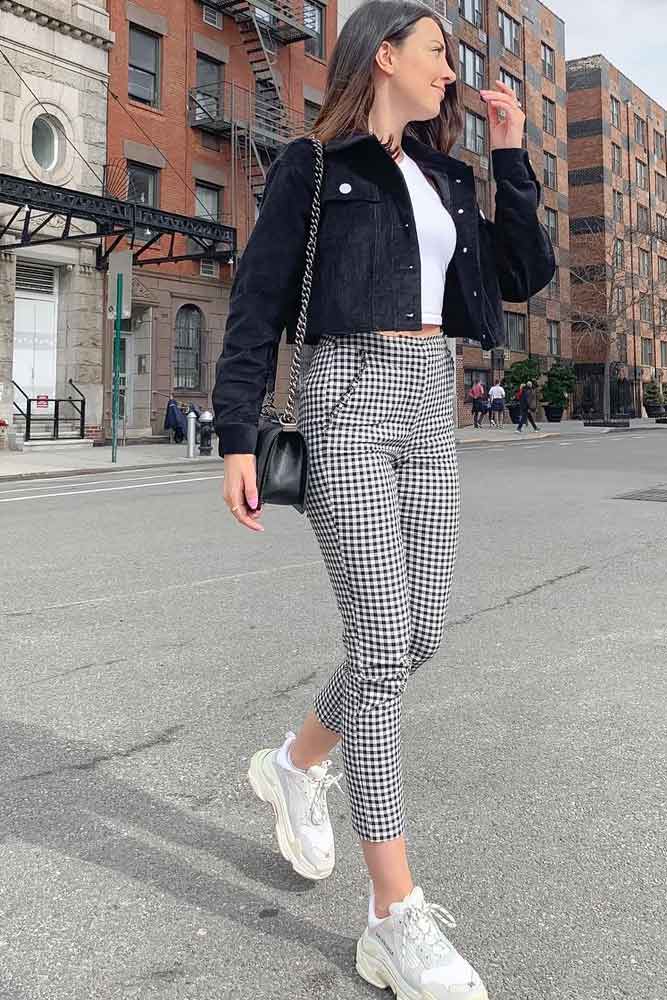 Retro looks are very popular these days. That is why if you are longing to pull off one of them; then we may have an idea. The fact is that everything in this picture can be referred to the past decades. Thus the look is clearly a retro one. However, at the same time, it is also extremely modern.
Plaid pants are not reserved for one season or occasion. In case you think otherwise then you need to browse through this compilation immediately! Once seen, this collection can't be unseen, and we are sure that you will rush to purchase a pair or two of these stylish and particular trousers!