35 of the Very Best Ideas and Solutions for Your Small Kitchen
Here you have 35 of the very best ideas and solutions for your small kitchen; from Apartment Therapy
So you've got a tiny kitchen. Whether a rental space or something to call your own, a foot or two of counter space and maybe a wall to work with if you're lucky doesn't leave a ton of room to get creative, but give us an inch and we'll give you a mile of ideas. Here, 45 fabulous small kitchens chock full of solutions and inspiration to help you jazz up your tiny space and keep you cooking in style.
1. Reimagine Your Kitchen Tools As Art
Set against a rich black wall this knife set fits perfectly with the existing matte textures. An effect that most certainly would be lost if hidden in a counter-hoarding butcher block.
We love the use of the decorative lighting in this small yet bright kitchen. While inset can lights could have been used, the pendants add such a nice touch.
3. Keep the Kitchen Alive
Plants are a great way to add freshness to a small, stagnant space and, in this kitchen, their wild limbs add movement and motion to the area.
Rather than trying to cover up this aged brick (there are surely far, far worse problems in the world), this kitchen made it part of its decor. Whether you have beautiful brick like this or reclaimed wood or vintage tile, consider sticking with it before making big changes.
5. Business On Top, Party On The Bottom
Maybe you're looking for just a tiny bit of boldness to give your kitchen some personality. If so, consider taking a pointer from this fun and funky kitchen, which pairs white walls with emerald cabinets. The color pops, but isn't so crazy that the owners will regret the paint job in a year's time.
6. See Your Kitchen Through Rose-Colored Glasses
If you're hesitant to go full-on bold with a bright or deep color (but really want something different), perhaps you might consider just a hint of a color like the barely blush wall color in this kitchen.
Sometimes, all you need to create a small dining area for one or two is a tiny table tucked in any open space you might have between cabinets and your appliances, like in this hyper efficient (and totally lust-worthy) kitchen.
8. Create a Cocktail of Styles
This little kitchen does an impeccable job of mixing traditional elements like the black accent wall, rustic stools, and modern marble island.
9. Don't Be Afraid Of Playful Personality Touches
In this super small kitchen, a retro menu board adds a fun "greasy spoon" diner vibe to the wall. It adds just the right amount of kitsch without going overboard.
10. Black And White Is Alright
In a narrow space, it's sometimes best to opt for a simple color scheme like this to keep the look as airy as possible. The chevron detail keeps the palette consistent, but adds extra visual interest.
The gold foil decals adorning these cabinets are an unexpected choice, yes, but a worthwhile one. They add a fun glamorous touch, but require no commitment—if you get bored simply peel them off and start fresh.
This one is particularly useful if you find yourself in a studio where every room kind of just spills into the next. Should you have a window in your teeny kitchen, consider adding draperies, which will invite the same coziness your living room offers, encasing you in purposeful design.
13. Create Your Own "Upper Cabinetry"
Weren't blessed with tons and tons of cabinetry to stash away all your tools, pots and pans and the likes? Make your own fortune, instead! Take a cue from this vignette that uses a simple yet stunning copper bar to add hanging storage.
14. Go Strictly Monochrome
This tiny space proves that even if your kitchen is no bigger than the average closet it can still pack in some big style as long as you restrain yourself. A strict monochrome approach to dinnerware keeps it visually uncluttered.
This little space takes some big risks that have huge style payoffs. From the bold yellow cabinetry to the blue accent wall, it's easy to overlook the pint-sized floor plan of this boldly-colored space.
16. Create an Accent Wall To Write Home About
The writing is definitely on the wall in this kitchen, where a chalkboard-painted accent wall acts as a space to write daily mantras or to-do lists.
17. Incorporate Unexpected Surprises
We all know that small kitchens can be tricky when it comes to adding the unexpected. Think about painting or wallpapering the inside of your cabinets, or springing for a surprising backsplash.
18. Make The Most Of Your Wall Space
This pint-size kitchen really takes advantage of its wall space by adding in a metal rack above the sink for tools and utensils.
This kitchen is not for the faint of heart, but aside from its apparent boldness it also makes smart use of the empty space above the stove, by using it to house liquor and cookbooks, which probably don't get daily use.
20. Make A Statement With Your Appliances
When you have just a few cabinet doors and a small stretch of countertops, your best bet for making a decorative splash just might be your refrigerator.
21. Mix Artworks With the Culinary Arts
This homeowner didn't let size get in the way of showcasing artwork in this teeny kitchen. In fact, he took the opportunity to let oversized art shine.
22. Embrace Those Retro Vibes
The '70s are alive and well in this retro kitchen, whose chartreuse color palette and simple cabinetry give off a groovy feeling. Should you have a small dated kitchen you're not too happy about, try leaning harder into its era to really make the most of it.
23. Don't Be Afraid Of Big Fixtures
If you have the ceiling height like this kitchen, then big, statement-making pendant shades are a must.
24. Keep A Consistent Color Palette
Rather than committing to painting your cabinets or choosing a crazy-colored appliance, infuse color through your accessories, like in this kitchen space, which features light blue and red accents.
Keep the kitchen cozy and full of style with a vibrant vintage-style rug, like this one from Canary Lane, photographed for Instagram in the kitchen of stylist Carlay Page Summers. For a narrow galley-style kitchen, go with a runner, or try a smaller 3′ x 5′ for something more square and compact.
26. Make A Statement On The Floor
Adding some major wow factor to an already impressive kitchen, these geographic tiles take this space to new style heights. In a small room, tiles can make a serious design impact (and because you have less square footage, the price is far more approachable). Oh, and if you're a renter, don't look away just yet. They sell peel-and-stick floor tiles in a similar style at places like Etsy.
Ultra glossy kitchens tend to look a bit Euro-mod, but there's no denying the reflective (read: light-bouncing) properties it offers. This inviting space brings shine thanks to a glossy subway tile backsplash.
28. Consider Renter-Friendly Shelving
When you're a renter, it's not always feasible to add on-the-wall shelving, even if they are incredibly useful for expanding your surface area. One of our Design Editor's go-to solutions to this? A cheap baker's rack, like this one from Target.
29. Tap Into Your Ceiling's Potential
If you've run out of wall and counter space, look up. Your ceiling is often untapped (and full of potential). Try a heavy-duty ceiling pot rack or try a DIY project like the owners of this small kitchen who created a hanging bar.
Looking for that fresh, sun-drenched vibe? All white-on-white (in a shade with warmer undertones) never fails.
Apartment Therapy writer Nancy Mitchell lives in a small studio in Manhattan with very limited counter space. She remedied that by bringing in a compact rolling cart which acts as an island.
32. Maximize Your Backsplash
The backsplash is one of the most underutilized vertical spaces in the kitchen. Here, in the Montreal home of Marlène Deshaies, an additional shelf installed between the upper cabinets and the countertops makes room for an adorable collection of vintage dinnerware. When every little bit of space counts (or there's a serious lack of cupboards), this is a smart way to make room for more.
33. Look to Your Stove for Storage
Every kitchen, no matter how big or how small has one thing in common: a stove. A four-burner range or cooktop can take up a majority of counter space, even though it gets used, at most, for a few hours a day. Sacrifice one burner and add a tray (on little legs to sit above a coil burner if you have one) to hold everyday spices like salt and pepper (and even a little plant).
34. …And Also Your Fridge
Apartment Therapy Projects Editor Dabney Frake completely transformed this rental kitchen for about $300 (a feat we applaud regularly). And while there are many, many lessons to take away from this makeover, there's a simple storage spot that's often overlooked, and that's your fridge. Attaching hooks to the side for things like paper towels and stashing away infrequently used appliances on top like a stand mixer saves a ton of much-needed surface area.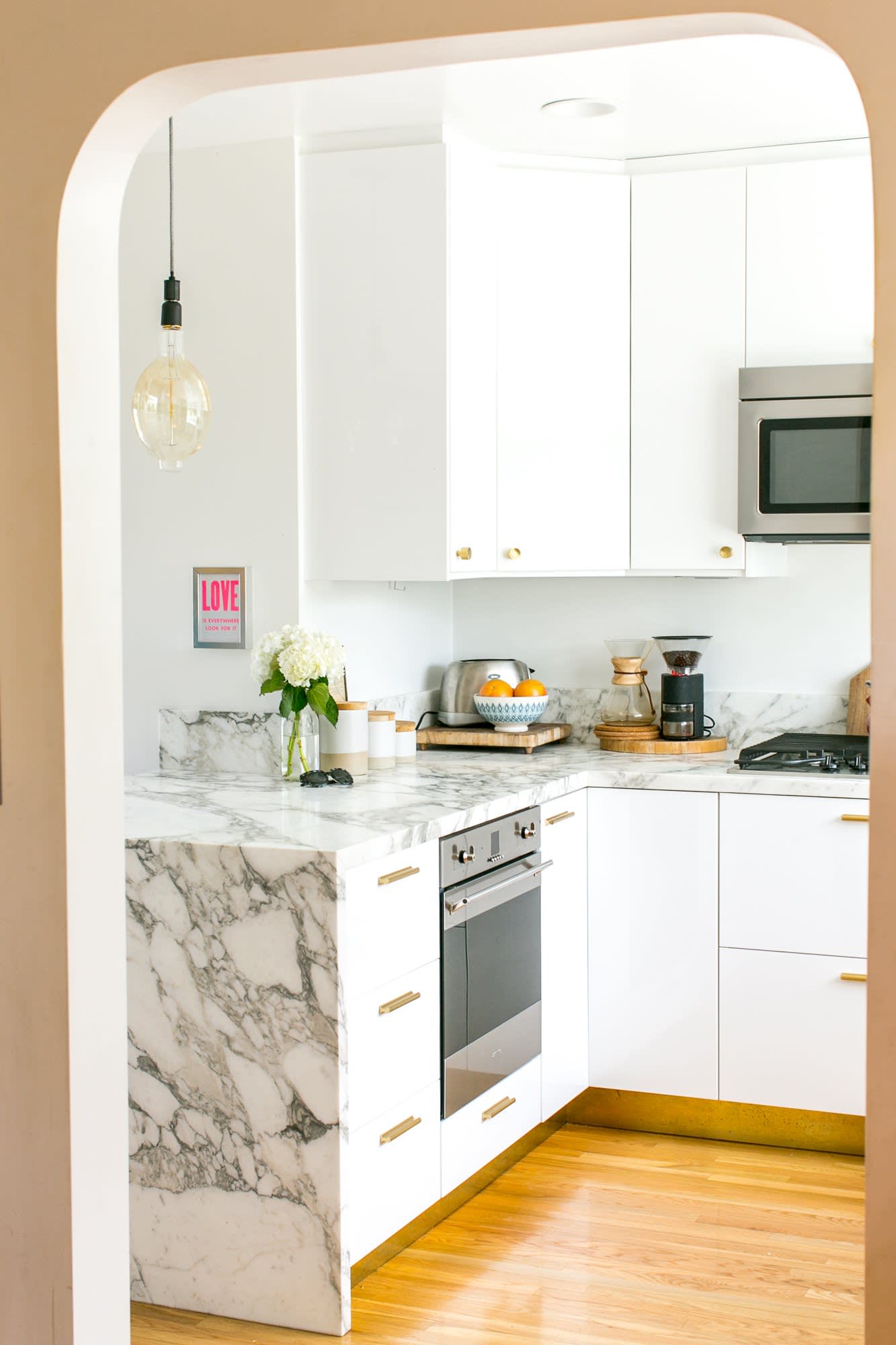 Have a collection of cutting boards but no where to store them? Stack your other essentials (like your toaster and coffee maker) right on top to save space.