Special Wedding Veils To Complement Your Exceptional Gown
Here are some wedding velis ideas for the future bride, from Glaminati
Even though wedding veils are simple, weightless bridal details, every bride knows how it's important to find the right finishing touch for their big-day look.
The truth is, these little cuties made out of delicate transparent fabric can define your wedding style, accentuate your wonderful dress, and emphasize your unbelievable beauty. Yes, beauty is in the details: let's see how a little touch of elegance will create a silhouette that you will call perfect.
Let's don't forget that your veil should match not only your preferences but also your dress and the style of your long-awaited ceremony, so the right length and fabric are crucial! In our inspo-gallery, we've collected the latest ideas that will fit any wedding: from rich vintage patterns to minimalistic traditional styles.
It's time make your look as ideal as you could never dream of!
Vintage Blusher Veil With Rhinestones
Your wedding day is a good day for a huge comeback of the enchanting vintage times! Vintage wedding dresses were so dramatic and gentle at the same time that no wonder so many ladies would like to go through the stylish epoch of fur wedding capes, long pearl necklaces and soft Hollywood curls hanging on the shoulders. Of course, such a look can't do without a matching, authentic veil, and this cutie with rhinestones is an excellent start. Your blusher veil will cover your beautiful face while you will walk down the aisle, and the shiny rhinestones will show off your exceptional taste.
Shoulder Length Veil With Hearts Pattern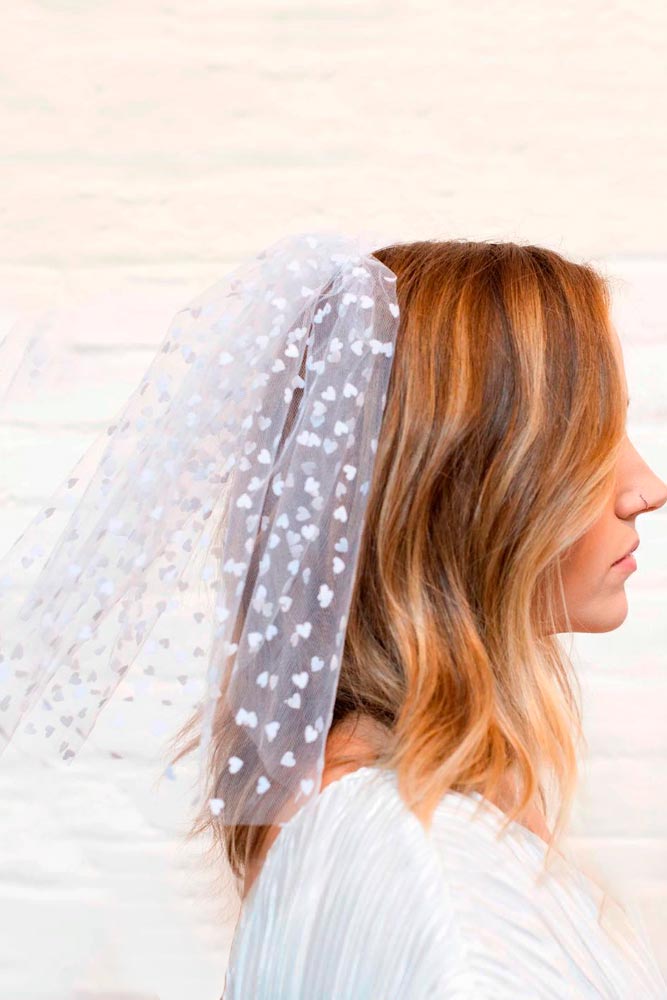 Keep in mind that wedding veils can be as unique and customized as you want. Moreover, when brides feel that it's hard to find the perfect veil for their personal style, they go for tailored wedding accessories that will fit their desirable wedding mood. You can find such a lovely shoulder length veil with hearts pattern in any store or design your own; it's all up to you. The point is that it's absolutely versatile: it will look ravishing with any hairdo and any type of dress, which is a win-win option.
Classic Bubble Veil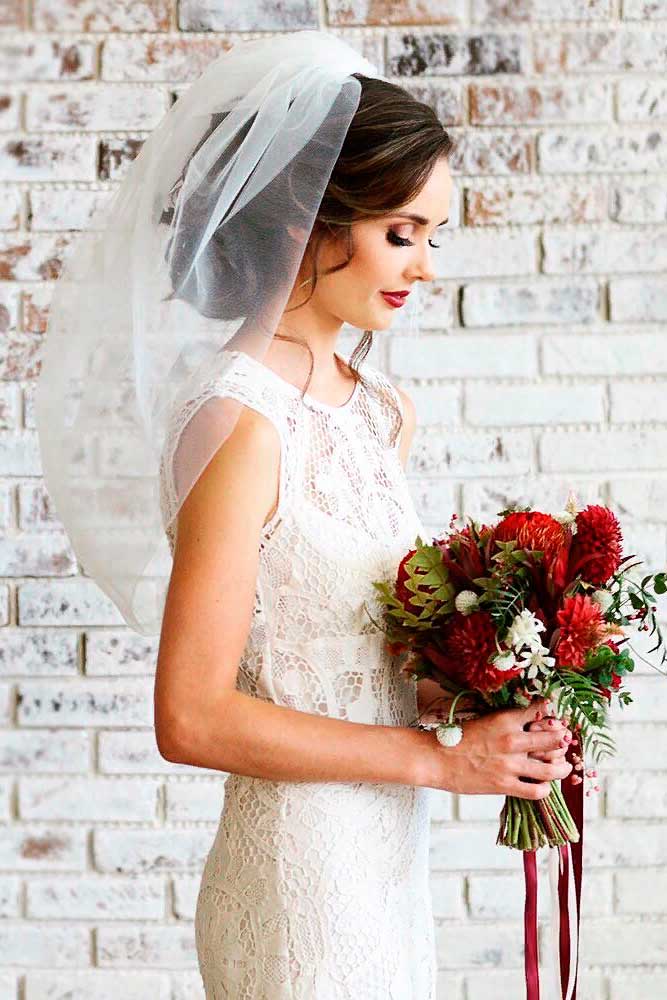 When you want to add a touch of fascination to your bridal look, don't look any further than the classic bubble veil. Unlike many short wedding veils, the layered design of an elbow length bubble veil can add more volume and sophistication to your look. It can create a stunning contrast and fullness to brides who go for v-neck or peplum dresses and neat updos, giving a gloriously balanced silhouette.
Elbow Length Circle Veil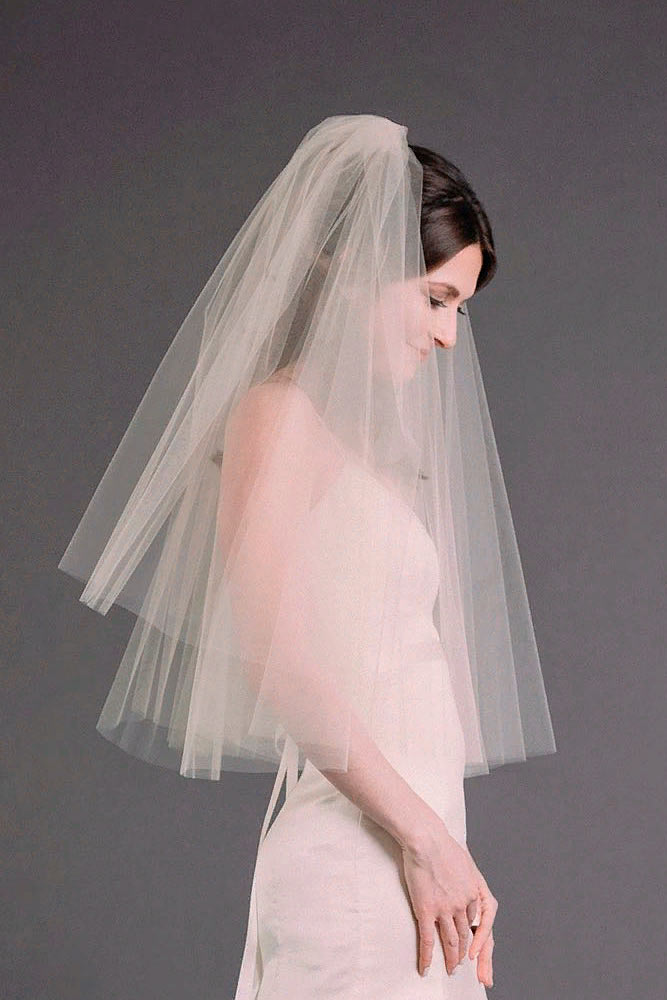 Circle veil has always been the proof that veils will never go out of style. Strangely enough, there's no better enhancement of women's femininity than a thin layer of tulle. It seems like wedding veils are the embodiment of our subtle nature, that's why ladies won't ever stop wearing them. And when your veil has a neat circle shape where multi-layered fabric gently drops over the head, no words can describe this beauty. You can combine such a veil with a simple, but exquisite dress to reveal your incredible delicacy and sense of style.
Simple Elbow Length Veil With Hair Barrette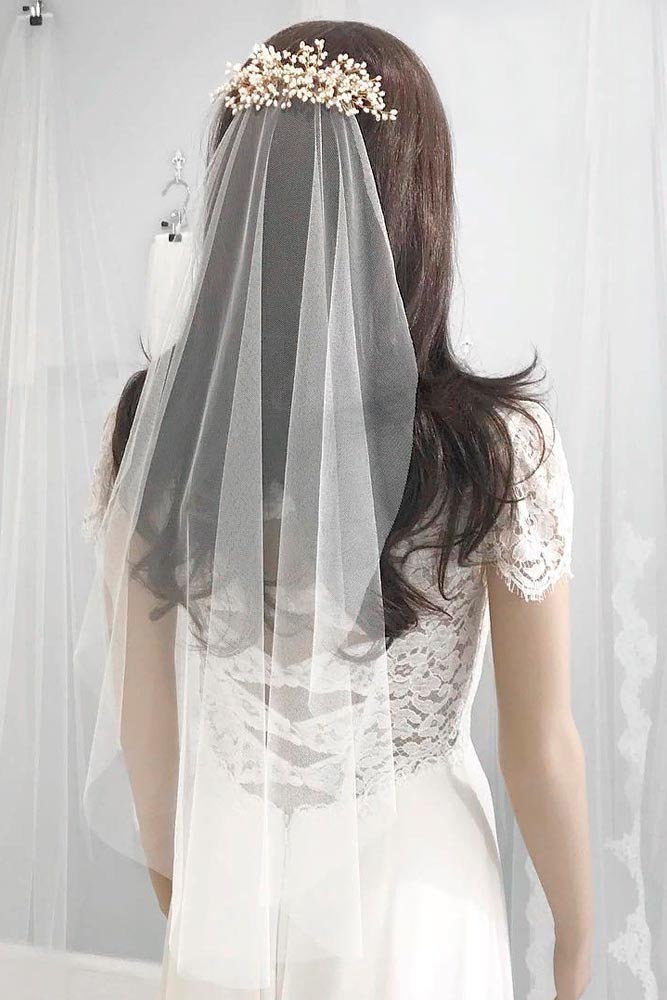 If your dream wedding is all about pearly designed portrait dress, your lush waves that gently fall on your back, and simple veil, this idea is exactly what you need. As we've mentioned before, elbow length veils usually work well for gathered hair, but who says that there are no exceptions? This simple veil, accompanied with a luxurious hair barrette, will look gorgeous on your loose hair: it both sets the balance and keeps up with the traditional style.
Fingertip Length Veil With Lace Edge
Richly embellished sheath dress, a tiny little bouquet of your favorite white roses, neatly styled updo, and a soft layer of glory with a lace edge. Isn't that a perfect bridal look you couldn't even dream of? Just look at how captivating this look is. It's pretty obvious that it wouldn't look so unbelievable without this veil: it creates a smooth and well-balanced silhouette that nicely finishes everything.
Fingertip Length Veil With Your Hair Down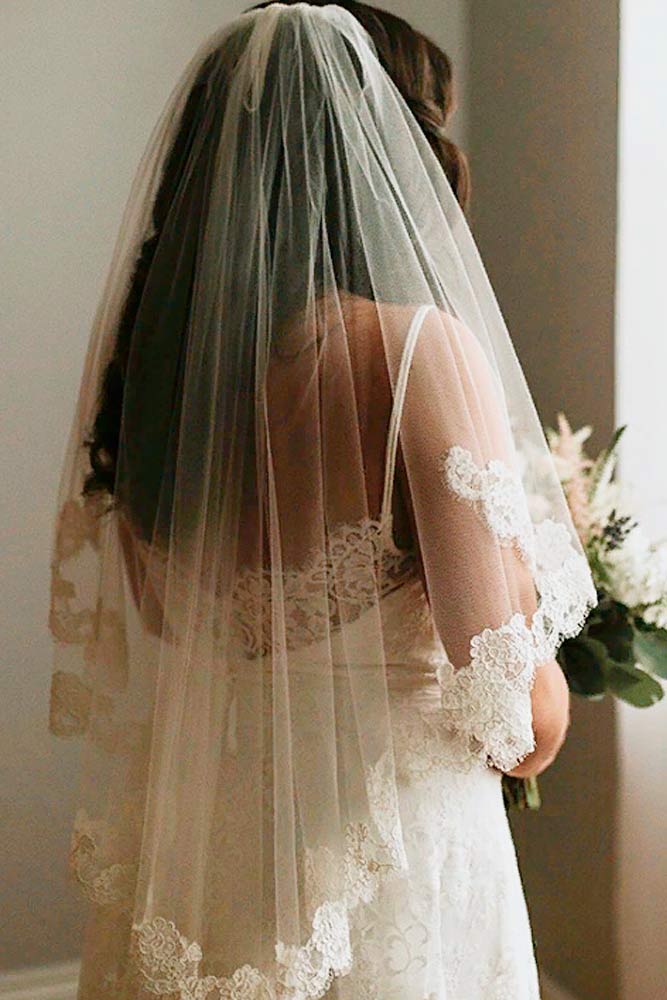 All those beautiful lace elements and silky dresses with shiny embellishments can't compare to the natural accessory that has always been and will always be the symbol of women's beauty. We're talking about your hair. With this veil length, you can also play around with your hair, but our advice is to reveal its charm by wearing it down. Just imagine that your subtle lace veil softly falls on your back and melts with your beautiful locks. Yes, this is how real femininity looks like.
Simple, Yet Chic Fingertip Length Veil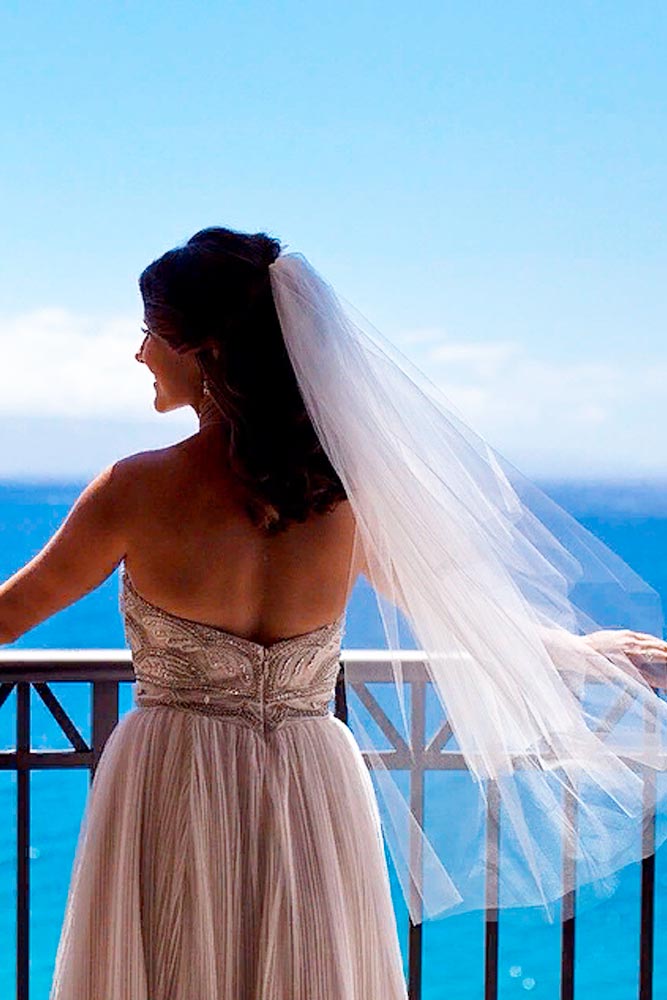 Don't want your veil to grab the world's attention? That's totally OK: so many brides, so many wed-style preferences. If you are looking for a really effortless veil, without any eye-catching details, that won't only be a wallet-friendly decision, but also a very refined finish to your look. Keep in mind that most cheap wedding veils don't feature lace, pearls, and any other fashionable details. But it doesn't mean that the quality is a disaster. Look how stunning the simplicity can be: it's ordinary, yet entirely unique.
Simple Chapel Length Veil
Simple, yet significant: isn't that a look you want to flaunt with this day? A dress with fascinating custom design and floor-length chapel veil will be enough to make people lose their minds as you fly down the aisle. Look at this pic: the look is so airy, and the bride is so subtle that it seems she is about to fly through the air.
Boho Chapel Length Veil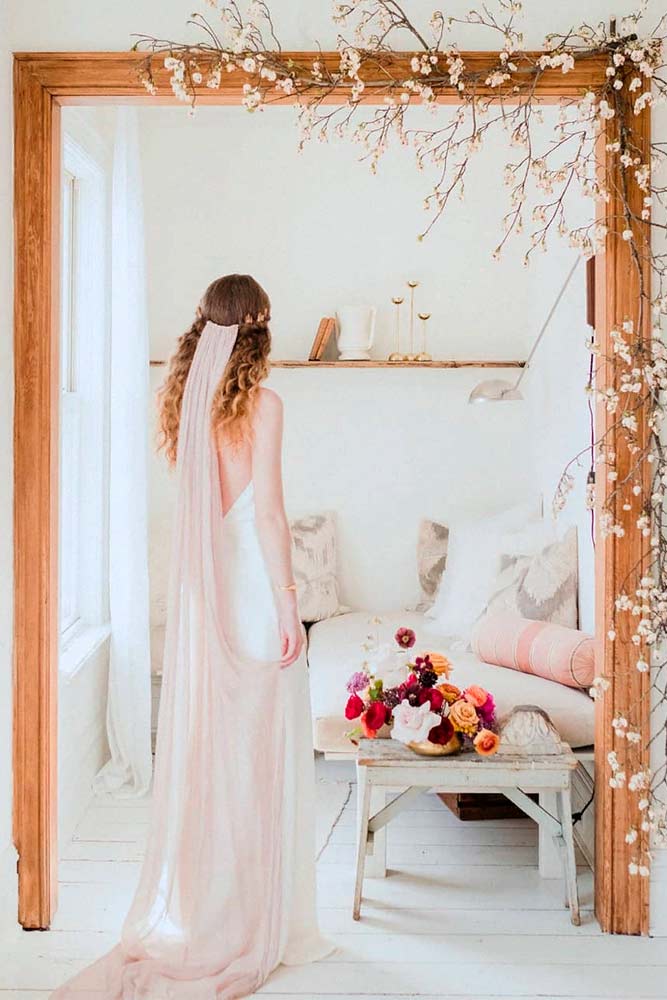 Your inner boho queen deserves the most flattering boho wedding. A dress with exposed back with braided or wavy hair with floral accessories: everything should match your bohemian lifestyle. As for your veil, there's always an option for special ladies. Why don't impress your guests with an adorable boho style, where chapel length veil is gently secured on the crown of your hairdo, falling right on the floor. Boho chapels create a less voluminous silhouette, but they're still charming in their own way
Chapel Bottom Lace Veil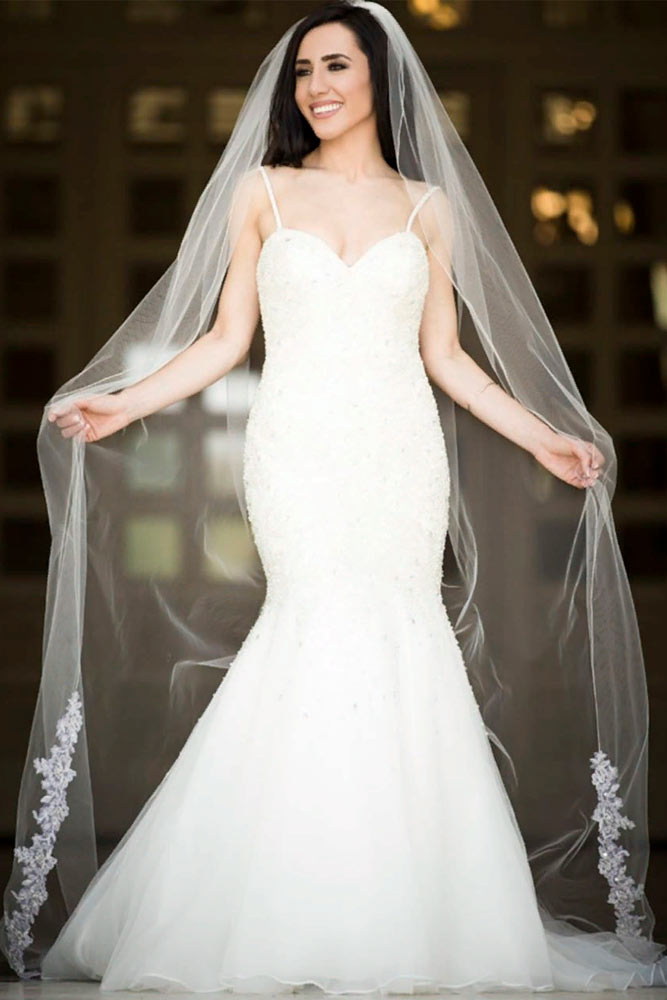 A single tier tulle with fantastic lace edges is the wedding embellishment we all deserve to wear one day. You already know that if you'd like to wear a minimalistic dress, it's better to combine it with a posh and full veil that will set the balance of your glamorous look. And this pic is the embodiment of this rule: a simple mermaid dress + bottom veil = the look that is worth a red carpet wedding.