Summer Outfits That Every Lady Needs To Add To The List
Here are some summer outfits; from Glaminati 
Warm weather is something that most of us are waiting for during the months that are not summery ones. However, when the time comes, it turns out that the trends have changed and when it comes to your summer outfits – you have nothing to wear! Worry not! There is no need to panic since we have it all under control. We are going to share with you a fair share of summer outfits 2018 that will make you look irresistible no matter where you go. Are you ready?
Summer Dresses
When it comes to summer, it is safe to say that summer dresses are the best. The thing is that there is no limitation to the style, material or length – you can pull them all off! As a matter of fact we are going to show you a few examples to prove the point that summer dresses can be extremely versatile and there is no occasion that a dress wouldn't suit!
Long Blue Ruffle Dress
The sleeveless cotton maxi dress is something that looks adorable no matter where you wear it! Be it a party or an afternoon ice cream stroll. So light, so feminine!
Falling Shoulders Dress With Floral Print
In case you are not a fan of sleeveless dresses, there is another excellent summertime option. Falling shoulders dress is exactly what you need for summer, and that cute floral pattern makes it truly exceptional.
Wrap Around Dress
Who said that summer dresses couldn't be seasonal and sassy at the same time? Opt for a light wrap around dress in pastel shades, add a side cut – there you go, convenient, sassy and summery!
Jumpsuits
Jumpsuits are both a blessing and damnation. The thing is that with a correctly chosen jumpsuit, you can kill all the birds with one stone but on the other hand, you have to be precise with what you are opting for. That is why we are going to share a few classy and sassy ideas so that you always end up looking gorgeous!
Chambray Linen Romper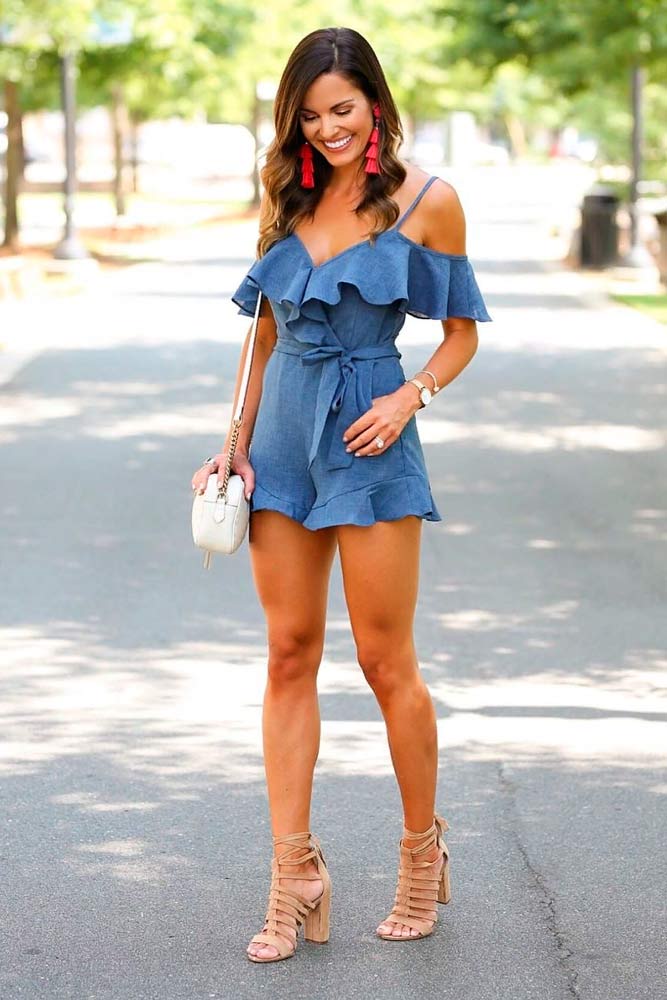 Among summer outfits ideas linen rompers are the best to deal with the heat. What is more, something like this can be worn anywhere – from the beach party to the night out at the club.
Jumpsuits With Tropic Print
Jumpsuits are undoubtedly the latest summer fashion item and when you have a look at this one you can clearly understand why. Everything seems to be perfect about it, elegance, trendiness, and style all gathered in one!
Chic Bare Shoulders Jumpsuits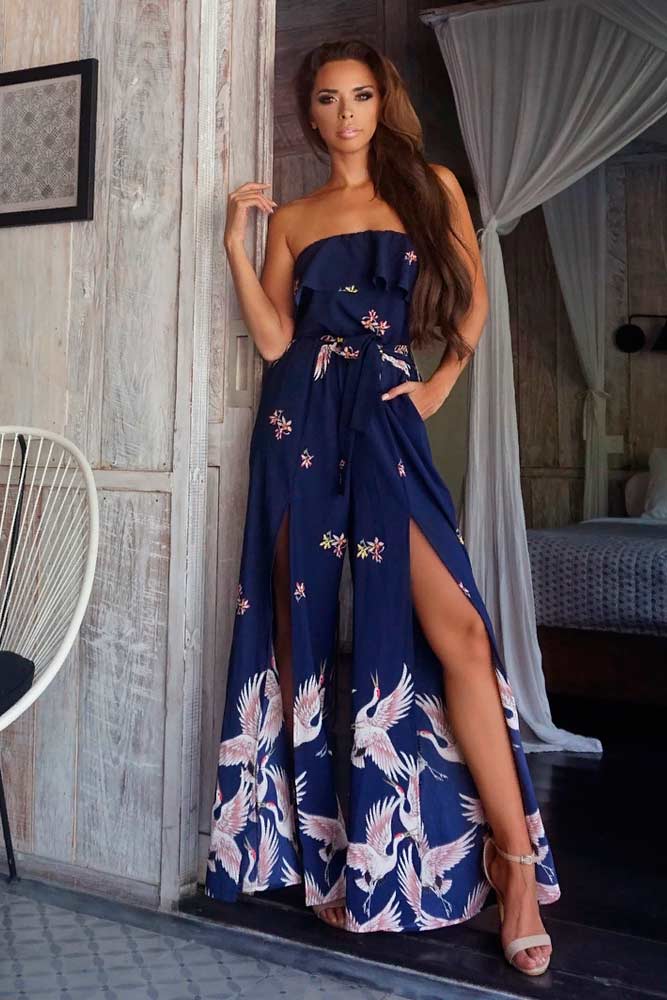 There is exceptional versatility when it comes to jumpsuits especially during the summer. The thing is that there are some jumpsuits, which indeed do not seem to be the one until you have a closer look. For example, this wide leg, strapless jumpsuits looks like a perfect summer evening dress, don't you think?
Denim Outfits
It may seem that when it comes to denim, it should be left waiting for cooler seasons to come. We are going to prove to you that this is where you are mistaken. There are so many looks you can create with a pair of jeans or denim shorts that it is hard to imagine, besides there is probably nothing more comfortable than a pair of jeans. Let's have a look at these few possibilities to try out!
Torn Shorts And Ruffle Top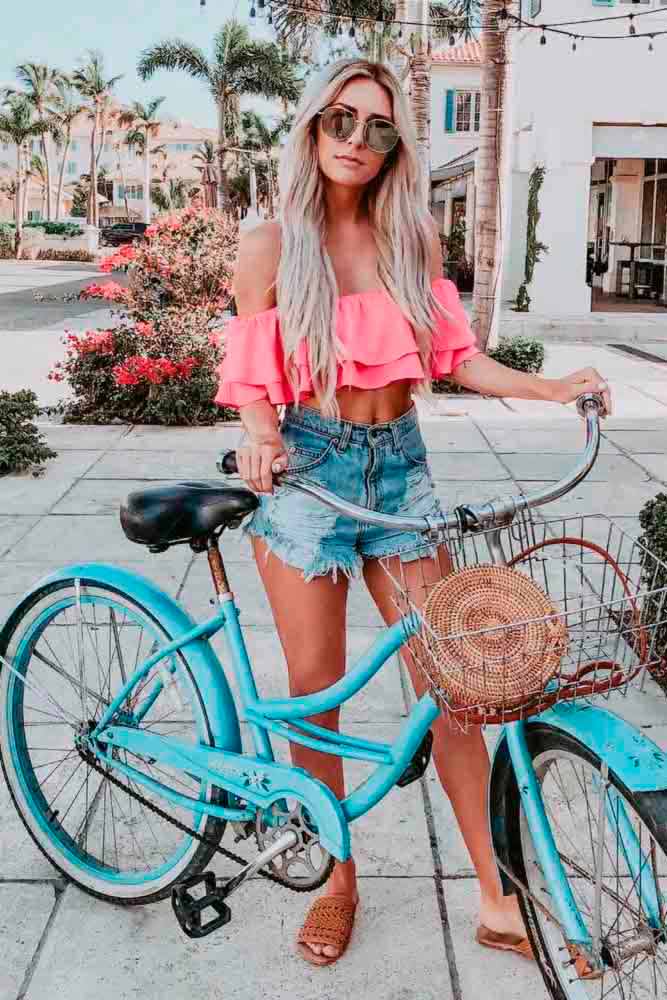 Summer is clearly about shorts, and denim ones wouldn't be the exception. To grant this ragged look some more femininity, we suggest you opt for cute pink ruffle top.
Shortened Jeans And Pure White Blouse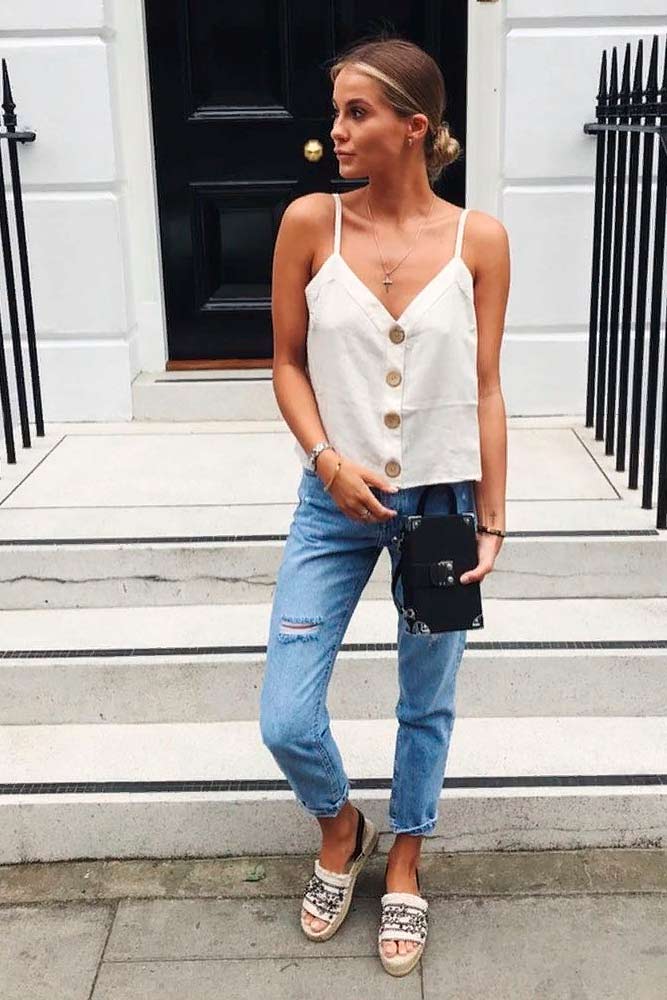 Regular jeans have a way to go too. All you need to do is to come up with a proper upper part. White strapped blouse fits in perfectly!
Jeans Shirt And White Trousers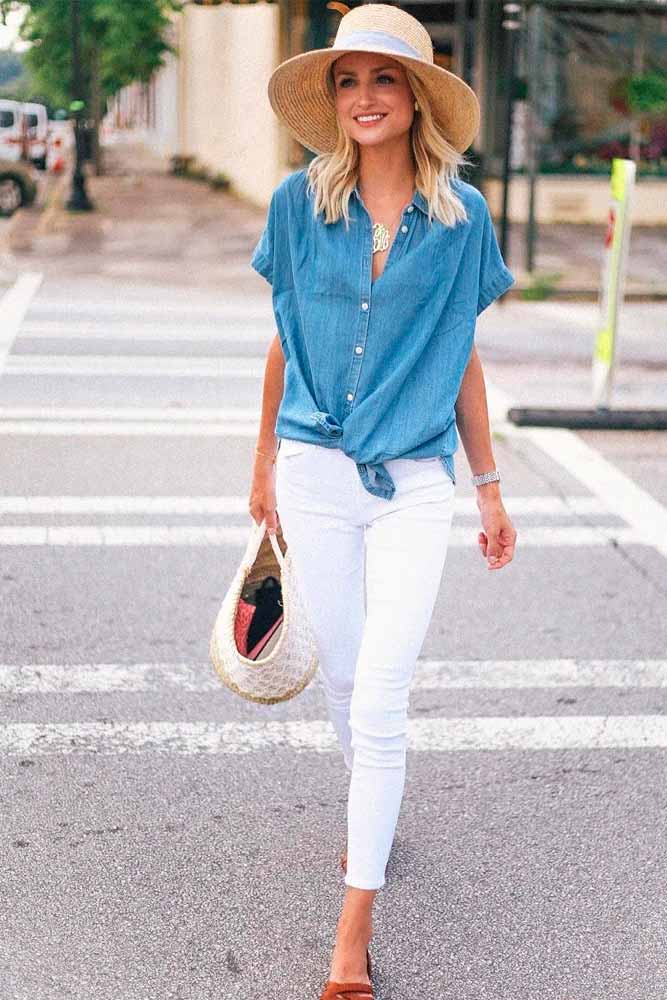 Summer outfits with leggings are undoubtedly casual, but that does not make them look less elegant or cute. If you are headed for a walk on the beach, a pair of white denim leggings and a loose shirt with a cute hat will create an unforgettable look.
Bright Tops, Blouses And T-shirts
We have discussed the bottoms thoroughly enough, but the tops are in priority too. That is why it is best that you know that summer is not about t-shirts and tops only, there are some other options also, especially when you are headed for a formal meeting. As you may have already guessed, we have blouses in mind that is why we present to your attention a list of possible summer top pieces to get inspired with!
Summer Blouse With Floral Print
Cute summer outfits are all about the flowers. However, blouses like this one will help you rock most of the formal occasion like nothing else.
White Blouse With Bare Shoulders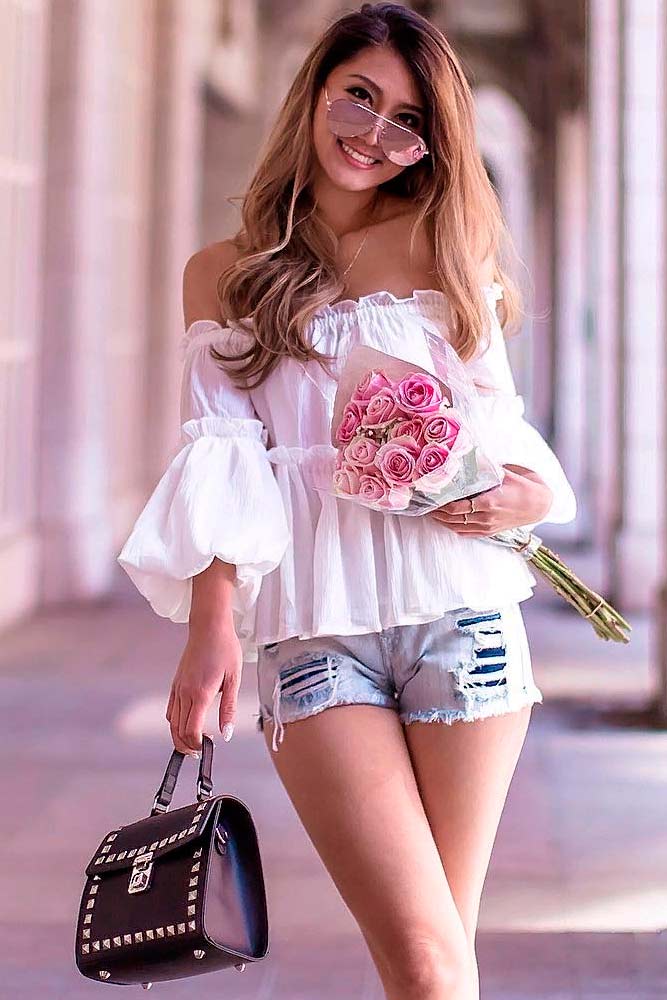 If you are looking for something less formal, this embroidered summer blouse is something that will complete your denim shorts look perfectly!
Classic T-shirt Variations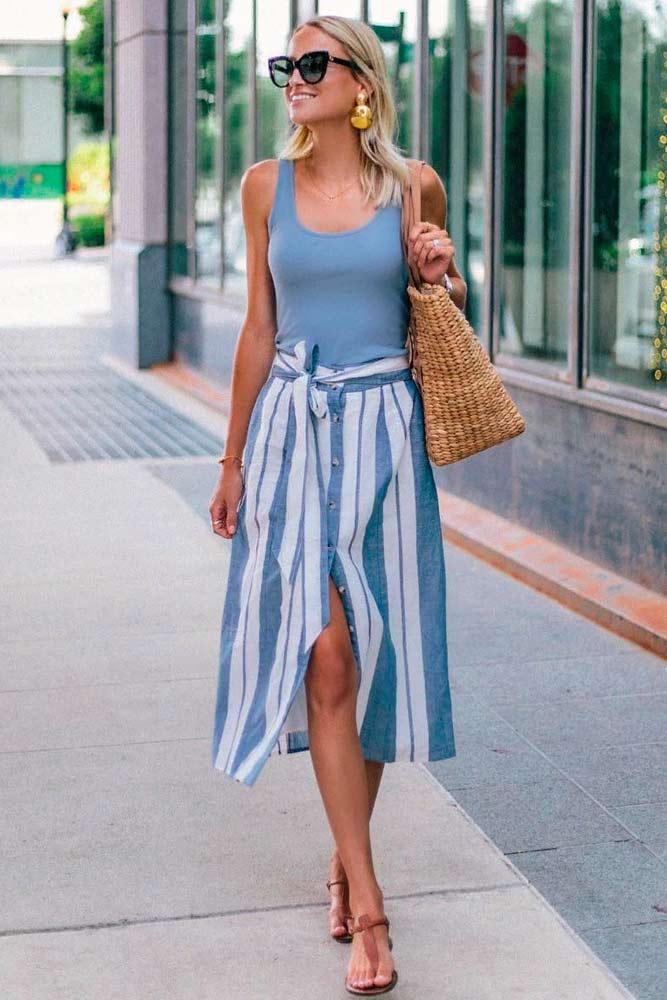 Even a simple t-shirt can help you create an unforgettable and stylish look if you know what to pair it with. For example, a solid and sleek blue t-shirt accompanied with loose striped skirt look gorgeous together and will fit for an evening stroll any time.