Top Boho Wedding Dress Ideas For You
Here are some ideas for boho wedding dresses, from Glaminati
A Boho wedding dress is a must this season!
Some people consider Boho to be boring and old fashioned, but we don`t agree. Why? There are so many options done in such a style completed with modern details that make these wedding gowns perfect. From open backs to long sleeved romantic designs that will make your look unforgettable.
We want you to think properly and pick the dress of your dream, so our best tip would be to look through the gowns without rushing.
Try on different variants and choose your dream one. If you need some help, then we are here to give you some suggestions in the Boho style that occupied wedding salons this year.
Romantic Lace Wedding Dress
Are you looking for a dress that will make you feel like a queen? Then you got this one right. A perfect option that will add romance and flirtiness to your look. A lacey material will make you appear as airy as possible while a low neck will bring some definition to the whole wedding look. Do you still doubt? Then don`t, cause we believe this lace wedding dress to be one of the trendiest Bohemian dresses of this wedding season.
Boho Wedding Dress With Long Sleeves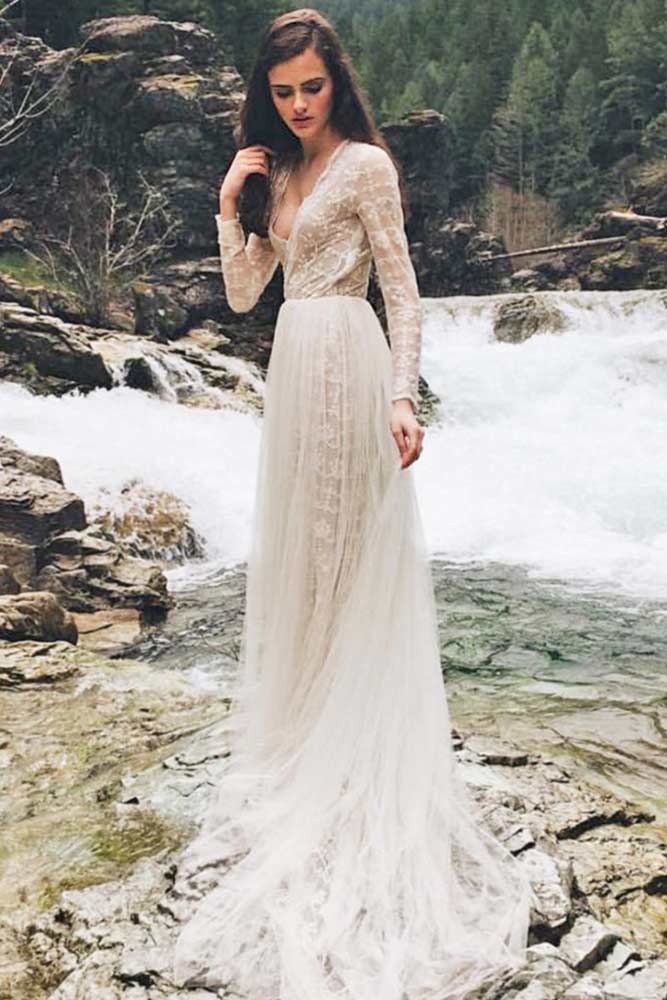 This long sleeve bohemian wedding dress is a true dream for people who want to choose something unusual for their special day. Long sleeves that bring some mystery to the whole look will help you put an accent to a long super airy skirt. Made of a beautiful combination of tulle and lace, it will be just right to show how tender the bride is. Couldn`t find the wedding gown that will show your character? Look carefully at this one then.
Wedding Gown With A Bare-Skin Effect
This wedding dress with a bare-skin effect is the dream one for all the girls who want to find something different. Not a casual one, it shows more skin, weighing down the look with a beautiful lacey skirt that falls to the ground. A low neckline will be a great detail in this romantic wedding dress. We advise you to make up your mind fast on this one, as it is a true definition of style.
Boho Floral Lace Dress To Feel A Harmony
If you believe that simplicity is the key to perfection, then this Bohemian wedding dress is your piece of cake. Super simple but really beautiful and interesting at the same time, it will bring as much attention to you as possible. Long, completed with super thin floral lace, it gives an idea of harmony and lightness. If that`s a definition of how you want to look, then don`t skip this design and rush to the shop to buy your dream dress!
Best Bridal Dress For A Beach Wedding
Is your dream wedding location a super romantic place near the sea or the ocean? Then this style is just for you. Super light and casual at the same time, it`s an ideal option for a Boho wedding dress beach. Don`t you think? With beautiful low sleeves, thin lace and length, it`s exactly what you are looking for. Formal but perfect for a beach ceremony, as well. Extra romantic and simple to make your special day a dream.
Beautiful Embroidered Dress For Your Inspiration
Embroidery is becoming a great trend not only among wedding designers nowadays. More and more often embroidered clothes appear on the shelves of the stores. We believe that such an ethnic tradition is a great way to remind of old-school simplicity and charm in a wedding dress design. Romantic and truly gorgeous, embroidery will make your wedding dress turn into the perfect gown. Done on chiffon and completed with lace, it`s the true definition of tenderness.
Wedding Gown For A Free-Spirited Bride
Are you not keen on keeping up with the trend? If your soul needs something simple that will show your independence from the rest of the world and freedom, then this beautiful wedding dress is for you. Simple but still really effective, it`s one of a kind. Long, made of different kinds of lace that can be seen through in some places, and chiffon at the end of the skirt. It will for sure make your look unforgettable not only for you and the groom but also for all of the guests.
Fab Long Sleeve Wedding Dress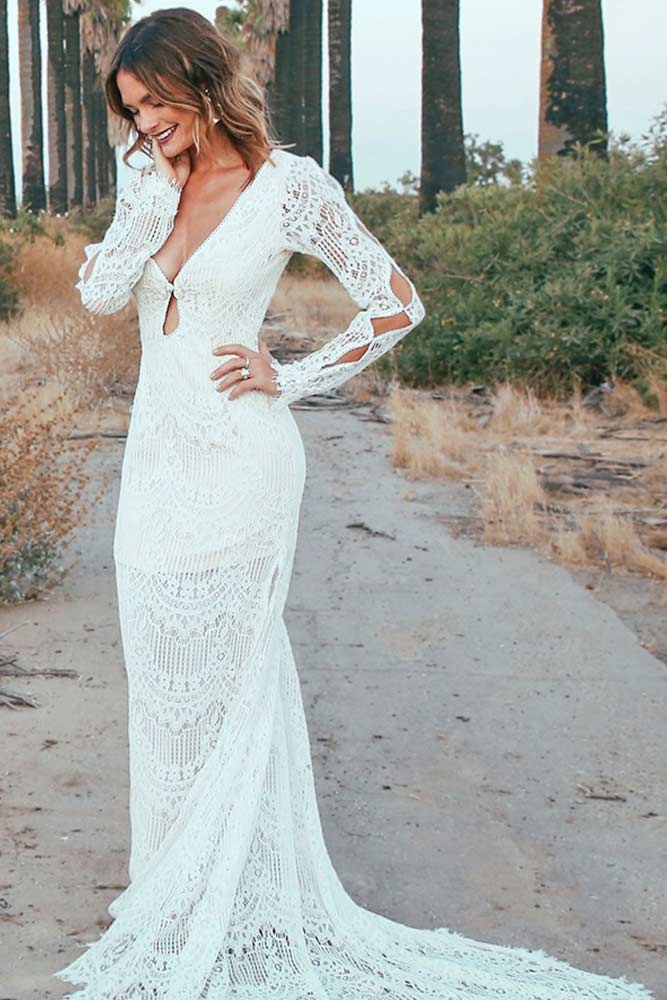 Do you prefer fabulous wedding gowns with long sleeves? If yes, then look at this one. Super romantic it is a perfect match for those who want their wedding look to be simple but dreamy at the same time. Lacey material which adds a bit of mystery to the whole look is spread all over the gown down to the ground where it is gathered into a beautiful skirt with the tail. Isn`t it a dream dress?
Off The Shoulder Wedding Dress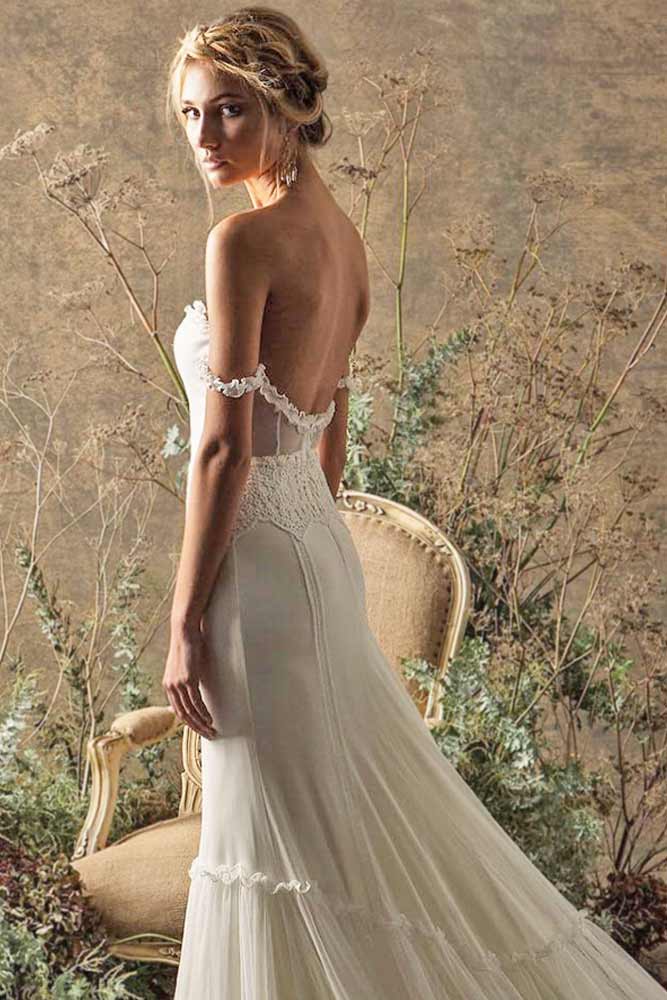 Dresses that show more skin are getting more and more popular this year. Of course, as they add some definition to the body of the bride and make her look as delicate as possible. However, if you prefer such a trend but still want something more special added, then think of an off shoulder wedding dress. A small detail that will bring so much beauty into the look that it can`t be missed.
Boho Wedding Dress With An Open Back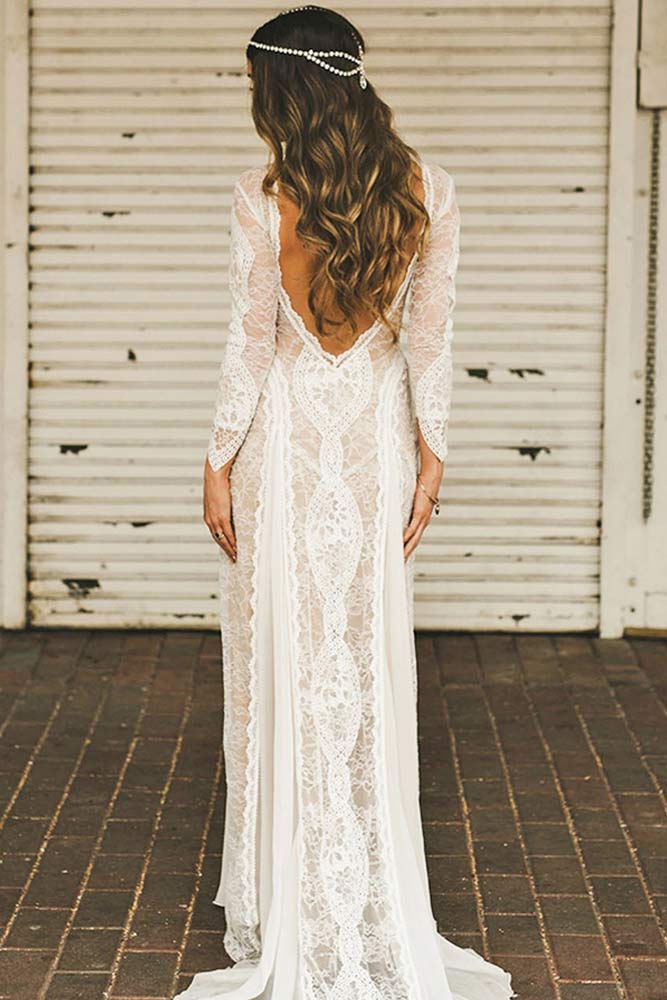 Super simple, it`s still one of the trendiest in 2018. Done in a special way, it will make your look truly awesome. A long skirt that goes up into the top with an open back and long sleeves. Isn`t it perfect? All made of lace, it`s super romantic for a wedding day.
Boho Bridal Dress Must-See
Thin lace is thought to be the key to an amazing look this year. Think of picking a Boho wedding dress fully made of such a material, and you won`t regret your choice even for a second. Why? It`s super airy, romantic and flirty. As for us, it is a nice example of the Boho dress style as it gives the vibe of freedom and simplicity that Boho represents.